Johnny Depp Severed Finger Pictures Released of Alleged Amber Heard Attack
Johnny Depp alleges that his ex-wife Amber Heard severed his finger in an attack.
The 57-year-old actor is in court today in the U.K. as he begins his libel trial against the publishers of British tabloid newspaper, The Sun, News Group Newspapers (NGN), for a 2018 article which referred to him as a "wife beater."
Depp has provided a witness statement detailing alleged attacks from Heard, in which he claims she punched him as well as severing the top of one of his fingers.
The Pirates of the Caribbean actor said: "Then she became physically violent and repeatedly punched me in the face. As I moved towards the back of the plane to get away from her, she followed me into the plane's bedroom and punched me again in the face and the head.
"Amber severed my finger with the second of two thrown vodka bottles at me in the early afternoon of Sunday March 8. Amber claims this was on the second day of a 'three-day hostage situation,'" he said. "Amber claims that during these three days, I subjected her to a variety of what sounds like torture and other abuse. These sick claims are completely untrue.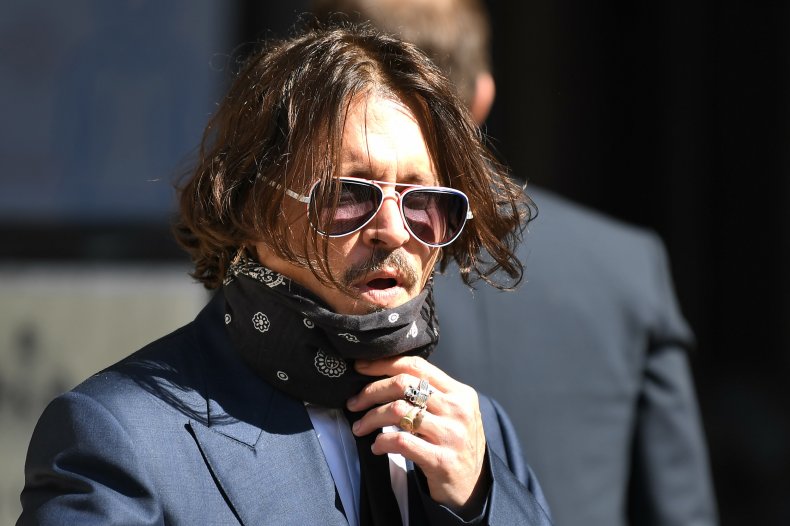 "Even the small details of these demonstrably false allegations are internally inconsistent and wildly diverge from the reality that is shown by hospital intake records and multiple eyewitness statements."
He continued: "As to the other 'details' which Amber has now added, I did not urinate throughout the house, I did not paint Amber's clothes, nor did I hide raw meat around the house."
Responding to allegations of overbearing behavior, he said in his statement: "I do not believe that I have an overbearing, manipulative or controlling personality, or that anyone who knows me well would describe me that way.
"In contrast, I believe that Amber had an obsessive need to control me and all situations in our relationship. I truly believe that most of the descriptions Amber provides are in fact reflections of her own behavior.
Pictures filed show Depp lying in hospital with the tip of his finger severed, along with a pixelated close up of the injury.
At a preliminary hearing for the trial in March, NGN's barrister Adam Wolanski said that Amber claimed that Depp "shoved her into a ping-pong table", grabbed her and then "tore her nightgown" before he "slammed her against the countertop and strangled her." She alleges he "severely injured his finger, cutting off the top."
Depp's legal team say the actor "wants to clear his name" in the trial.