Johnson & Johnson Baby Powder Recall Over Fears of Chrysotile Asbestos Contamination
Johnson & Johnson is voluntarily recalling a single lot of its baby powder after minute amounts of chrysotile asbestos were found in samples of a single bottle of the product.
It follows the discovery by the Food and Drug Administration (FDA) of sub-trace levels from a bottle of the product bought online.
The company said it had started a "rigorous and thorough investigation" into the matter to check the tested sample which recorded a concentration of the poison of no greater than 0.00002 percent.
It said in a statement that "despite the low levels reported" it would recall lot #22318RB of its baby powder, where the tested sample came from out of an "abundance of caution." The recall affects around 33,000 bottles.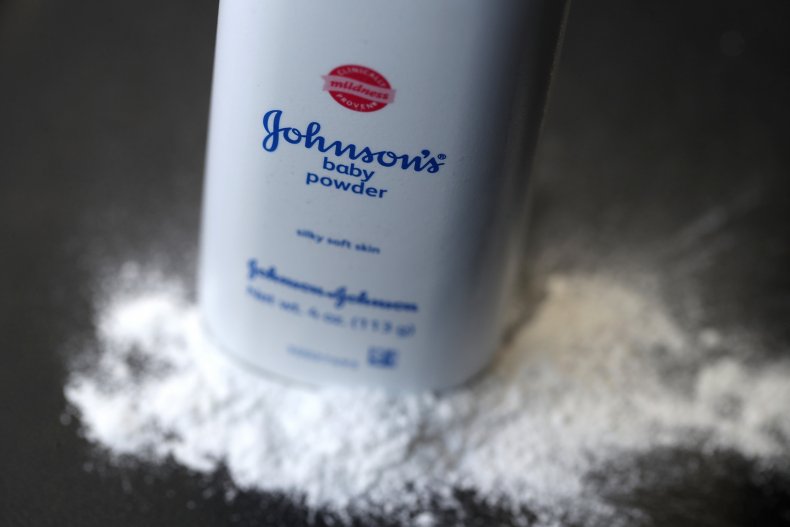 It said it was too early to tell if cross-contamination of the sample might have caused a false positive, whether the sample was counterfeit or if it had been taken from a bottle with its seal intact.
The company said it had "a rigorous testing standard in place to ensure its cosmetic talc is safe and years of testing, including the FDA's own testing on prior occasions—and as recently as last month—found no asbestos."
However news of the recall led to stock in the consumer and drug products giant falling by 3.6 percent to $131.40 in early New York Stock Exchange trading, according to Reuters.
There have already been other questions marks over the safety of its baby powder after earlier this year, the company received subpoenas seeking documents following at least 13,000 lawsuits claiming the products caused cancer.
Already more than two dozen lawsuits have gone to trial in state courts, and in July 2018, a jury in St. Louis ruled that Johnson & Johnson pay $4.69 billion to 22 women and their families who said that the baby powder had caused ovarian cancer.
Johnson & Johnson is appealing against the verdicts, insisting its talc products are safe. The company has also won several trials in state courts.
Last week, a man in Philadelphia was awarded $8 billion in punitive damages after claiming taking Johnson & Johnson's anti-psychotic drug Risperdal had caused him to develop abnormal "female breast tissue," The Guardian reported.
In the same week, the company said it would pay a $117 million settlement in several states over claims it deceptively marketed its pelvic mesh products, which allegedly caused bleeding, pain and infections.
Johnson & Johnson was found to have broken state consumer protection laws by not fully disclosing the dangers of the meshes, The New York Times reported.