Joke About Leonardo DiCaprio's Rumored Girlfriend's Age Goes Viral
Leonardo DiCaprio is becoming the subject of social media ridicule after news emerged about his latest alleged relationship with a teenager.
DiCaprio, 48, has a reputation for dating younger women than himself. After his latest break up with model Camila Morrone, a theory circulated that he's never dated anyone above the age of 25.
Whether or not that's true, it's rumored that his latest girlfriend is Israeli model, 19-year-old Eden Polani.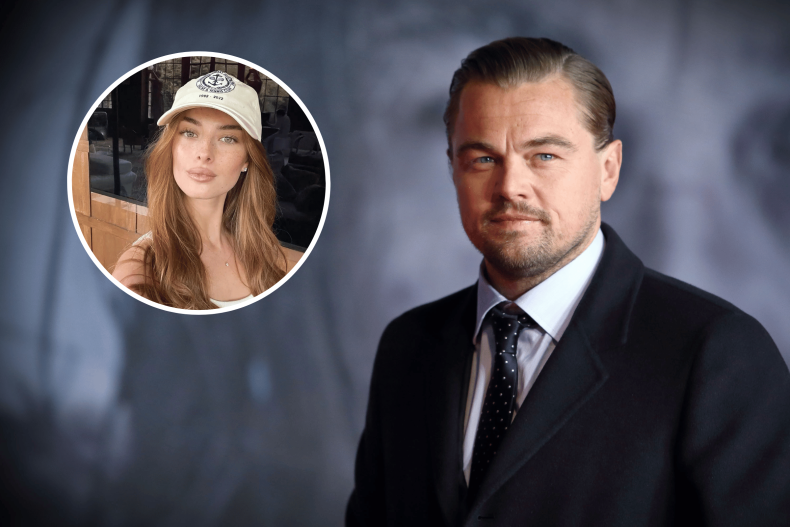 The age of DiCaprio's supposed new girlfriend has become another talking point online, with many people mocking him with jokes. One comedian's take resonated with social media users, as she put Polani's age into context.
"Leonardo DiCaprio's girlfriend is so young her high school experience was interrupted by COVID 19," wrote comedian Rohita Kadambi on Twitter.
While a humorous take, there is an element of truth to Kadambi's statement, which has been viewed more than 14 million times online.
British newspaper the Daily Mail was the first publication to picture DiCaprio and Polani together, which led to the dating rumors. They were pictured at the EP release party for singer Ebony Riley on January 31.
Polani's exact birthday is unknown, but at the age of 19, she was either born in 2003, or early 2004. That means when the COVID-19 pandemic hit, and the world went into lockdown in March 2020, she would have been 16 or 17. To add further context, DiCaprio's movies Romeo + Juliet, Titanic, Catch Me If You Can and Gangs of New York all came out before Polani was born.
Thousands of people commented and retweeted Kadambi's observation online, many of whom expressed shock. Some were appalled but a minority defended DiCaprio.
The jokes arrived thick and fast though as people offered their own interpretations of the age gap between the alleged couple.
"So, Leonardo DiCaprio is nearly 50 and dating somebody who went to prom on Zoom," wrote university professor Uju Anya.
New York-based Libyan comedian Mohanad Elshieky brought up another celebrity famous for dating younger women. "Dane Cook: I'm dating a 23 year old. Leonardo DiCaprio: hold my beer. Leonardo DiCaprio's girlfriend: I can't."
"With every new child bride, my collection of semi-ironic Leonardo DiCaprio t-shirts (6) gets less cute," British entertainment writer Lucy Ford wrote.
Another university professor, Sarah Parcak, offered up an alternative proposal for DiCaprio.
"Leonardo DiCaprio should date me because he'd get two 22-year-olds for the price of one," she wrote.
While jokes and critiques of DiCaprio have been shared online, some passionately defended his right to date a 19 year old.
Right-wing political commentator Ben Shapiro sarcastically called out people's reactions.
"Today I learned that Leonardo DiCaprio dating a 19-year-old adult woman is the height of moral evil, mostly from the same people who believe a 4-year-old can consent to gender change," he wrote.
Former UFC fighter Jake Shields suggested that DiCaprio wouldn't be criticized as much if the genders were revered.
"The only people upset at Leonardo DiCaprio for sleeping with young beautiful models are women that he wouldn't sleep with," the former fighting champion wrote. "These same women praised Demi Moore for dating Ashton Kutcher."