When Did Dane Cook and Kelsi Taylor Meet? Internet Slams Couple's Age Gap
Dane Cook's engagement announcement has been met with passionate criticism and mockery online due to the age difference between him and his new fiancée.
Cook, 50, has announced his engagement to Kelsi Taylor, 23, whom he has been dating for five years. The couple both broadcast their happy news to the world with sweet social media posts, but the comment section for both was filled with people expressing concern.
The pair started dating when Taylor was 18 and the comedian was 45, but there are differing reports online as to Taylor's age when they met for the first time.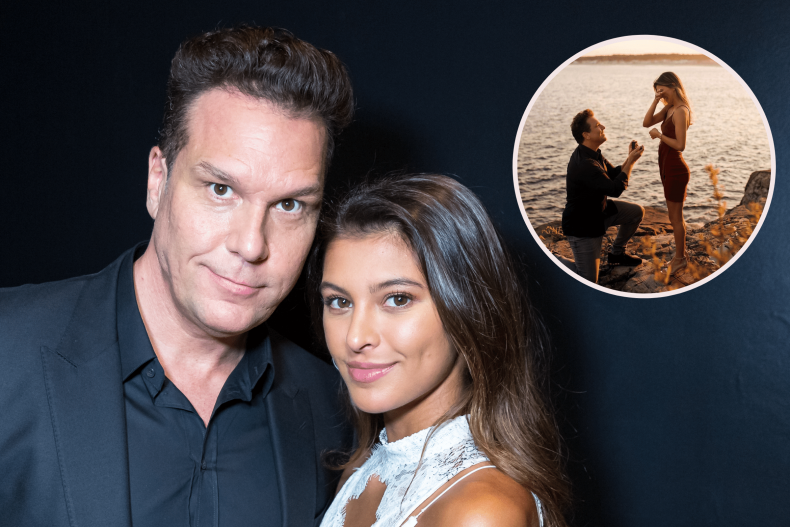 "The love of my life is now my fiancé! To everyone sending us love and positive notes we appreciate it tremendously," Cook wrote on social media, attaching a "very sappy" video of the pair looking happy together.
Many social media users speculated about the age of Taylor when Cook first met her, but an exact age has yet to be confirmed by either party.
Speaking during an Instagram Live Q&A in August 2019, Cook revealed how they met and when. "We met at a game night I host at my place," he said, "We were friends for a while & soon after fell in like with each [other] and then upgraded to love."
Back in May 2017, Cook tweeted out a question, asking, "If you could go back and tell your 15 year old self something what would it be?" The comment section for this thread was left untouched for years, but on Tuesday night and Wednesday morning, social media users flocked to comment on the thread and retweeted the message, making references to his engagement to Taylor.
Taylor confirmed in her Instagram announcement that Cook actually proposed to her weeks ago. Celebrities like Nikki Glaser, Sarah Hyland, Heather Dubrow and many more congratulated the couple on their announcement.
Elsewhere across the internet, people were less complimentary about their relationship.
"Look who's engaged to the woman he started seeing when she was 18, and he was 45. Totally not weird," food and culture writer Mariel Songy wrote on Twitter.
Fellow comedians also made sure to pile in on the couple as they were a trending topic. "Dane Cook and his fiancee are registered at Build-A-Bear," joked Christian Finnegan. "Don't mind me, just doing math," wrote Gianmarco Soresi, retweeting the news of their engagement with both of their ages included.
Screenwriter Meecham Whitson Meriweather expressed his confusion and concern for Taylor. "He's 50 and she's 23. Like sweetie, you're pretty, you don't have to settle for this," he wrote.
Many others took a more serious approach in expressing their criticism. "I'm trying so hard to be happy for you but I can't get over the fact that you, as a 45 yr old man, took advantage of an 18 yr old," @heyapplepie wrote directly at Cook, "How in the world did you even have anything in common with someone more than two decades younger than you."
Thousands of Reddit users also had their say on the happy couple's announcement, once again commenting on the age difference.
"Wow as a teen I had a crush on him, little did I know that I actually had a chance with him..." one user wrote. Another pointed out that legally, there is nothing wrong with the relationship, "Even though 18 and 45 is really bad or even disgusting it's not illegal."
According to Famousbirthdays.com, Taylor was born on October 26, 1998. She is a singer and social media personality. Cook has previously spoken out about his admiration for Taylor's ability as a musician, including in the first picture he posted of them together. "My girl @itskelsitaylor is one of my favorite people on the planet," he wrote in April 2017, "She's a talented singer but more importantly she's a genuine person. Check out her music and get to know her. She's gonna go far!"
In February 2019, Cook appeared on Jimmy Kimmel Live! and addressed the age difference between him and his then-girlfriend who he had been with for "almost two years" at that point.
The fact that the couple had been together for, as Cook said, "almost two years" implies they got together at some point in 2017. If the birthday that is listed for her online is correct, she will have turned 18 on October 26, 2016.
Newsweek has reached out to Dane Cook's representatives for further comment.