Jon Ossoff Says David Perdue Should 'Come Out of Hiding' as Republican Senator Declines to Debate
Georgia Democrat Jon Ossoff is calling on Senator David Perdue to "come out of hiding" after the Republican incumbent declined offers to debate ahead of the state's runoff election.
"We're in the midst of a national crisis," Ossoff said during a virtual press conference on Tuesday. "There are hundreds of thousands of lives hanging in the balance, there are millions of jobs and homes and livelihoods hanging in the balance. The people of Georgia deserve an open debate. They deserve to hear from their senator."
Ossoff is challenging Perdue for his Senate seat in a runoff on January 5, after each candidate failed to get over 50 percent of the vote in the general election earlier this month.
Recent polling has shown a close race, with Perdue ahead by 4 percentage points. A survey conducted by Remington Research Group from November 8 to 9 found Perdue had 50 percent support among likely voters, compared with Ossoff's 46 percent.
Ossoff has challenged Perdue to multiple televised debates ahead of the runoff election. The two candidates were invited to an Atlanta Press Club debate on December 6, but CNN reported that Perdue declined the invitation. The Atlanta Press Club said the event will go on, with an empty podium representing the Republican.
In a statement shared with Newsweek about not participating in the Atlanta Press Club debate, Perdue's campaign said: "We've already had two debates in this election. In each, Ossoff lied repeatedly, and of course the media failed to hold him accountable. He refused to talk about the issues and could not defend his radical socialist agenda.
The statement continued, "If Ossoff wants to keep lying to Georgians on TV, he will have to use his out-of-state money to pay for it. We're going to take our message about what's at stake if Democrats have total control of Congress directly to the people."
According to his campaign, Ossoff has accepted six offers to appear live and answer questions from voters before the contest.
"If Senator Perdue doesn't want to answer questions in public or debate his opponent that's fine, he just shouldn't run for re-election to the United States Senate," Ossoff said Tuesday. "We have work to do: empowering medical experts to defeat this virus, delivering immediate financial relief for working families and small businesses, investing in infrastructure to create jobs and jump-start our economy."
Perdue has refused to debate Ossoff since the two clashed during an October 28 event. In one heated exchange that went viral, Ossoff criticized the senator for his response to the coronavirus pandemic.
"Perhaps Senator Perdue would have been able to respond properly to the COVID-19 pandemic if you hadn't been fending off multiple federal investigations for insider trading," Ossoff said, referring to investigations into Perdue's stock trades at the onset of the health crisis. "It's that you're attacking the health of the people that you represent."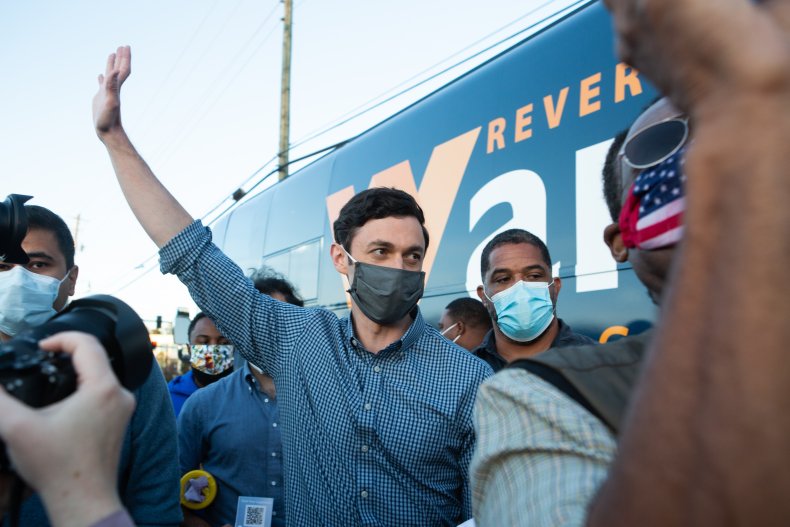 The race between Ossoff and Perdue, as well as the runoff between Raphael Warnock and Republican Senator Kelly Loeffler, has gained national attention because the contests will determine which party controls the Senate. The state has also garnered attention for flipping blue for Joe Biden—the first time a Democratic presidential candidate has won Georgia in 28 years.
Republicans are set to control at least 50 seats in the next Senate, based on election results, and Democrats will have 46 seats. Two independent senators caucus with the Democrats, bringing their total to 48.
If Democrats win both of the Georgia runoffs, it would split party control of the Senate 50-50. Democratic Vice President-elect Kamala Harris would then cast the tie-breaking vote when the chamber is evenly split.
Ossoff pointed to Biden's win in Georgia as evidence that the state is ready to elect Democratic senators.
"We're focused on running now the most ambitious voter registration and Get out the Vote program in American history to win these two U.S. Senate runoffs," he said, adding, "What we're doing in Georgia is working."
Newsweek reached out to the Perdue campaign for comment on Ossoff's remarks Tuesday but did not receive a response in time for publication.