Jon Ossoff Brands David Perdue 'Crook' and 'Coward' After He Declines Georgia Runoff Debate
Democratic Senate hopeful Jon Ossoff has branded Sen. David Perdue (R-GA) "too much of a coward" to debate him after he decline a head-to-head as the pair face off in the Georgia runoffs.
Ossoff is challenging the incumbent Perdue for his seat in the runoffs, with polling putting the Republican ahead but only just, with the vote due to be held January 5, 2021.
The pair were both invited to an Atlanta Press Club debate on December 6, though its chair, MaryLynn Ryan, said Perdue declined this invitation, CNN reports.
A statement from the Atlanta Press Club, included in The Atlanta Journal-Constitution's report of Perdue ducking the debate, said its event will carry on with an empty podium representing the Republican.
"The Atlanta Press Club's Loudermilk-Young Debate Series is disappointed that Sen. David Perdue has decided to not participate in his debate," the statement said.
"Jon Ossoff has confirmed his participation, so according to our rules, we will proceed with the debate and Sen. Perdue will be represented by an empty podium."
It added that this was "not our preference," and that the group feels debates are "an essential part of the democratic process for voters to have an opportunity to hear an exchange of ideas from the candidates so they can be better informed when they cast their ballots."
"In that spirit, we hope Sen. Perdue will change his mind. We will leave the door open for him to participate in our Dec. 6 debate," the statement concluded.
Sharing details of Perdue's choice to decline, reported by The New Yorker's Charles Bethea on Twitter, Ossoff wrote: "Looks like Sen. David Perdue is too much of a coward to debate me again.
"Perdue can't defend his lies about COVID-19, self-dealing stock trades, his bigotry, or his votes to take away Georgians' health care.
"Senator, come on out and try to defend your record. I'm ready to go."
In another tweet goading the Republican, he shared a CNN report and wrote: "David Perdue isn't just a crook––he's a coward, too."
He also shared a GPB report and wrote: "David 'empty podium' Perdue."
Speaking at a rally in Cobb County, covered by The Atlanta Journal-Constitution, Ossoff said: "Imagine being a sitting U.S. senator too much of a coward to debate your opponent in public."
It is not the first time Perdue has skipped a debate with Ossoff, having declined to partake in what would have been their final debate pre-Election Day in order to attend an event with President Donald Trump instead.
This came after an attack from Ossoff against Perdue at a previous debate went viral.
Perdue's campaign manager, Ben Fry, said to CNN in a statement that "in nearly every other state" the Republican would have already been re-elected.
"The runoff in Georgia is an extension of the November 3rd general election, where 52 percent of Georgians voted against Jon Ossoff and his radical agenda," Fry said in the statement, issued Sunday. "Perdue had a commanding first place win, outpacing Ossoff by over 85,000 votes—in nearly every other state, Perdue would have been re-elected already."
A statement from Perdue's campaign, shared with Newsweek, added: "We've already had two debates in this election. In each, Ossoff lied repeatedly, and of course the media failed to hold him accountable. He refused to talk about the issues and could not defend his radical socialist agenda. If Ossoff wants to keep lying to Georgians on TV, he will have to use his out-of-state money to pay for it. We're going to take our message about what's at stake if Democrats have total control of Congress directly to the people."
The pair are headed for a runoff after neither was able to command 50 percent of the vote on Election Day, with both of Georgia's Senate seats to be decided in runoff votes.
These races have gained prominent national attention due to the impact their outcomes will have on which party takes control of the Senate.
Newsweek has contacted Perdue and Ossoff for comment.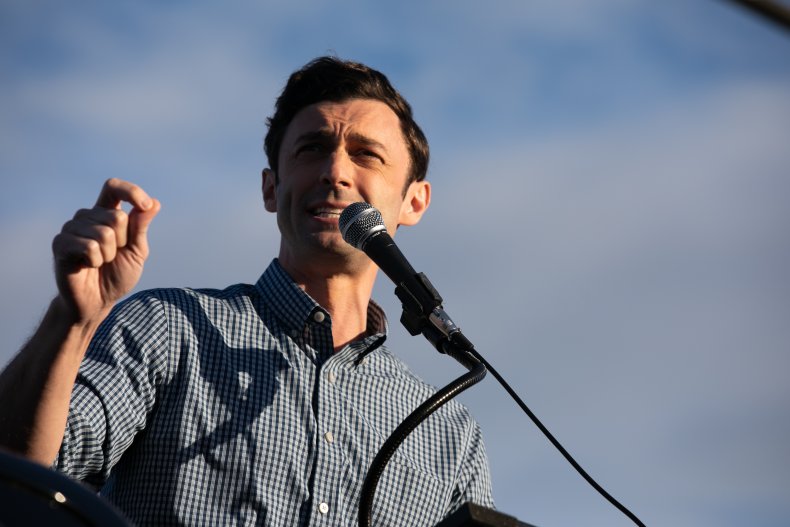 Update 11/16/2020: Further comment from the Perdue campaign has been added to this report.