Jon Voight Accused of Slapping 'Ray Donovan' Co-Star Frank Whaley on Set
Frank Whaley has accused Jon Voight of slapping him during a scene while they filmed the series, Ray Donovan, together.
Taking to Twitter, the Swimming With Sharks actor launched a tirade at veteran actor Voight after he lent his voice to the Republican National Convention Monday.
Whaley tweeted: "F*** Jon Voight. On Ray Donovan he slapped me across the face in the middle of a scene because he couldn't keep up, then denied doing it. He forgot about the still photographer who was on set. Bottom line: Jon Voight is a major d***. #RNCConvention2020."
He also shared a photo of what appears to be the slap in question.
Voight has yet to respond to the claim and Newsweek has reached out to Voight's representatives for comment.
Both Whaley and Voight starred in the Liev Schrieber political drama which ran from 2013 to 2020. Whaley played FBI Agent Van Miller while Voight portrayed the eponymous protagonist's father, Michael 'Mickey' Donovan.
Midnight Cowboy star and father of Angelia Jolie Voight has received criticism for taking part in the RNC.
In the video which promoting the President's accomplishments, Voight called the Donald Trump "a man who cares, a man who loves America and all Americans."
He also praised Trump's coronavirus response, saying: "We all know that it is easy to criticize. It takes a true leader to solve problems. COVID-19. While others criticized without solutions, President Trump's swift action saved lives, and as leading Democrats want to keep businesses closed down, our president is leading a way for a full economic recovery."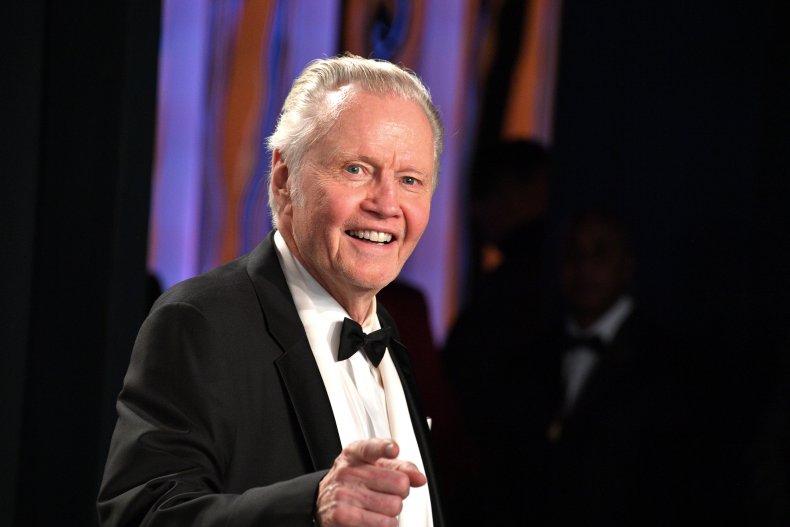 He also took a swipe at some Democrats, saying: "Politicians spun their deceptions and obstructed progress," over footage of Speaker Nancy Pelosi, House Intelligence Committee Chairman Adam Schiff, and House Judiciary Committee Chairman Jerry Nadler during the impeachment of Trump late last year.
Whaley was joined by others in criticizing Voight on Twitter, with one tweet reading: "I can't believe they gave Jon Voight more time than AOC."
While another person added: "Did Jon Voight just say Trump is even working during this Convention? He is prolly backstage watching people change. #RNCConvention2020."
Political commentator S.E. Cupp added: "Jon Voight kicks off the RNC with, among other tall tales: 'We chose a man who cares, a man who loves America, a man who loves all Americans.' This would be a very good message if it weren't so easily refutable. #RNCConvention2020."
The opening night of the RNC 2020 also saw Kimberly Guilfoyle compared to Cecily Strong's SNL character after her impassioned speech.