Jonah Hill Toasts Sister Beanie Feldstein in 'Funny Girl' Amid Iffy Reviews
Jonah Hill says he was "floored" by his sister Beanie Feldstein's performance as she made her Broadway debut in the revival of Funny Girl.
While Hill is impressed, the critics have been less kind to Feldstein as a number of publications shared mediocre to lukewarm reviews of the show and its lead actress.
Feldstein made her Broadway debut in Funny Girl over the weekend, playing the role made famous by the Oscar-winning Barbra Streisand. The musical is a semi-autobiographical account of Jewish entertainer Fanny Brice, who rose to fame in the early 20th century.
After watching his sister perform, Hill shared his glowing reaction to the performance on Instagram.
"I watched my sister [Beanie Feldstein] absolutely radiate off the stage tonight in [Funny Girl]," he wrote. As well as his message, he shared a picture of Feldstein from when she was three years old dressed as Brice from the movie Funny Girl.
Hill continued: "I remember the day she was dressed like this and heard this little miniature human sing these songs her whole life. I'm obviously proud as her older brother, but what I saw her do tonight surpassed siblinghood or pride. Her talent caused me to cheer from the depths of my heart. I'm floored.
"I love you [Beanie Feldstein] and I'm in awe of you and the talent you possess."
While Feldstein received nothing but praise from her brother, the critics in the audience have been less kind to her.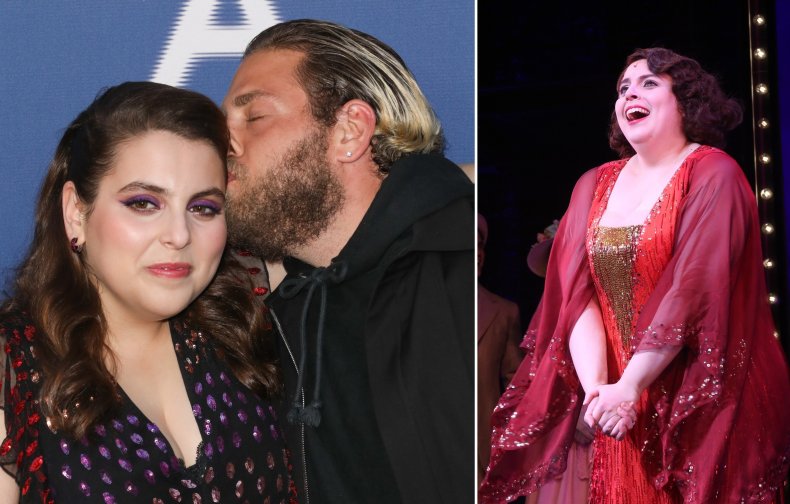 Johnny Oleksinski of the New York Post gave the show one and a half stars out of four, saying the show "falls flat."
The Washington Post's Peter Marks commends Feldstein's "attempts to scale Funny Girl" but confirms that she only "almost makes it." Time Out is a little more scathing in its two out of four star review, as Adam Feldman writes that "Beanie Feldstein falls on her Fanny."
The Observer's David Cote wrote: "In her earnest, somewhat naïve approach, she turns the story of Funny Girl from the rising up and wising up of a great, if troubled, trouper into the wish-fulfillment fable of a moderately gifted young lady."
The reviews weren't all average or negative though. Newsweek's own Joe Westerfield calls Feldstein a "truly funny, funny girl" and states the importance of not comparing her performance with Streisand's.
David Finkle of The New York Stage Review gave the performance four out of five stars as Feldstein confidently proves she's "easy-peasy a Funny Girl." But Bob Verini of the same publication gave the performance just two stars.
The reviews of Feldstein's performance on Broadway have also got people talking on social media.
Accusations of nepotism have been thrown at Feldstein by the likes of some on Twitter. One user wrote: "Not Beanie Feldstein going on the record saying she didn't have to audition for Funny Girl and getting THESE reviews?! Nepotism is wild yall."
The claim that Feldstein said she didn't audition is questionable as she's gone on record discussing her auditions, and told The New York Times Style Magazine that the entire audition process for Funny Girl was over Zoom.
On Reddit, some users claimed to have seen the early previews of Feldstein in Funny Girl and stated that the actress couldn't handle the vocals needed for the role.
Others in attendance at the opening night of Funny Girl did have a good time though. Advertising businesswoman Cindy Gallop called Feldstein "Fantastic" in all caps, within the show.
Funny Girl is playing at the August Wilson Theatre, 245 West 52nd Street, New York. For tickets and more information, go to FunnyGirlOnBroadway.com.