Beanie Feldstein Puts the Funny Into Broadway's New 'Funny Girl'
There is a moment in the opening scene of the new Broadway revival of Funny Girl when Beanie Feldstein enters her dressing room, looks into her mirror and says, "Hello, gorgeous," probably the most iconic line in the show. Her reading is sweet and simple and not at all an imitation of Barbra Streisand, whose living ghost, or at least the ghost of her performance in the original production and subsequent movie, hovers over every mention of any proposed revival, especially this one.
It is a small but significant choice, but with that line reading, the audience knows from the start that this is will not be an imitation of the original or the movie. This is Beanie's Funny Girl, and it puts the emphasis on funny, and she is her own Fanny Brice.
If nobody can top Streisand's singing, Feldstein is as funny as anyone, and that, of course is key to her character. (It is in the title, after all.) Her Fanny is probably closer to that of Mimi Hines—Streisand's replacement in the original production (yes, there was another Fanny)—who was an accomplished comedian in her own right.
And when Fanny meets professional Nicky Arnstein—what a beautiful name...as names go, it's almost as good as Maria—her world changes. Funny Girl is the story of the rise of her career and the ups and downs of their relationship. With Isobel Lennart's book reworked some by Harvey Fierstein, Funny Girl is at its best when the comedy is front and center, and Feldstein is a first-rate comedian who knows how to mine a scene for every laugh.
Ramin Karimloo is everything Nicky Arnstein should be and more—suave, sophisticated and kind, but with an undercurrent of mystery (Who is this stranger and can he be trusted?). And Karimloo is surprising funny: In one scene on a couch, we see him capable of purely physical comedy that is just hysterical.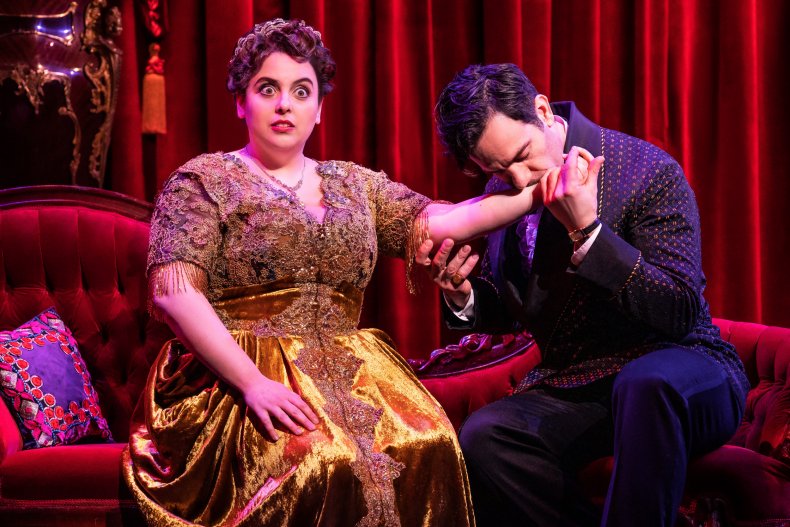 As Eddie Ryan, Fanny's best friend, Jared Grimes is a one-man Nicholas Brothers team. His tap dancing is electrifying, and his one set piece is a showstopper, an 11 o'clock number that comes in at about 8:30.
As one would expect, Jane Lynch, a comic icon, is also quite funny as Mrs. Brice, and she even has a nice little turn as a dancer with Jared Grimes for the song "Who Taught Her Everything She Knows?"
One big change in this production from the original is the dancing. Choreographers Ellenore Scott and Ayodele Casel offer up a cornucopia of dancing styles. On display by Scott are standard Ziegfeld Follies–style dance featuring long-legged chorus girls in huge headdresses; comic pieces that are border on slapstick (a few if which even cross that border) and even a subtle moment that evokes memories of another Follies, Stephen Sondheim and James Goldman's, in which the ghosts of Fanny's past haunt her memory. Tap choreographer Casel has four dances, including two high-energy tap sequences. Her "Rat-Tat-Tat-Tat" seamlessly merges a tap extravaganza with Fanny's personal brand of screwball comedy.
People who go in with strict, preconceived notions of what Funny Girl or who Fanny should be will probably be disappointed. They usually are. But as someone wiser than me once said, "You curate the experience you want." Certainly the now-familiar songs by Bob Merrill and Jule Styne are there, topped by two certified hits: "People" and "Don't Rain on My Parade," but this is no carbon copy of the original. This is a funny Funny Girl, and Beanie Feldstein is a truly funny, funny girl.
Funny Girl is playing at the August Wilson Theatre, 245 West 52nd Street, New York. For tickets and more information, go to FunnyGirlOnBroadway.com.