Joni Ernst's Big Gamble in Iowa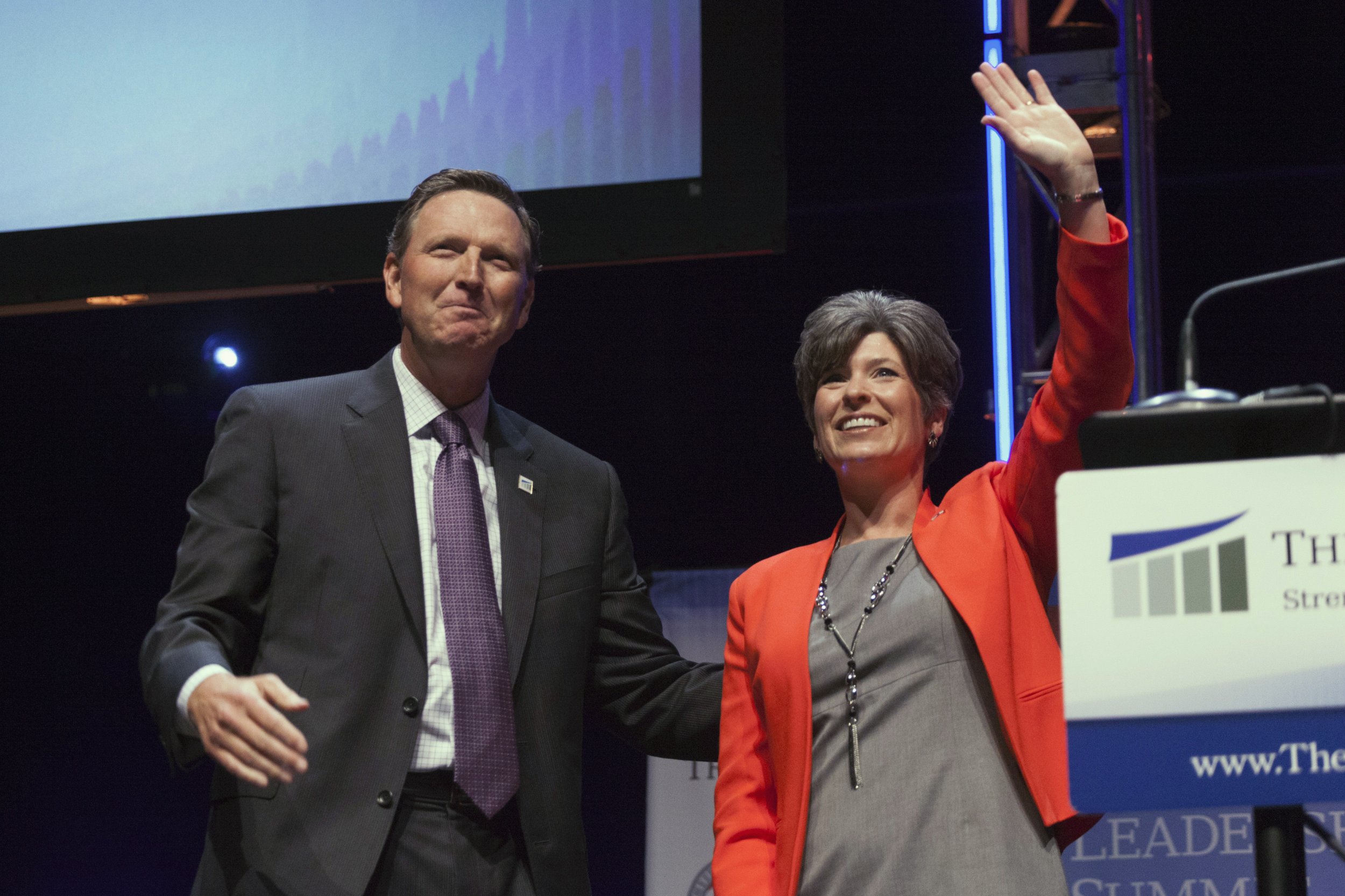 On Thursday, Iowa Democrats had a good day. And they haven't been having many of those recently.
The race for Iowa's open U.S. Senate seat this year between Democratic U.S. Rep. Bruce Braley and Republican state Sen. Joni Ernst is one of the closest in the country and could decide which party controls the Senate. Braley was once considered the favorite, but with less than two weeks left in the race, he has been consistently down in the polls, though often by just 1 point. The FiveThirtyEight forecast gives Braley a 34 percent likelihood of winning.
Thursday was a good day for Braley because his opponent abruptly decided not to meet with the editorial boards of several of the state's newspapers, including the prominent Des Moines Register. It's a tradition across the country that candidates sit down with the editors of the local papers to share their views on policy and help the editorial boards make decisions about endorsements. But Ernst has opted out.
The press jumped on the news and Democrats had a field day. Ernst likely believes that she has a better chance of winning if she avoids any missteps that might arise in these meetings—and might be right. "[It's] part of her effort to control her message in the final days of the campaign," said Republican Douglas Gross, a gubernatorial candidate in Iowa. "She is nothing if not disciplined."
But the decision also plays into the message the Braley campaign has been trying to get across for months but with little luck: that Ernst is a Sarah Palin-style extreme conservative.
"I think this will be a problem for her," Jeff Link, an adviser to the Braley campaign, said of Ernst's decision to skip the newspaper meetings. "This just hasn't happened in Iowa before. Iowans are smart and will scratch their head over this."
After Ernst emerged from a Republican primary having voiced a number of far-right positions, Team Braley immediately decided to paint her, as one Braley television ad put it, as "too extreme for Iowa."
During the primary, Ernst endorsed the idea of privatizing Social Security by shifting future contributions to personal accounts, called the idea of a federal minimum wage "ridiculous" (she later said she supports it), called President Obama a dictator who should perhaps face impeachment (she walked that back almost immediately) and appeared concerned about the Agenda 21 conspiracy that she described as a United Nations effort to forcibly move Americans into urban centers and confiscate their property (she later walked that back too). In 2012, she told a libertarian group that she would support legislation to nullify the the Affordable Care Act and allow state law enforcement to arrest federal officials trying to implement it. In 2013, she backed "personhood" amendment to the Iowa state constitution that would ban all abortions and some contraception and turn miscarriages into murder investigations.
In a debate this month, Ernst said this amendment was "simply a statement that I support life" that would have far-reaching consequences "only if the legislation would be passed." The Des Moines Register recently chided Ernst that "constitutional amendments are not simply personal statements from politicians that have no meaning or consequences in the real world." The Ernst campaign cited this editorial in explaining why Ernst canceled her sit down with the Register's editorial board Thursday.
But Iowa's paper of record hasn't made a big deal out of a lot of many of the positions Ernst has taken—and that's part of why the Braley campaign has had a hard time convincing voters that Ernst is extreme.
"She's got a very strong image as sort of a wholesome rural Iowa girl," said Gross. "There are not very many wholesome Iowa girls who people think are extreme or dangerous."
Ernst cultivated her folksy persona in the Republican primary with a March television ad that went viral and raised her profile in both Iowa and Washington. "I grew up castrating hogs on an Iowa farm," Ernst says in the ad. "So when I get to Washington, I'll know how to cut pork." The ad, interspliced with images of pigs, ends with Ernst's call to arms: "Washington is full of big spenders. Let's make 'em squeal."
The ad was so successful that she has reprised it in the final weeks of the race, filming a new spot in the same hog farm, wearing the same vest and a very similar plaid shirt. After months of attacks, the ad showed voters that she's still that folksy hog farmer they met in March.
"She's done a good job of just trying to ignore any discussion of the issues and she's tried to make the campaign about nothing other than her resume," Link said. Ernst's biography on her website highlights her role as a mother, grandmother and soldier in the Iowa National Guard.
Gross believes the claims about Ernst's extremism aren't true. "She's a pragmatic politician. She did what she needed to do in the primary, and she's doing what she needs to do in the general election," he explained. "I don't see her as an ideologue at all." Gross isn't the only Republican who thinks Ernst played up her tea party-style beliefs in order to win the primary.
The Iowa Democrats' struggle to label Ernst as extreme is not unique—embracing ultra-conservative ideas does not necessarily disqualify Republicans if they appear reasonable. In the Colorado Senate race, Republican nominee Cory Gardner has an ultra-conservative voting record but a winning personality that doesn't seem radical at all. Gardner is up in the polls despite extreme positions on issues like abortion and immigration. Democrats have even had a hard time getting the press to see Gardner as extreme—the Denver Post endorsed Gardner earlier this month.
Democrats ran into the same problem two years ago when an anti-Mitt Romney super PAC tried to paint Republican presidential candidate Mitt Romney as an extremist. As a New York Times story described this failing effort: When the super PAC "informed a focus group that Romney supported the Ryan budget plan—and thus championed 'ending Medicare as we know it'—while also advocating tax cuts for the wealthiest Americans, the respondents simply refused to believe any politician would do such a thing." Ultimately, Democrats went after Romney with a different line of attack.
The Braley campaign believes the press hasn't paid enough attention to her more extreme positions in the primary or her misstatements. Take one debate in which Ernst backed up her claim that government regulations were hurting Iowans by railing against cap and trade—a proposal in Congress that never passed. "No one really even commented on it in the press," Link said. "For whatever reason, she's been getting a pass on all these things."
Still, Link sees Braley's message beginning to break through. "I think the reason why the race is as close as it is is because more and more of these independents are figuring out what her position is on abortion," he said.
Iowa is bitterly divided between progressive Democrats, socially conservative Republicans and independents in the middle. Over the next 11 days, each party will work to turnout their base supporters while trying to convince independents who the real Ernst is.
Ernst's decision not to talk to the newspapers may help her stay on message—but it may also help Braley make his case.