Jordan Peterson Holds Back Tears Responding to Olivia Wilde 'Incel' Jibe
Jordan Peterson fought back the tears during a recent interview after he was labeled a "hero" to the incel community by Don't Worry Darling director Olivia Wilde.
"Incels," short for involuntary celibates, refers to an online subculture of men who express extreme resentment and hostility to women in their online discussion groups.
Peterson was discussing the comments in an interview with Piers Morgan on British TV. As Morgan read Wilde's statement to Peterson, which was part of a piece for Interviews Magazine, the Canadian psychologist started to get emotional.
When pressed by Morgan on Piers Morgan Uncensored, Peterson initially remained stone-faced when he was asked whether he was in fact an "the intellectual hero" for incels?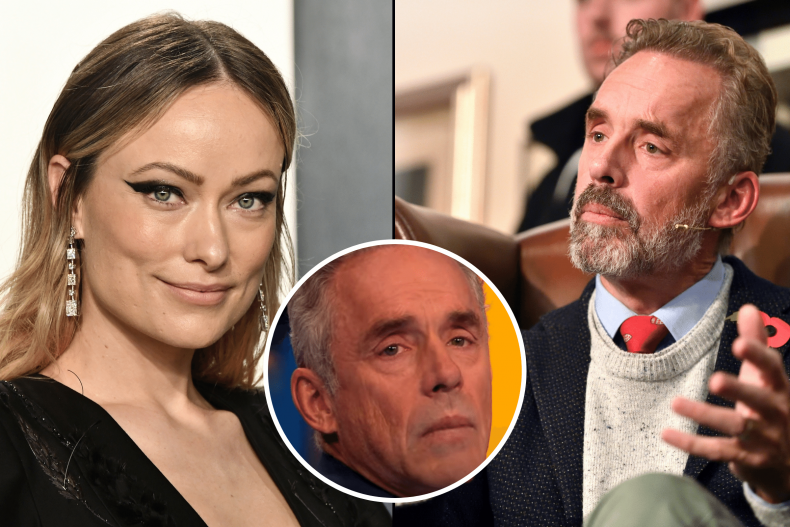 "Sure, why not? You know, people have been after me for a long time because I've been speaking to disaffected young men. Now what a terrible thing to do that is," Peterson said, wryly. "I thought the marginalized were supposed to have a voice?"
Morgan noted that Peterson appeared to be emotional while talking about it.
"Well god, you know. It's very difficult to understand how demoralized people are. And certainly many young men are in that category. And you get these casual insults. These 'incels,' what does it mean?" Peterson continued.
"These men, they don't know how to make themselves attractive to women, they're very picky and good for them. Women, be picky, that's your gift, man. Demand high standards from your man. Fair enough. But all these men who are alienated, they're lonesome and they don't know what to do, and everyone piles abuse on them."
Morgan asked whether it was Wilde's comments specifically that stung Peterson so much, to which he said he'd been called much worse and received worse abuse.
Wilde stated in her comments regarding Peterson, that Chris Pine's character in Don't Worry Darling was based on Peterson, who she referred to as an "insane man" and a "pseudo-intellectual hero to the incel community."
Peterson said after hearing the comments, he went to watch the trailer for Don't Worry Darling and found he liked it and would probably see the movie.
"In that brief moment, you got very emotional, why?" Morgan asked Peterson. Peterson appeared to well up again as he gave his response.
"It's really something to see, constantly, how many people are dying for lack of an encouraging word?" Peterson said before a long pause. "And how easy it is to provide that if you're careful."
The interview provoked a strong reaction online. A YouTube channel with over a million subscribers, The Majority Report w/ Sam Seder posted a video response titled "Jordan Peterson Becomes King Of InceIs During Weepy Piers Morgan Interview."
Peterson's reaction was discussed widely on Twitter and TikTok too with some (mostly on Twitter) defending him while many others mocked the psychologist.
TikTok user @shcallum posted a critical five-and-a-half minute video review of Peterson's comments, referencing self-described incel Alek Minassian, who killed 10 people by driving a van into pedestrians in Toronto.
British journalist Patsy Stevenson also spoke out about Peterson, refusing to empathize with him.
"Jordan babe incels are…murdering women because we say no to them," she wrote on Twitter. "Go look at an incel reddit page then come back to me saying we should empathize with incels instead of reprimanding them for being abusive."
Peterson's daughter Mikhaila has publicly defended her father, discussing the claims on her podcast, getting Jordan's reaction to being called "king of the incels."