Jordan Peterson Reveals Reason for His Highly Memed 'Designer Hell' Suits
Quite fittingly, Jordan Peterson's suits have been polarizing opinions recently and he explained his attire's origins during his recent appearance on The Joe Rogan Experience.
Canadian psychologist Peterson was a guest on American comedian Rogan's podcast as the two indulged in a three-hour conversation on a wide range of topics. Both men have millions of fans and opponents online, with both names regularly trending. While both were discussed online after the recent JRE episode, Peterson's choice of clothing here and in previous media appearances has got people talking.
As he was introduced at the start of the podcast by Rogan, they discussed his choice of clothes that day, which was a two-toned dinner jacket, with a themed lining.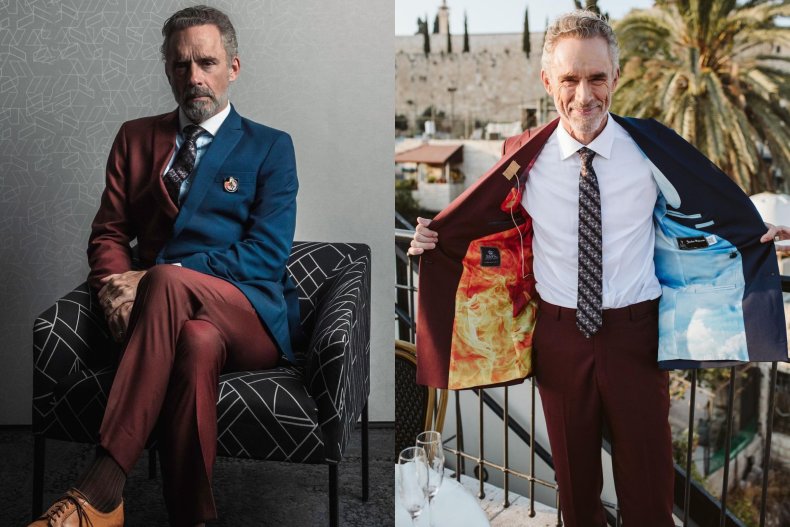 It turns out Peterson has been wearing suits made for him by a company called LGFG. They made a dozen suits for him, one for each rule in his book 12 Rules For Life: An Antidote to Chaos.
"The rules are printed on the back of this collar. This is a heaven and hell suit, it's quite fun," Peterson explained to Rogan. The colors were "magenta" and navy blue, one half made from sheep's wool, the other from goat's wool.
On the inside of the jacket, the left featured clouds to represent heaven, while the right side featured fire for hell. The magenta color representing hell, Peterson joked was for "designer hell."
"I have one suit with you in the lining too," Peterson told Rogan, though he decided against wearing it that day.
"It's a black suit with platinum wires in it which is kinda cool and inside it's got [...] sharp, harsh black and white images of you and Brett Weinstein and Ben Shapiro and Russell Brand and, you know, an assortment of...," Peterson said before Rogan finished his sentence, "Oh that whole intellectual dark web thing."
Peterson had previously posted a picture of himself in the suit he was wearing on the day of the Rogan podcast on his Instagram account. The company who sent Peterson his 12 suits, LGFG are an international fashion house who provide clothing for "executives, celebrities and Hollywood films."
Peterson's clothes have caught the attention of social media users recently
One of the new suits is a bright blue and cream number, which he wore with a tie featuring Elon Musk's head. Sharing pictures of him wearing it, @MrRaceBannon said on Twitter he looked like "an unemployed birthday clown."
"Good lord," Twitter user Allen Sorensen wrote, "I hope Jordan Peterson is getting these suits for free," commenting on the heaven and hell one.
"Jordan Peterson's suits lately are wild. Maybe he can pivot to being a fashion blogger. I'm here for it," commented Twitter Blue subscriber Pete Oxenham. Others online suggested it was a suit reminiscent of the Batman villain Two-Face.