'The Last Dance' Shows The Real Michael Jordan For First Time Since 1992, Says 'The Jordan Rules' Author
Before The Last Dance hit the screens last month, Michael Jordan admitted the upcoming documentary could paint him under a far less glamorous light than the one he was cast in throughout his stellar NBA career.
"When you see the footage of it, you're going to think that I'm a horrible guy", he told Richard Deitsch of The Athletic ahead of the release of ESPN's 10-part documentary, which chronicles Jordan's final season with the Chicago Bulls.
Throughout its first six episodes The Last Dance has both lifted the lid on previously obscure aspects of Jordan's career and personality and delved deeper into some of the better-known facets and moments of his life.
It isn't the first time, however, that some traits of Jordan's personality he may wish to keep away from public knowledge have been laid bare. Long before The Last Dance saw the light of day, The Jordan Rules had put Jordan's personality and the impact his ferocious will to win had on some of his teammates firmly into the spotlight.
Written by then-Chicago Tribune reporter Sam Smith, what started as a relatively innocuous exercise in chronicling the 1990-91 Bulls season sent shockwaves that reverberated well beyond the NBA borders when it hit the shelves in November 1991.
The Jordan Rules revealed a new side of Jordan, a million miles away from the phenomenal player that had developed into an NBA superstar and commercial icon. In the book, Jordan emerged as a man so consumed by his determination to win that he could barely tolerate his teammates falling short of the incredibly high standards he set for himself.
The book contributed to deflating the balloon of the "Be like Mike" persona that a popular commercial had helped to build. Suddenly, Jordan appeared surprisingly human and fallible for a man who could seemingly could do no wrong during his first six years in the league.
Smith and his book feature prominently in The Last Dance and he believes that Jordan's worries about being unmasked as "a horrible guy" are unfounded, as the documentary in fact shows the real Jordan for the first time in almost three decades.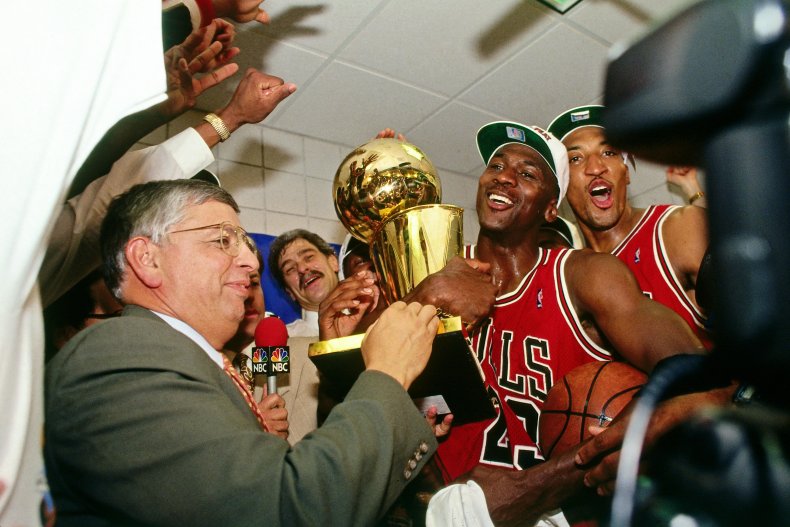 "Jordan was great fun to cover, especially before the Bulls were winning titles," he explains to Newsweek.
"That, to me, is what's best about the documentary, to see him in these current interviews, comfortable, natural, funny, competitive. That's what he was like every day, great fun to be around.
"As his fame grew along with the team's with the winning and the ensuing revelations—from my book to the gambling junkets—he became more and more guarded and reclusive. This is the first time people are seeing the Jordan we loved since 1992.
Just consider a number of the incidents the book touched upon. Readers learnt Jordan called Bulls center Will Perdue "Will Vanderbilt"—because "he doesn't deserve to be named after a Big Ten school."
When Perdue set a hard screen on him in training, Jordan proceeded to punch in the head demanding to know why the center didn't show the same kind of intensity in games.
Perdue wasn't the only player on the receiving end of Jordan's sharp tongue. When forward Stacey King showed up to training camp ahead of the 1990-91 season overweight, "His Airness" criticized his teammate's perceived ineffectiveness.
"Big, fat guy," the Bulls No. 23 was quoted as saying.
"One rebound in three games. Power forward. Maybe they should call it powerless forward."
Not even Scottie Pippen, Jordan's trusted lieutenant, was exempt from the occasional verbal lashing. As he explained in Episode 2 of The Last Dance, Pippen had been all but wiped out by a migraine in Game 7 of the 1990 Eastern Conference Finals, which the Bulls lost to the Detroit Pistons.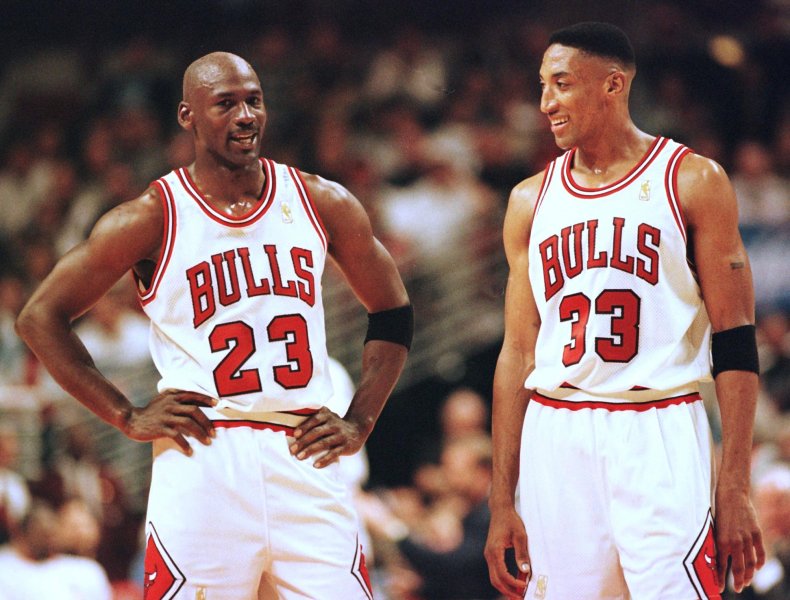 "Headache tonight, Scottie?," Jordan quipped after his teammate played poorly in a game of the 1990-91 season.
Global superstars are often prime targets for muckraking, but the reactions to the book surprised Smith, not least because he never intended for it to be a tell-all expose.
"I believe it had that impact because Michael, as he stated in the documentary, had been marketed somewhat mythically as this perfect guy, endorsing only the best family products, handsome, loyal, respectful, ideal," Smith adds.
"Remember, advertising is to sell you something. Not to reveal a product's nature. So he was a good guy, fun, but hardly perfect."
When he took an advance of about $60,000 from Simon & Schuster to write the book—the first of his career—Smith had no particular plans to rock the boat.
"I'd been traveling with the team several years full time and everyone always asked me 'What are they [Bulls players] like?'," he explains.
"So in attempting to write a book for the first time [...] I decided it would be best to answer those questions, that they are like you and me—just way better basketball players.
"They're mostly fun and have differences like any office setting, though with the impact of Jordan who was such a big individual star with this manic competitiveness there was a unique story to tell."
Jordan's penchant for demeaning some of his teammates, which he described as "his supporting cast" was by no means the only surprising revelation in the book.
The Jordan Rules also lifted the lid on the non-existent relationship between some of the team's stars and their front office, a topic The Last Dance explored in its opening episodes.
Jordan and Pippen candidly admitted their dislike for former Bulls general manager Jerry Krause and made minimal—if any—effort to hid their feelings.
Some readers, meanwhile, were left non-plussed by Jordan's decision not to attend the Bulls' trip to the White House after winning the 1991 NBA title.
"I ain't goin' to no White House," he said in The Jordan Rules. "I didn't vote for that guy."
The snub was made worse when it emerged that while his teammates had met then-president George H.W. Bush, Jordan had been playing golf with James "Slim" Bouler, who had received a $57,000 check from the NBA star to cover gambling debts.
Bouler was eventually convicted of money laundering, making the once crystal clear waters of Jordan's life even murkier. If the book tarnished MJ's previously unblemished image, it made life harder for Smith too.
He was told by his newspaper not to attend Bulls games for a while and Mike Imrem of the Daily Herald labelled him "Salman"— as in Salman Rushdie, the novelist who had been forced to hiding because of a fatwa.
Meanwhile, the Chicago Sun-Times' Jay Mariotti warned the book "might become one of the most damaging books ever written about a sports team" and destabilize the Bulls shortly after they had won their first title.
Given the reception, it's understandable Smith did not share the excitement that greeted the release of ESPN's documentary.
"As I went through a lot with the book, I can't say I as looking forward to it," he explains. Jordan's decision to agree to take part in a no-holds-barred documentary was also surprising to him, but Smith feels The Last Dance has done MJ justice throughout its first six episodes.
"I've enjoyed Jordan so comfortable in who he is he doesn't care what anyone thinks," he adds.
"He never really did, but he worried about letting down his parents and the sponsors who invested in him. Now he's past all that, which is why I guess he agreed to this, which was the biggest surprise of all to me."