Donald Trump and Jorge Ramos: Who Was Right?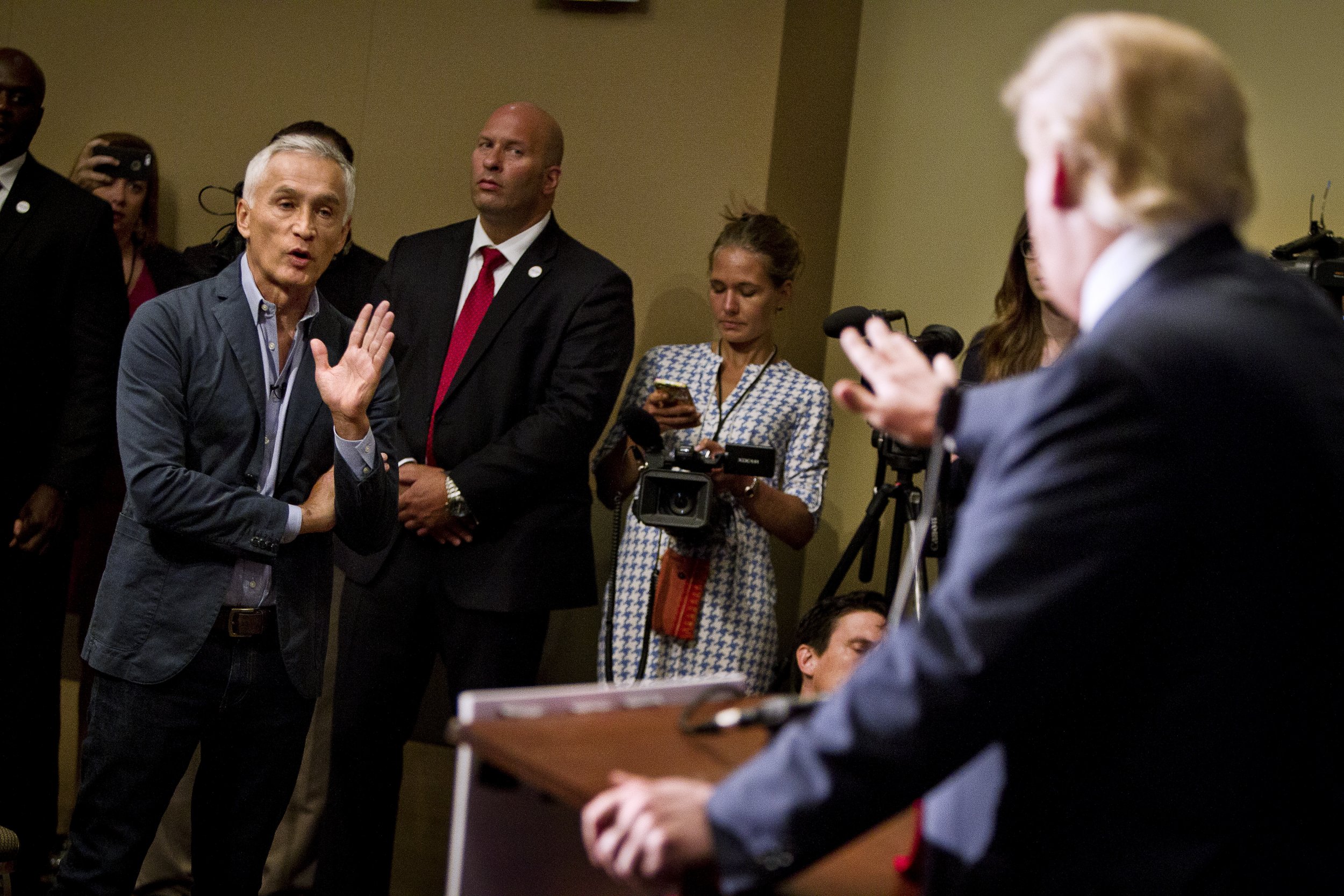 The morning after he was removed from a Donald Trump press conference by security for asking questions about immigration out of turn, Univision anchor Jorge Ramos was defending himself on Twitter.
Ramos responded to Trump's accusation that the reporter was "totally out of line," made on the Today show.
Ramos, one of the most influential Mexican-American reporters on U.S. television, stood up at the Iowa press conference after Trump had called on another reporter, repeatedly interrogating the candidate about his controversial immigration stance.
As Newsweek reported early Wednesday morning, the whole exchange got rather nasty, with Trump telling Ramos to "go back to Univision." Trump is currently suing the network for $500 million. (He did not hesitate to bring this up.)
Ultimately, Ramos was removed by security before being let back in 10 minutes later.
In the dustup between Ramos and Trump, who broke the rules of etiquette? The answer is both, although Trump to a much greater degree.
There are no formal rules at press conferences, only customs and manners. Generally, at political press conferences, the politician calls on reporters, the reporters ask their questions, and the politician answers them. Sometimes there's a dustup. A few reporters will scramble to deliver their query. A reporter might try to fold many questions into one. But in general, what Ramos did is considered out of bounds, not because his questions were inappropriate (they weren't) but because filibustering at a presser, and speaking out of turn, is rude to other reporters. This is one reason why grandstanding reporters are often frowned upon. It affects the free flow of information because it cuts into the limited time that reporters have to pose their questions. The question is not "why should reporters be polite to politicians ?" but rather "why should reporters be nice to other reporters?"
Still, the escorting of Ramos out of the room is rare and very worrisome to reporters. Journalist Glenn Greenwald, known for his outspoken beliefs on journalistic practice, wrote on Twitter that it was "highly likely Ramos would never have been called on," since Trump is suing his employer.
Usually, when politicians deal with a rambling reporter, they gently move on to the next question, as John Boehner did in deflecting a Ramos question in this video:
The idea that you'd have a security person remove a reporter through physical intimidation is anathema to all journalists. It's a line you don't cross, which is probably something Team Trump quickly realized when they brought Ramos back into the room—but only after the damage was done.
One confrontational reporter at press conferences was Helen Thomas. Thomas, who passed away in 2013, interrogated sitting U.S. presidents going back to the Kennedy era. She became famous for asking hard questions and not backing down from powerful figures, but she was also known for occasionally speechifying to a degree that made her colleagues roll their eyes and wish she'd hurry up. Thomas was not a self-identified advocacy journalist like Ramos, who has made it clear that he's an advocate as well as a reporter. However, she eventually did become known as an advocate for Palestinian rights, a subject she often brought up.
What Ramos did took the Thomas approach to an extreme. Journalists do have the right and responsibility to ask difficult questions, as well as the right to be advocates of a cause rather than identifying themselves as neutral. But hogging a microphone isn't free speech.
Ramos has been trying to get an interview with Trump for months. He recently criticized the GOP front runner's plans for a border wall and deportations on CNN, a sign that he's in the long tradition of advocacy journalism.
The irony is that Ramos probably helped the pugilistic Trump, who has gained politically from picking fights. Predicated on raising as much attention as possible in the early stages of the election, Trump's apparent strategy is aided, rather than abetted, by Ramos's approach, because it allows the candidate to stay in headlines. Tuesday evening's exchange is similar to Trump's ongoing war with Megyn Kelly, which he has reignited since the first GOP debate.
These types of confrontations make the candidate and the reporter more famous; but the idea that you can out-maneuver/out-yell/out-talk Trump, and by doing so force him to explain or back down from his controversial statements on immigration, is wrong-headed when taking the candidate's previous behavior into account.
Based on polls of Hispanic voters , it would seem that Trump has mostly hung himself with his own words.
Matthew Cooper contributed to this story.