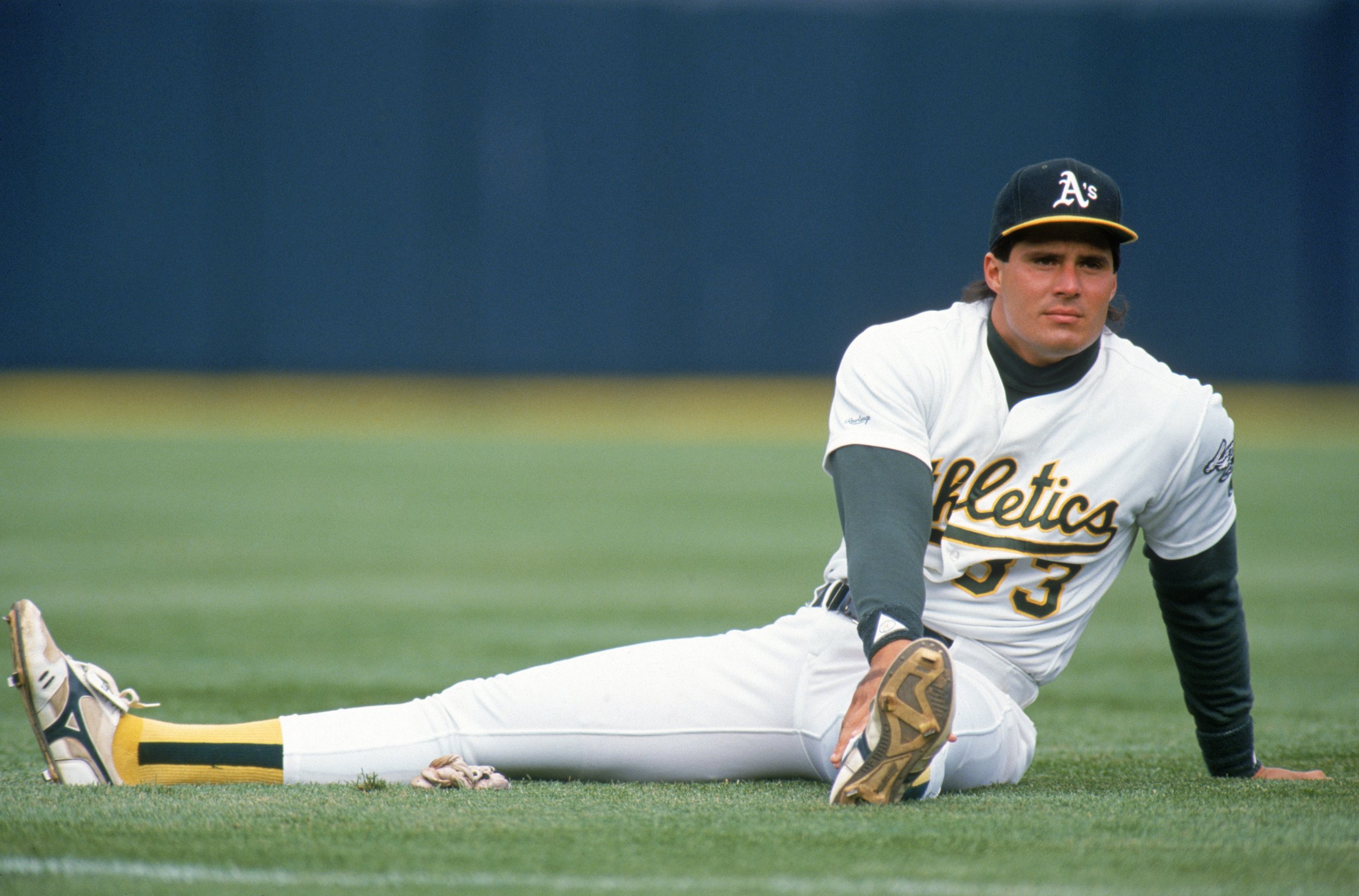 Twitter is a powerful tool. Anyone who has an account can turn the thoughts flitting through her or his mind into a public statement within seconds. That can be a beautiful, democratizing thing, but it can also lead people to publish questionable messages that get them into trouble.
Jose Canseco, the former Major League Baseball player, might be learning that lesson the hard way after posting a series of tweets about sexual misconduct on Tuesday.
Canseco seemed to try to shift the attention from his own tweets over to President Donald Trump, who is notorious for his early-morning, unedited and erratic missives.
In fact, the same day that Canseco fired off 16 tweets in less than three hours (only about half of them related to sexual misconduct), Trump landed himself in hot water for his own missive calling Senator Kirsten Gillibrand a "lightweight" and a "total flunky" who used to come to his office "begging" for donations and "would do anything for them."
But while Canseco isn't the president, he also isn't quite a regular guy. Most folks don't have upwards of half a million followers on Twitter. Canseco played several seasons with the Oakland A's, from 1985 until 1992 and again in 1997. He won the American League's Rookie of the Year award in 1986 and was named its most valuable player in 1988. He played for several other teams during his career, including the Tampa Bay Devil Rays and the New York Yankees.
He later admitted to using steroids and claimed widespread use of performance-enhancing drugs among MLB players in interviews and in his 2005 book Juiced: Wild Times, Rampant 'Roids, Smash Hits & How Baseball Got Big.
"We were disappointed to learn of Mr. Canseco's statements," his former Oakland team said in a statement on Twitter. "Mr. Canseco is not an employee of the Athletics and his statements do not reflect the value of our organization."
Canseco last played for the A's two decades ago, but his social media rant may have cost him the chance to return to a more recent gig. During the last baseball season he began working as a commentator for pre- and post-game broadcasts on NBC Sports California.
"Jose Canseco is no longer an employee with NBC Sports California. His agreement with us ended after the 2017 baseball season," the network said in its own statement. "We certainly don't agree with his comments, which do not reflect the values of our network or our team partner."
The San Francisco Chronicle reported that though new contracts weren't expected to be finalized until next month, Canseco would likely have returned to the network. Until his tweets, that is. Several outlets—including the Chronicle and USA Today —took NBC Sports California's reaction to mean that a reprise of his role at the network is now unlikely.
"If people can't take a joke, that's ridiculous. What I'm saying really has no meaning. Those tweets don't even make any sense, they're a bunch of riddles," Canseco told the San Francisco Chronicle via text message, before trying, once again, to deflect the attention back to Trump, this time more explicitly. He told the paper: "What company people should be more worried about is what the president of the United States is doing, not me."
It seems there's enough worry to go around.
Uncommon Knowledge
Newsweek is committed to challenging conventional wisdom and finding connections in the search for common ground.
Newsweek is committed to challenging conventional wisdom and finding connections in the search for common ground.
About the writer
Stav is a general assignment staff writer for Newsweek. She received the Newswomen's Club of New York's 2016 Martha Coman Front Page Award for Best New Journalist. She previously interned at Newsday, the San Francisco Chronicle and Dance Magazine and her writing has also appeared in the Jewish Daily Forward, Stanford Magazine, DancePulp, and other publications. Stav is a graduate of Stanford University, where she studied history and dance and helped found the Stanford Arts Review, and Columbia University's Graduate School of Journalism. She prefers sunshine and tolerates winters grudgingly.