As the cliché says, imitation is the most sincere form of flattery. If that's the case, Josh Allen can stand to send Patrick Mahomes some metaphorical flowers.
Upon first blush, that idea might sound surprising, if not a little condescending. Mahomes may have the better NFL resume, but it's not like Allen has been a flop during his time in Buffalo. Both men possess massive arms and have the uncanny ability to make something happen despite the opposing defense's best efforts.
So what can Allen take from No. 15 besides his Super Bowl rings? Imitating Mahomes' thinking patterns would be an excellent start, especially when it comes to on-field decisions.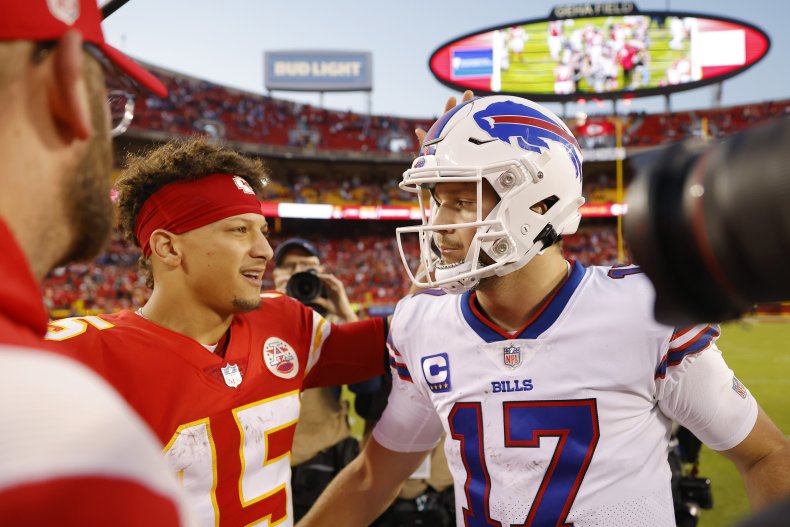 Mahomes Ignores His Desire to Throw Deep
If you think back to his early days in the NFL, Mahomes was a long-ball threat. With his arm strength and Tyreek Hill sprinting downfield, it seemed like each and every play could become a touchdown. Over time, though, things changed.
Defenses were no longer caught cold and started changing their strategy. It wasn't wise to blitz against the Chiefs; instead, you had to sit back, keep things contained and force KC to work slowly to get the ball down the field.
"We faced so many deep coverages where teams were taking away all our deep throws," Mahomes was quoted as saying about the 2021 season in a recent ESPN story centered on the death of long passes. "I had to learn when to just take what's underneath. That's something where I've kind of grown and matured. We'll call deep plays still all the time, but if defenses are going to play that deep, even though I want to in my heart of hearts to throw it downfield and make those big plays, I'll take the underneath stuff and find ways to move the ball down the field that way."
That piece also noted that the league has followed that same trend, with quarterbacks collectively attempting the fewest deep passes since 2006. And one expert tied that directly to the Chiefs' signal-caller.
"It's directly attached to Patrick Mahomes," ESPN analyst and former NFL quarterback Dan Orlovsky explained. "Teams have sat there and said, 'We are going to take these home-run hitting quarterbacks and make them hit singles.'"
Now, how do we connect that to Josh Allen?
Allen Can't Seem to Stay Patient and Composed
Some would argue that the Bills' quarterback has a stronger arm than Mahomes'. Allen, however, doesn't seem to have the same discipline as his AFC counterpart.
During his time in the pros, the Wyoming product has struggled with turnovers. He threw 60 interceptions through his first five NFL campaigns and added three more during the 2023 season opener. For context, Mahomes has tossed 13 fewer picks in four more starts.
That's where the mental side of the game comes in. Allen is capable of taking what the defense gives him and working methodically down the field. Eventually, though, he takes a shot, and it costs him. And once that snowball starts rolling and the game is hanging in the balance, he doesn't stop.
"There is a thin line between being aggressive and being a little bit reckless," Allen said after defeating the Miami Dolphins in January 2023, according to a Fox Sports story about the QB. "Last week, maybe [I was] getting too aggressive and just [should have had the] understanding with the lead, just forcing longer drives instead of helping their team get back in. And that's what I really did."
Allen threw for 352 yards and three touchdowns that game, but also tossed two interceptions. The next time out, he wilted (264 yards and an interception) in a season-ending loss to the Bengals.
Fast forward to Buffalo's next competitive game, and we saw more of the same. With Aaron Rodgers out of the picture, the Bills simply had to control the game and dare the Jets to score. Instead, Allen threw three picks and lost a fumble, allowing New York to hang around. Gang Green would ultimately come back and win in overtime.
At this point, Allen has proven that he doesn't lack the talent or physical skill to succeed in the NFL. Instead, the problem seems to focus on decision-making. Writing for the Buffalo News, Jim Kubiak used words like "impatience" to describe the ugly Monday night defeat.
"Allen completed 29 of 41 attempts (70.7%) for 236 yards and one touchdown while throwing three interceptions and losing a fumble. Allen was at times extraordinary, making plays with his legs, but as the game wore on, Allen's patience wore thin," the scribe explained. "He could not keep himself from making disastrous attempts down the field into the teeth of a physical and disciplined Jets defense."
Allen, for his part, said that he was trying to force the ball and noted the similarities to the previous season.
With all of that being said, let's circle back to Patrick Mahomes. He said that the Chiefs still call deep passes. Despite his desire to let it rip, though, he largely chooses to pick a safer option. The QB is nowhere near perfect, but his development is plain to see on Sunday.
That is the difference.
Mental strength is easy to overlook, especially when you consider all of the fantastic things No. 15 can do on the football field. It can be hard to quantify, especially in the face of hard stats like passing yards and touchdowns. In reality, though, making the right decision is just as important as throwing a strong spiral. While reaching the end zone is great, you don't have to throw for 80 yards and tally six points every possession to win. Repeatedly turning the ball over, however, is an easy way to lose.
Allen, it seems, hasn't come to understand that as well as his AFC rival.
Uncommon Knowledge
Newsweek is committed to challenging conventional wisdom and finding connections in the search for common ground.
Newsweek is committed to challenging conventional wisdom and finding connections in the search for common ground.
About the writer
Joe Kozlowski is a Newsweek reporter based in New York City. His focus is reporting on trending sports stories. Joe joined Newsweek in 2023. He is a graduate of NYU's Gallatin School of Individualized Study. You can get in touch with Joe by emailing j.kozlowski@newsweek.com.
Languages: English.