Josh Hawley Bill Seeks $3B Boost to Taiwan's Arsenal to Deter China
A new piece of legislation introduced by Senator Josh Hawley on Tuesday aims to increase American support for Taiwan's defense preparations while incentivizing Taipei to prioritize weaponry that can effectively repel a Chinese invasion.
A Taiwanese lawmaker told Newsweek the initiative by Missouri's junior senator could plug a "most dangerous" gap in the coming years, before the island nation completes its long-awaited defense modernization program, while Republicans and Democrats coalesce around a growing bipartisan consensus on the urgency of deterrence in the Taiwan Strait.
Hawley's Arm Taiwan Act of 2021 would appropriate $3 billion for the Department of Defense to supply Taiwan with equipment and training "to accelerate Taiwan's deployment of asymmetric defense capabilities required to deter or, if necessary, defeat an invasion by the People's Republic of China."
The annual funding will go through a new Taiwan Security Assistance Initiative for five years between 2023 and 2027, a period after Chinese leader Xi Jinping secures a likely third term, in which Taiwan's defense establishment assesses the People's Liberation Army will possess the capabilities to launch a full-scale invasion at a minimal loss.
The proposal by Hawley, who sits on the Senate Armed Services Committee, looks to prevent a fait accompli by allowing a well-armed Taiwan to "delay, degrade and deny" the PLA the opportunity to cross the strait, seize key territories and neutralize Taiwan's leadership—with the goal of holding out long enough for help to arrive in the form of the United States, supported by neighboring allies including Japan.
The bill, however, would be conditioned on Taiwan's demonstrating progress in its own self-defense preparations, especially in ongoing reforms to its reserve forces. Prerequisites include Taipei's commitment to spend no less than 3 percent of its GDP on defense by 2027, including any extra budgets to that effect.
The country's largest-ever 2022 defense budget of $17 billion is 2.2 percent of its IMF-estimated GDP of $759.1 billion for this year. An $8.6 billion special budget—expected to pass before the year's end—would boost its spending to 3.3 percent. Over two-thirds of the funds will go to the mass production of anti-ship rockets and land-based missile systems over the next five years.
But even after Taiwan's budget rises to the expected $25.6 billion, Hawley's $3 billion initiative would still amount to a significant 11.7 percent of the island's total defense expenses for next year.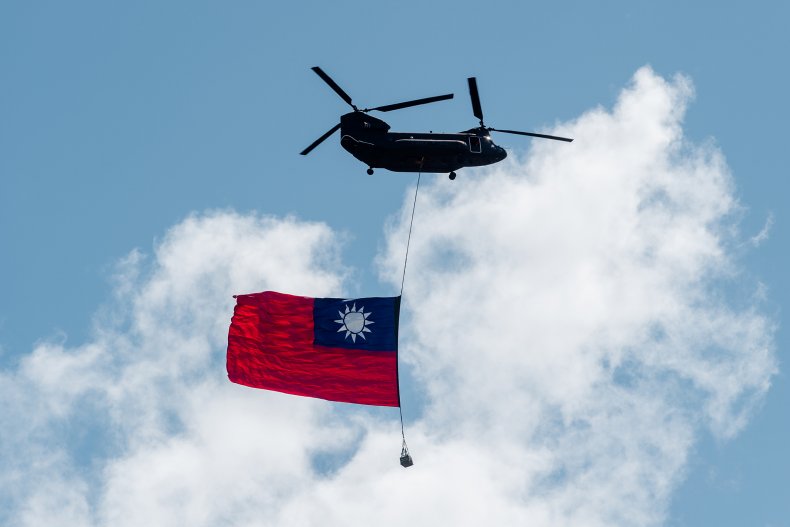 Asymmetric Warfare
An additional requirement of the act is the production and procurement of asymmetric weaponry. China outspends Taiwan on defense by between 15 to 25 times, according to various estimates. Defense planners in Taipei know they cannot match Chinese capabilities like-for-like and must counter specific PLA capabilities with small, highly maneuverable and lethal weapon systems such as man-portable rockets and fast attack boats.
Included in Hawley's legislation is some of the most precise language on Taiwan's defense needs, incentivizing Taipei's development in a way that might prevent otherwise limited funds from being contested by the three main services of Taiwan's armed forces.
The bill proposes specific equipment including ground-based coastal defense cruise missiles and launchers currently being developed by Taiwan, as well as naval mines and minelaying platforms—also part of Taiwan's existing push for asymmetry against the PLA.
Still missing are Taiwan's missile boats and unmanned aerial capabilities. Taipei is awaiting the delivery of four MQ-9B SeaGuardian UAVs approved for sale by the Trump administration last November.
"Taiwan is in grave danger, but the future is not yet written," Hawley said in a statement accompanying the bill's instruction. "The Arm Taiwan Act will ensure Taiwan has the asymmetric defenses it needs to deter a Chinese invasion—so long as Taiwan is prepared to make the difficult choices required to defend itself in the hard years ahead."
"We should do everything in our power to help Taiwan urgently strengthen its defenses. If China's recent actions have shown the world anything, it's that Beijing will stop at nothing in its quest to dominate the Indo-Pacific and then the world. We must not let them succeed," he added.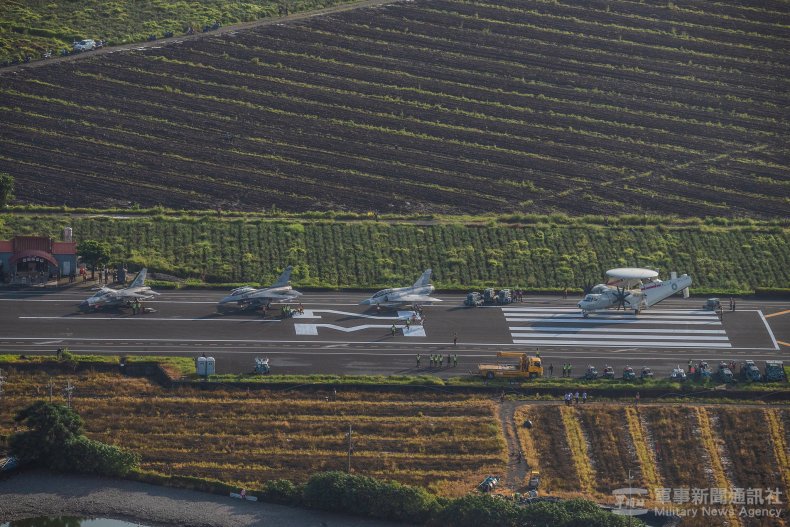 Taiwan's Foreign Ministry spokesperson Joanne Ou said the government would follow the bill's progress through Congress. In a written statement to Newsweek, she thanked lawmakers for supporting the U.S.-Taiwan security relationship.
Wang Ting-yu, a legislator for Taiwan's ruling Democratic Progressive Party, said the biggest risk to cross-strait stability was China's potential to overestimate the PLA's strengths. "If China miscalculates its own capabilities or the determination of the free and democratic world to work together, it will lead to disaster."
Hawley's bill sends "a clear signal" that says Taiwan is "a red line that doesn't allow for miscalculation," he said.
"We Taiwanese know it is our responsibility to face this crisis, but if the world thinks conflict here will result in a global disaster, then it should take clear steps to prevent Beijing's miscalculation," said Wang.
"Taiwan's position is clear: we will assume the responsibility of safeguarding peace and stability in the region, but the world must not forget that only together can free and democratic countries deter the Chinese Communist Party's ambitions and prevent misjudgments that can lead to tragedies," he added.
Wang, who sits on the Taiwanese legislature's Foreign and National Defense Committee, is at the heart of deliberations over the special budget that could make or break the nation's defense plans in the coming years. "We will definitely pass it in this session," he told Newsweek, describing the task as a "mission."
Taiwan expects to take delivery of modern fighting equipment including 108 M1A2T Abrams, 66 F-16Vs, HIMARS multiple rocket launchers and the first of its domestically built diesel-electric submarines.
The period between 2023 and 2027—covered by Hawley's bill—will be Taiwan's "darkness before dawn," the Taiwanese lawmaker said.
Eric Sayers, a non-resident fellow at the American Enterprise Institute in Washington, D.C., who has been advocating for exactly this type of legislation, said: "To me, this is the most impactful way Congress can take steps to help Taiwan in the near term while pushing China's window of confidence about invasion to the right."
"We already do this with Israel, Egypt and Jordan, so it's not unreasonable to think or advocate Taiwan be treated similarly given the ties to U.S. security," he added, saying it would be a good way for Republicans and Democrats to work together, "both on the Hill and with the Biden administration."
Hawley's bill and others like it "speak to a growing recognition that creating a robust security assistance program for Taipei is a path Washington must take," Sayers said. "This strikes me as an excellent policy opportunity for bipartisan cooperation."
This Statista graph shows the growing military imbalance across the Taiwan Strait.