Josh Hawley Burnishes 2024 Presidential Credentials with Stimulus, Election Fights
GOP Sen. Josh Hawley gained widespread attention Wednesday after releasing a statement indicating that he plans to object during the Electoral College certification process next week, continuing to validate President Donald Trump's baseless claims of voter fraud in the election.
"I cannot vote to certify the electoral college results on January 6 without raising the fact that some states, particularly Pennsylvania, failed to follow their own state election laws," Hawley said in the statement posted to his Twitter page on Wednesday morning.
According to Hawley's tweet, the decision was made on behalf of the "millions of voters concerned about election integrity," who, the senator wrote, "deserve to be heard." Other Senate Republicans, including Alabama Senator-elect Tommy Tuberville, have hinted that they'll object to the certification of the Electoral College votes, but Hawley is the first senator to formally announce that he'll do so.
Several lawmakers issued a wave of criticism toward the move, most of it tied to the idea that it was a transparent effort to appeal to future voters.
Illinois Rep. Adam Kinzinger, a Republican, said Wednesday that Hawley's move will appeal to voters even if doesn't yield results.
"Internal monologue: 'I want to be President so I decided to try to get POTUS tweet saying I'm great even though I know this isn't going anywhere, but hey... I'll blame someone else when it fails,' Kinzinger tweeted in response to Hawley's statement.
Michigan Rep. Paul Mitchell, who disaffiliated from the Republican Party earlier this month, agreed with Kinzinger, tweeting that Hawley is "just getting in the queue early for '24."
"[W]hatever position he needs to weave to be seen as a 'contender' he will undertake," Mitchell wrote. "Principles are optional or at least malleable."
The announcement from Hawley, who is seen as a contender for the GOP nomination in 2024's presidential race, will likely appeal to Trump supporters and Republicans who have floated, without evidence, allegations of widespread fraud in the election, despite several debunked theories and numerous lawsuits thrown out or denied due to a lack of concrete proof.
Though widely thought to be weighing a presidential run, the Missouri senator has yet to confirm whether he will seek out the presidency.
Still, the criticism came quickly on Tuesday following the Republican's announcement, including from Democratic Sen. Amy Klobuchar, who ran a presidential campaign in 2020 for the Democratic Party nomination and is a ranking member on the Senate Committee on Rules and Administration.
"This is how you run for President on the Republican side in 2024. You join a coup attempt," Klobuchar tweeted. "Democracy will prevail. As lead Dem on Rules Com. I will guarantee it. There's a bipartisan group of electeds who will put our country first. See you on the 6th!"
Democratic Sen. Chris Murphy of Connecticut told MSNBC's Andrea Mitchell on Wednesday that Hawley and his supporters "are engaged in the attempted overthrow of democracy," adding that "there is no evidence that there was any fraud."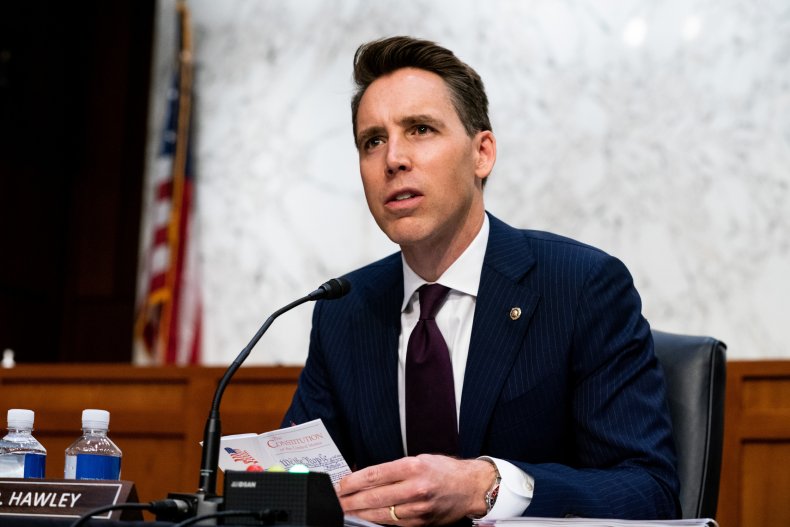 Meanwhile, several House Republicans praised Hawley for his announcement, a move that comes as Alabama Rep. Mo Brooks, who says he will contest the Electoral College votes in January, told Fox News' Fox & Friends this week that "dozens" of GOP representatives may be on board in objecting to the election results.
Florida GOP Rep. Matt Gaetz tweeted, "Welcome aboard, Senator" following Hawley's announcement, while North Carolina Rep. Ted Budd thanked the senator for "officially joining the fight for election integrity."
Incoming congressman Barry Moore of Colorado also hinted at his own objection on January 6, tweeting: I am pleased to have @HawleyMO joining us to protest the electoral certification process. #ElectionIntegrityMatters #StopTheSteaI2020."
White House Chief of Staff Mark Meadows, who has consistently pushed the president's claims of voter fraud, also praised Hawley for his decision to object.
"Sen. Hawley unapologetically standing up for election integrity. Bravo," he tweeted.
Senate Majority Leader Mitch McConnell advised Senate Republicans to refrain from objecting to the Electoral College votes, warning in a conference call earlier this month that the move will undoubtedly fail and will force Republicans in the awkward position of appearing against the president.
If at least one member from each chamber of Congress objects to the Electoral College votes next week, both the House and Senate go into separate sessions to consider the objection. For it to be sustained, both chambers must agree to it by a simple majority vote. The move is highly unlikely to succeed and will not change the results of the election.
The January votes could be particularly significant for Republicans up for re-election in 2022, who may have their loyalty to the president questioned if they refuse to challenge the election results.
Other senators reportedly weighing a run for president in 2024, including Florida Sens. Rick Scott and Marco Rubio, Texas Sen. Ted Cruz and Arkansas Sen. Tom Cotton, have yet to publicly announce whether they'll object to the electoral votes. However, several of these potential candidates—including Hawley—have said they'll encourage a future Trump campaign if he decides to run in 2024, according to Politico.
During talks of a coronavirus relief package deal earlier this month, Hawley attempted to appeal to working-class Republicans, marking a rare team-up with Democratic Sen. Bernie Sanders, and urge Congress to include $1,200 stimulus checks for every American, a big jump from the $600 that the lawmakers agreed upon in last week.
After the bill was passed, Trump posted a video on Twitter urging Congress to increase the "ridiculously low" $600 stimulus payments to $2,000, despite being notably absent when the bill was debated in Congress for the past six months.
Hawley said that he would back Trump's proposal for $2,000 payments—a move that was blocked by McConnell on Tuesday—tweeting: "We have the votes. Let's vote today."