Josh Hawley Calls Tech Bill Stall a 'Cave to the Tech Companies' by Schumer
Summer continues to prove busy for Democrats as they work to pass the $433 billion Inflation Reduction Act, the result of a deal struck last week between Senate Leader Charles Schumer and West Virginia's Democratic Senator Joe Manchin.
Recent months have brought the Party a string of successes with the passage of the $280 billion Chips and Science Act technology investment bill and the Bipartisan Safer Communities Act gun safety legislation. However, one item that Schumer originally promised would receive a vote in "early summer" has yet to make the floor.
The American Innovation and Choice Online Act is a bipartisan measure sponsored by Democratic Senator Amy Klobuchar of Minnesota that would see Congress crack down on the market dominance of major technology platforms like Amazon, Facebook, Apple and Google.
Popular across the political aisle, the measure has picked up seven Democratic and six Republican co-sponsors. However, with Democrats focused on the inflation act, Klobuchar told MSNBC last week that Schumer said the bill would likely not see movement until the fall.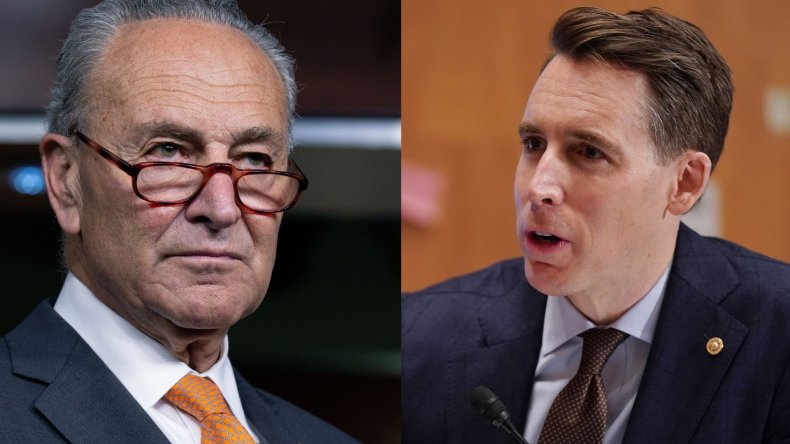 This bill stands as part of a larger push in Washington to reign in the power of Big Tech, and has attracted support ranging from progressives like Democratic Senator Elizabeth Warren of Massachusetts to conservatives like Republican Senator Josh Hawley of Missouri.
Its failure to receive a vote by Schumer's stated deadline has led some Republicans to call foul, blaming the Democratic leader for prioritizing his party's political agenda over bipartisanship, and accusing the party of succumbing to the influence of Big Tech.
"To be honest, I have long thought that Schumer would cave to the tech companies who have put out a multimillion-dollar influence campaign, and they've succeeded," Hawley told Newsweek. "They always succeed every time they come in here. They've got powerful lobbyists, and people just knuckle under to them, and I think that the Democrats have just knuckled under."
Hawley has been vocal in his opposition to Big Tech, sponsoring the Trust-Busting for the Twenty-First Century Act, which he says would "break up Big Tech companies seeking to dominate multiple industries" and bolster competition. Klobuchar's bill would serve as a foundational measure in countering the influence of these firms.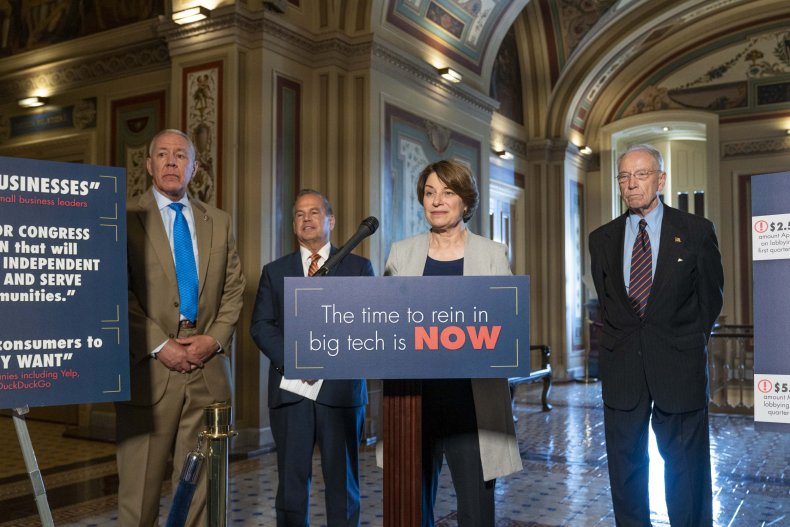 The bill requires tech companies that operate vending platforms, like Apple's App Store and Google's Play Store, to end the practice of preferencing their own products and services to users over those offered by smaller firms that operate on their sites.
Additionally, it ensures that vendors have the ability to use operating systems, hardware or software that differ from the platform's own products. It would also restrict the platforms' usage of nonpublic data obtained from the businesses that sell through their marketplaces.
"I don't know why Schumer didn't keep his promise," Republican Senator Charles Grassley of Iowa, who promoted the bill with Klobuchar in June, told Newsweek. "And it's too bad because it's a badly needed piece of legislation."
He said the bill is about fairness to the businesses that need those platforms to market their products.
"We got this dominance by these big corporations that don't treat their people that use their platform fairly when they discriminate against them by prioritizing their own products and sometimes even stealing these products," Grassley said. "It's very obvious that it's needed, and I've had plenty of small businesspeople in Iowa tell me that, how they've been cheated."
The Computer and Communications Industry Association — which represents Amazon, Facebook, Apple, and Google — spent $22 million in ads over the week of May 23, advertising intelligence firm AdImpact reports, two weeks prior to Klobuchar and Grassley promoting the bill on Capitol Hill. Lawmakers said the ad buy was intended to shut down the legislation and confuse voters about its content.
Republican Senator Lindsey Graham of South Carolina said the Senate missed an opportunity to "put some points on the board" in respect to bipartisanship.
"We've worked well in some areas with [Democrats], you know, infrastructure and gun legislation, and this would be another thing we could do that would matter to the public, so it's just unfortunate," Graham told Newsweek. "We're debating partisan proposals that will throw gasoline on the inflation fire, but it just shows you that their priorities are to do as much as they can with their small majority to the very end."
Bloomberg reported last week that Schumer privately told donors he does not believe the legislation has the 60 votes needed to pass. Newsweek contacted Schumer's office for comment but did not receive a response in time for publication.