Josh Hawley Draws Support from Unlikely Allies
Republican Senator Josh Hawley has drawn up some unexpected support from Democrats and progressives for a bill he introduced this week.
On Tuesday, Hawley introduced the Preventing Elected Leaders from Owning Securities and Investments Act, also known as the PELOSI Act, which would prohibit members of Congress and their spouses from holding or trading stocks while in office.
Just this week, Representative Nancy Pelosi fielded criticism after it was revealed she sold $3 million in Google stocks four weeks before the DOJ announced an antitrust lawsuit against the tech giant.
Responding to the odd timing of Pelosi's transactions, Hawley tweeted, "People have asked why I named my stock trade ban the PELOSI Act. Now you know."
"This just seems like good politics to me," political commentator Briahna Joy Gray said on a Wednesday episode of The Hill's web series Rising.
Gray, who previously served as the national press secretary for Senator Bernie Sanders' 2020 presidential campaign, and in 2022 voiced her disdain for Hawley's use of language during a conversation about transphobia, called the bill "aptly named" and slammed Pelosi's response to questions that have been posed about her stock trading.
"That's some beautiful wordsmithing," Gray said. "It's perfect. It's almost as though the stars have aligned to try and finally get some justice for the American people."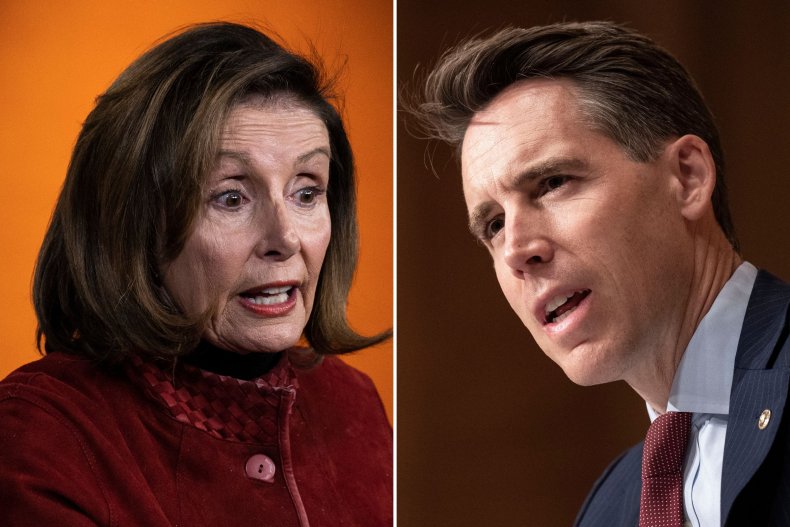 It's also not the first time that Pelosi has come under heat for allegations of insider trading. Back in July, her husband, Paul Pelosi, sold up to $5 million worth of a computer chipmaker ahead of a House vote focused on domestic chip manufacturing.
"The reason why former Speaker Nancy Pelosi had a nonchalant attitude is because she didn't believe anything was going to happen within that Congress," progressive firebrand and former Ohio state Senator Nina Turner said on Wednesday. "We should not fall so in love with politicians that we do not hold them accountable.
Turner said while she disagrees with Hawley on "99.99999%" of the time, she "wholeheartedly" agrees with his Pelosi Act.
"Members of Congress have an unfair advantage [in the stock market] that you...do not have," she told viewers watching her web show Unbossed. "This is wrong all day long."
On Wednesday, Gray pointed out that Pelosi is one of the wealthiest members of Congress and said the Democrat "hasn't gotten that way" from her congressional salary.
"She is hurting the Democratic Party with this kind of messaging, much more so than, I would argue, whatever progressive—who's fighting for Medicare for All or defund the police or whatever it is—that moderate Dems always say are to blame for the Democrats not doing well in elections as they would have like," Gray said.
She added that because it's smaller factions of Congress pushing for these types of bills, and not parties as a whole, "It's likely that even the Pelosi Act, as wonderful as it sounds and as much of a winner as it seems, is going to meet some pushback."
When asked about stock trading, Pelosi has said that Congress has a responsibility of reporting transactions but refused to back a ban citing the free market.
Newsweek reached out to Hawley and Pelosi for comment.