Josh Hawley's Biden Objection Divides Missouri GOP: 'I Guess He's Running for President'
Senator Josh Hawley's decision to challenge the Electoral College results has received a mixed response among Republicans in his home state of Missouri.
Hawley has taken his backing of the unsubstantiated claims of electoral fraud made by President Donald Trump and his allies to the next level by vowing to reject the certification of President-elect Joe Biden as the election victor.
Despite the Democrat winning both the popular and electoral college votes, Hawley said that he could not vote to certify the results "without raising the fact that some states, particularly Pennsylvania, failed to follow their own state election laws."
In his statement, he said "mega corporations" such as Facebook and Twitter made an "unprecedented effort... to interfere in this election, in support of Joe Biden."
Hawley's move on January 6 would ensure a debate and vote in the House and Senate on the results. Illinois GOP Congressman Adam Kinzinger has said he thought more than 100 Republicans may also challenge the Congressional certification of Electoral College votes.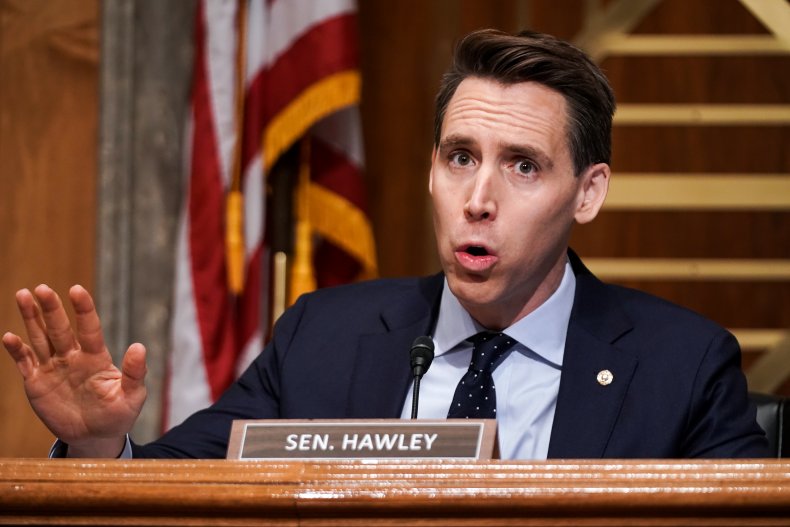 Republicans in Joplin, Missouri, expressed both support and concern at Hawley's move.
"I fully support his challenge. There's enough evidence of voting irregularities in all the swing states," said State Sen. Bill White, referring to rejected claims Trump's allies made that some states did not follow their own voting laws and that some locations did not maintain bipartisan observation of the count.
"So, yes, I have concerns over the integrity of the election," White told The Joplin Globe.

Hawley also had the backing of Nick Myers, chairman of Newton County Republican Central Committee.
"My reading is that the majority of Republicans in this area who gave President Trump a vast majority of votes would be glad to see that Sen. Hawley is taking this through the entire process," Myers told The Globe.
GOP state lawmaker Ron Richard, who served as an Electoral College elector for Missouri's 7th Congressional District, referred to Hawley's status as a contender for the 2024 campaign as a motive.
"I don't know what he's up to," he said, "I guess he's running for president."
"As far as I'm concerned, what's done is done," Richard added.
Meanwhile, fellow GOP State Rep. Lane Roberts, said those in the party whose opinions he values have concluded that the evidence is not there to push the fraud claims, telling The Globe: "So it is probably not a move I would make."
Hawley's objection would force only the third Congressional debate on the election result since 1887. The other two times, in 1969 and 2005, were unsuccessful, The Hill reported. Newsweek has contacted Hawley's office for comment.