The Kansas City Star is accusing Missouri Republican Senator Josh Hawley of being a "disgraceful voice of appeasement" in the run-up to Russia's invasion of eastern Ukraine.
The Missouri-based regional newspaper on Tuesday published a withering editorial that placed Hawley among other conservative media and political figures who "have demonstrated unseemly fealty" to Russia's autocratic president, Vladimir Putin. The editorial added, "Few, though, have been as enthusiastic as our junior senator."
The editorial comes a day after Putin recognized the independence of two breakaway regions in eastern Ukraine and sent troops within the neighboring country's borders. Both European Commission President Ursula von der Leyen and President Joe Biden said they were moving forward with sanctions in response to what they called a flagrant violation of international law.
While the Star's editorial called for the U.S. to denounce Russia's "incursion with one voice," it added, "Don't look to Hawley for help."
"His public two-step about the Russian threat—amplified by countless tweets and television appearances—has clearly provided aid and comfort to Putin and hard-liners in Russia," reads the editorial.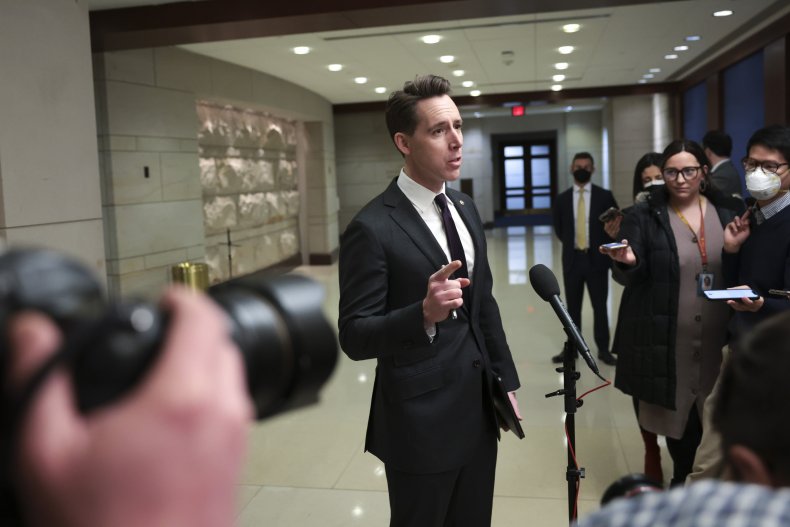 The Star's editorial pointed to past remarks by Hawley, including a letter he sent to Secretary of State Antony Blinken this month questioning the Biden administration's support for Ukraine joining NATO, a Cold War-era mutual defense pact that includes much of western Europe.
"(It) is not clear that Ukraine's accession would serve U.S. interests," Hawley wrote. "Indeed, deteriorating conditions in the global security environment caution otherwise."
Hawley in his letter argued that the U.S. must shift its focus and resources to the Indo-Pacific to "deny China's bid for regional domination. This means the United States can no longer carry the heavy burden it once did in other regions of the world—including Europe."
In response, White House press secretary Jen Psaki said Hawley was "parroting Russian talking points." Hawley fired back on Twitter, accusing the Biden administration of having "coddled Russia from Day One," by "giving" Russia a gas pipeline to Europe and refusing Ukraine military aid.
The Star's editorial also referenced a recent opinion piece by Hawley published on Fox News' website where he criticized long-running efforts by the U.S. foreign policy establishment of seeking "an era of global, multilateral cooperation, underwritten by American military might."
"America has an interest in Ukraine's independence and territorial integrity," Hawley wrote. "And we have a strong interest in deterring Russian adventurism. But these interests are not so great that we should commit ourselves to fight Russia over Ukraine's future."
Hawley said Europe should be expected to do more to "deter a resurgent Russia."
Conservative figures including Fox News' Tucker Carlson and former Republican Secretary of State Mike Pompeo have taken supportive postures toward Russia, according to the editorial.
Other Republicans, including Illinois Representative Adam Kinzinger, have criticized those in their party they say are too cozy with Putin.
But the editorial pointed to remarks by Alexander Vindman, former staff member of the National Security Council, as well as chess champion and human rights activist Garry Kasparov saying the stance of Republicans like Hawley is emboldening Putin.
"These people and a great deal of the GOP leadership will have blood on their hands," Vindman tweeted Sunday in response to remarks from Republican Representative Marjorie Taylor Greene. "They're fanning flames, encouraging Putin to attack Ukraine."
Newsweek has reached out to Hawley's office for comment.