Representative Adam Kinzinger, an Illinois Republican, took aim at fellow members of the GOP who appear to be more supportive of Russian President Vladimir Putin.
The U.S. and its Western European allies have increasingly raised alarms that Russia appears to be on the cusp of invading Ukraine—although Moscow has repeatedly downplayed or rejected these concerns. Amid tense diplomacy, Russia has demanded that the NATO alliance commit to never allowing Ukraine to become a member of the organization to ease tensions.
Axios reported earlier this month that Senator Josh Hawley, a Missouri Republican, wrote to Secretary State Antony Blinken on February 1 and argued that admitting Ukraine to NATO would not be in the best interest of the U.S. Right-wing Fox News host Tucker Carlson has suggested it would be poor foreign policy for the U.S. to back Ukraine joining NATO.
Kinzinger was asked during a Sunday interview with CBS News' Face the Nation about Republicans voicing such views, which many see as playing into Putin's hand.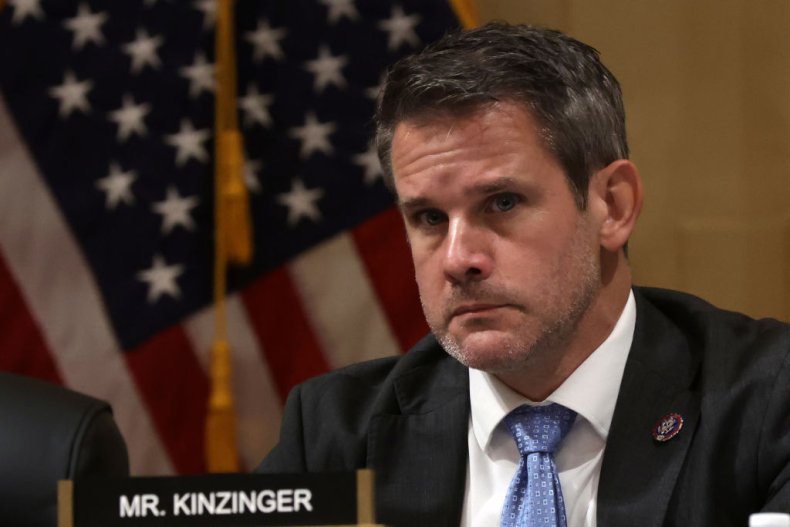 "I don't think it's a huge portion, but it's way too big and it's growing and it's a huge concern. I mean, what was this five years ago? It might be like somebody like [Senator] Rand Paul that would say something, or [former House lawmaker] Dana Rohrabacher. Now there's a significant number of folks doing it with Tucker Carlson talking about, you know, how great Vladimir Putin is and how Ukraine is really actually part of Russia," the GOP lawmaker said.
Kinzinger said he thinks "it's an affection for authoritarianism. And I think Vladimir Putin has done a decent job of engaging in culture battles and culture war, and he is seen as the person defending, in essence, the culture of the past."
The Republican congressman described the situation as "very frightening." Kinzinger warned that it could be difficult to stop Russia moving forward. "This is a frightening moment, and any Republican that has affection for Vladimir Putin has no understanding of what our party stands for or what out country stands for," he said.
Ukraine was formerly part of the now defunct Soviet Union but became independent in 1991. Relations between the Eastern European nation and NATO started the following year. In 2008, Ukraine applied to begin the process of membership and in 2020 it became an enhanced opportunity partner.
However, Russia has backed separatist rebels fighting against Ukraine's central government since 2014. Under NATO's charter, an attack against one member is to be viewed as an attack against all members—meaning a Russian invasion of Ukraine would require a military response from all NATO countries if it was granted full membership.
While the U.S. has sent weapons and military support to Ukraine, it has dismissed the possibility of sending troops in the event of a Russian attack. Biden asserted last week that he would not even send U.S. troops to rescue Americans stranded in Ukraine, if the situation deteriorated rapidly. NATO nations have promised to inflict severe sanctions on Moscow, which they've said would have a crippling impact on Putin's nation.
"I spoke with [Russian] Foreign Minister Lavrov today to urge a diplomatic resolution to Russia's unprovoked military build-up around Ukraine. I reiterated that further Russian aggression would be met with a resolute, massive, and united Transatlantic response," Secretary of State Antony Blinken tweeted on Saturday.
Putin's ambassador to the U.S. Anatoly Antonov rejected claims that Russia is on the verge of launching an attack on Ukraine. "We see such statements only as a desire of the U.S. administration to maximize the magnitude of the propaganda campaign against our country and foster the impression among the public that 'aggression' is imminent," Antonov told Newsweek.