Journalist Unions Condemn 'Blatant Abuse' of Police Power After CNN Reporter Arrested
Journalist unions have condemned the on-air arrest of CNN journalist Omar Jimenez and two crew members by Minnesota police on Friday, calling the move a "blatant abuse" of power and attempt to silence scrutiny.
The trade unions said the arrest of the three CNN staffers in the middle of a live broadcast was an "absolute outrage" and part of a broader "war on media freedom."
They also said it was unacceptable for journalists to be "surrounded and arrested" for trying to do their jobs.
Footage of CNN's live broadcast this morning showed Jimenez reporting on protests over the death of George Floyd in Minneapolis before pausing as he was approached by Minnesota State Patrol officers.
He could clearly be heard explaining to police that he was a journalist broadcasting live, and was happy to move out of their way if they so wished.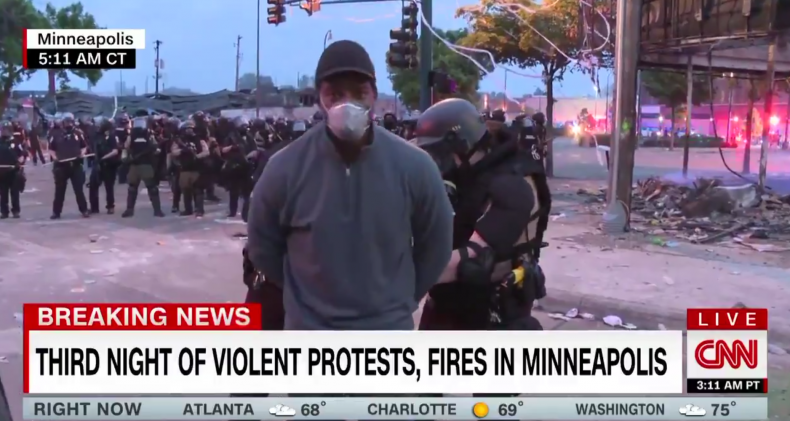 However, the officers still put Jimenez under arrest and failed to explain why they were detaining the CNN journalist. Jimenez and his crew were later released.
Reacting to the arrest, The NewsGuild-CWA President Jon Schleuss said: "The arrest of CNN reporter Omar Jimenez and his crew is an absolute outrage. He was reporting on the unrest in Minneapolis following the killing of George Floyd.
"As journalists, we support the free speech rights of all citizens. Without a free press there are no free people."
"The arrest of@OmarJimenez and @CNNcrew by Minnesota State Patrol is a clear abridgment of #pressfreedoms," the Society of Professional Journalists tweeted. "These journalists work ethically — and often in harm's way — to bring important news to the public. The reporters' unwarranted arrest is inexcusable."
The International Federation of Journalists (IFJ), a global group of 187 unions and associations, also said the move was a "thinly disguised attempt" to curtail scrutiny.
"We are outraged at this blatant abuse of police powers and thinly disguised attempt to prevent proper scrutiny of police actions," IFJ General Secretary Anthony Bellanger said. "From the President to the police it appears journalists are being routinely targeted, demonized and now arrested. This war on media freedom and journalists rights must stop."
The National Union of Journalists, a trade union representing journalists in the United Kingdom and Ireland, also condemned the arrest of Jimenez, saying it was an "extremely disturbing and sinister development."
"It is clear that the CNN team were working at the protest scenes in Minneapolis, informing the public of what was happening," NUJ assistant general secretary Seamus Dooley said in an emailed statement. "It is not acceptable that journalists should be surrounded and arrested live on air for doing their job. The presence of the media in such situations is essential and is a core function of public interest journalism."
Newsweek has contacted the Minnesota Department for Public Safety for comment. This article will be updated with any response.
In a tweet earlier today, the Minnesota State Patrol confirmed that officers had arrested the three CNN staffers and later released them, offering no apology.
But the Minnesota Governor Tim Walz has since issued an apology over the "totally unacceptable" arrest of Jimenez, his producer Bill Kirkos and photojournalist Leonel Mendez.
Reporting on his own arrest in Minneapolis, Jimenez said his team were surrounded by officers and cuffed in front of the city police precinct stormed by protesters on Thursday night.
"There was a moment, I would say minutes after it happened, where things started to sink in a little bit," the correspondent said. "Sometimes when you're in this job and these scenarios there's a lot of adrenaline pumping.
"You're trying to focus and balance so many different factors. In a case like this I'm trying to balance what the actual story is, how the storyline is advancing, while also trying to be aware of our surroundings, which at times can get dangerous."
He added that he was "just as confused" as those watching the arrest in the studio as he and his team had been showing their credentials throughout the week and the moments leading up to his detention.
In a statement released shorty after Jimenez was arrested, CNN said the decision to detain their crew was a "clear violation" of the First Amendment.