Journalists Sue Minnesota State Troopers Alleging Assault During George Floyd Protests
Two Los Angeles Times journalists are suing Minnesota State Patrol troopers in a lawsuit that alleges they were assaulted during last summer's George Floyd protests even after they identified themselves as members of the press.
In a lawsuit filed in U.S. District Court Tuesday night, Pulitzer prize-winning photographer Carolyn Cole and Houston Bureau Chief Molly Hennessey-Fiske alleged that troopers trapped them against a block wall and hit them with blunt projectiles, tear gas and chemical spray.
The two traveled to Minneapolis after Floyd's death to cover the growing protests that overtook the city last May.
In the weeks that followed, members of the press alleged that they were intentionally targeted by law enforcement officials who reportedly deployed crowd-control tactics, damaged equipment and arrested journalists.
"Carolyn and Molly came to Minneapolis to cover a defining time in American history," Andrew Noel, an attorney representing the journalists, said in a statement to the Star Tribune.
"They, like many members of the free press, ended up being illegally targeted by our state's highest law-enforcement agency. It's beyond shocking to see how the First and Fourth Amendments were tossed aside by the state troopers in this case," Noel said.
Cole and Hennessey-Fiske say they had joined a group of reporters across the street from protesters near the Fifth Precinct police headquarters on May 30. They said troopers approached them, telling the city's 8 p.m. curfew had gone into effect and instructing the crowd to disperse.
However, the media was granted exemption from the curfew by Gov. Time Walz, who said journalists needed to be free to safely document the events.
But even after the group of reporters showed their press passes to the troopers, law enforcement continued to "advance on the press group and then started firing — spraying members of the press with pepper spray and shooting them with 40-millimeter blunt-impact projectiles" until the group was trapped against a wall.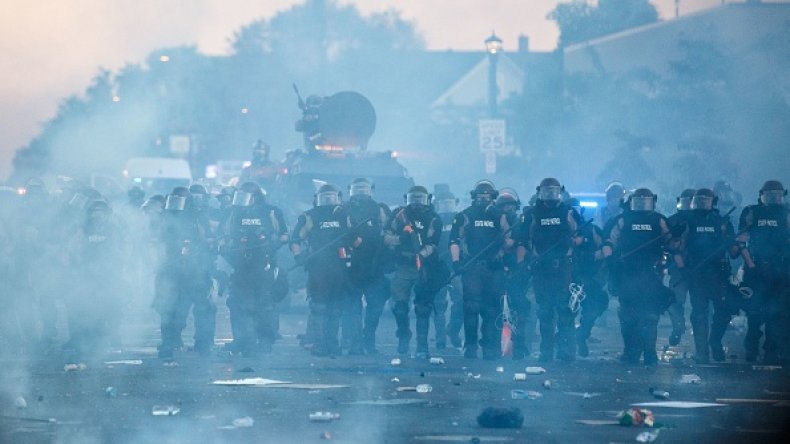 Cole said she suffered a corneal abrasion and chemical burns on her eyes and skin. A photo included in the civil complaint obtained by the Tribune shows the photographer crouched in a brick corner, doused in chemical liquid and screaming in agony.
Hennessy-Fiske said her legs was battered by at least five projectiles, which caused bruising and bleeding to her limbs.
"I've been covering conflict both nationally and internationally for many years, so I know the dangers involved in these situations, especially when you get between riot police and protesters, but I wasn't expecting them to attack us directly," Cole wrote in a Los Angeles Times story days later.
The lawsuit alleges that State Patrol Capt. Joseph Dwyer, Lt. Timothy Salto and several unidentified state troopers suppressed the reporters' constitutionally protected rights and that the use of force created a chilling effect for journalists.
The Minnesota Department of Public Safety, which oversees the State Patrol, told the Tribune the department is aware of the lawsuit but has not yet been served.