Joy Villa Files Complaint Against Corey Lewandowski For Alleged Assault
Updated | The songstress who says former Trump campaign manager Corey Lewandowski painfully slapped her rear at a party has filed a complaint against him with Washington, D.C. police—and says his behavior shows he's unfit to be around the president.
Singer Joy Villa told Newsweek on Tuesday she contacted police this week having never received a word of apology from Lewandowski after he smacked her rear end twice at a late-November party.
Villa said she was told that by a detective that the slapping incident she described was not considered "harassment," as she initially thought, but "assault."
The Metropolitan Police Department confirmed it has opened a case.
"A sexual abuse allegation report has been filed," said spokesman Hugh Carew. "It remains under investigation, and nobody has been charged."
Villa said it need not have come to this if Lewandowski had behaved better—before and after the alleged assault.
"I would like to see [Lewandowski] apologize, to admit that he disrespected me—he disrespected the president, because he's close to the president," said Villa, who famously wore a "Make America Great Again" gown to the Grammy Awards
"As it stands, I will be pressing charges. I will be continuing with this investigation, because it's a criminal offense," Villa added.
Villa and Lewandowski were guests at a November 28 party at the Trump International Hotel in Washington, as previously reported by Politico. Villa says after the two posed for a picture together, he whacked her on the rear.
"It was painful; it was [an] extreme slap. I mean, if it had been on my face or any other part of my body, I'm sure it would have left like a bruise or mark," said Villa. "Like I told the police, it was bordering on violence. It was extremely sobering in that fact, like, 'Whoa, this is not safe.' And I immediately told him, 'Stop. Knock it off.'"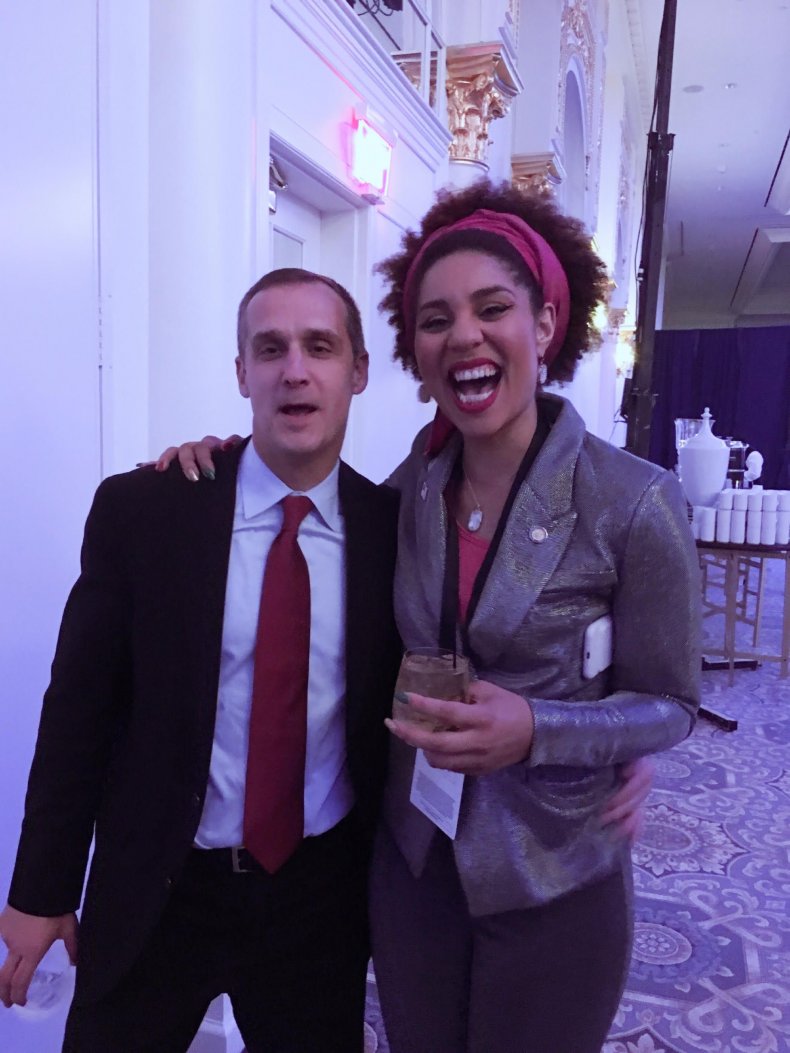 Villa told Newsweek she cautioned Lewandowski that she could report him for "sexual harassment," to which she said he jeered, "Go ahead, I work in the private sector." Then, she says, Lewandowski "proceeded to slap my ass extremely hard, to the [point] that it hurt, and he laughed in my face and ran off.
"No man who treats a woman such as this without apologizing and accepting he did wrong should be near the president of the United States period or work in his administration or represent him in any way," she added.
Another partygoer confirmed Villa's version of events as "100 percent" true in a separate conversation with Newsweek.
A copy of the report obtained Tuesday from the D.C. police provides scant information about the November 28 incident, saying only that something happened between 8 and 9 p.m.
"C1 disclosed she was the victim of a sexual assault," the report says in the "public narrative" section.
By contrast with the alleged Lewandowski incident, Villa, who earlier this year announced her interest in running to represent Florida in Congress—with strategist and longtime Trump confidant Roger Stone as an adviser—said she shared pleasant greetings, hugs and selfies at the November party with the likes of presidential counselor Kellyanne Conway, Jared Kushner and Eric and Lara Trump.
Villa, who did not contact Newsweek but agreed to answer questions in a phone conversation, said she's also the subject of a "campaign" to denigrate her for calling Lewandowski out.
"It's so disgusting, girl," she said by phone. "It's like, 'Oh well, what were you wearing? Well, look at you, you're a celebrity, you should be used to it. Well, you have a big ass, you should get used to it. You're a female.' It's insane."
As a member of Trump's inner circle, Lewandowski, a father of four who hails from New Hampshire, once found himself accused of grabbing a female reporter on the campaign trail. Battery charges were filed against him, but ultimately dropped.
Lewandowski also penned a book about Trump's road to the presidency and the players who surrounded him on his way to his historic 2016 upset of Hillary Clinton.
Newsweek has sought comment from Lewandowski as well as a spokesman for the White House, where Lewandowski recently attended a meeting. Neither has responded.
Story was updated to add a comment from the Metropolitan Police Department.