Joyce Carol Oates Says Only 'Straight White Males' Are Cast as Villains Now
Joyce Carol Oates's suggestion that only "straight white males" play villains now has been met with confusion and criticism online.
The author of Blonde, the book that the recent controversial Marilyn Monroe Netflix movie was based, tweeted out her statement late on Wednesday night and followed it up by suggesting there was a political angle to her words, too.
With no prior context, 84-year-old Oates tweeted, "Category of straight white males is the only category remaining for villains & awful people in fiction & film & popular culture." She added in quotation marks as if to quote straight white men, "Bet you'll miss us when we're gone."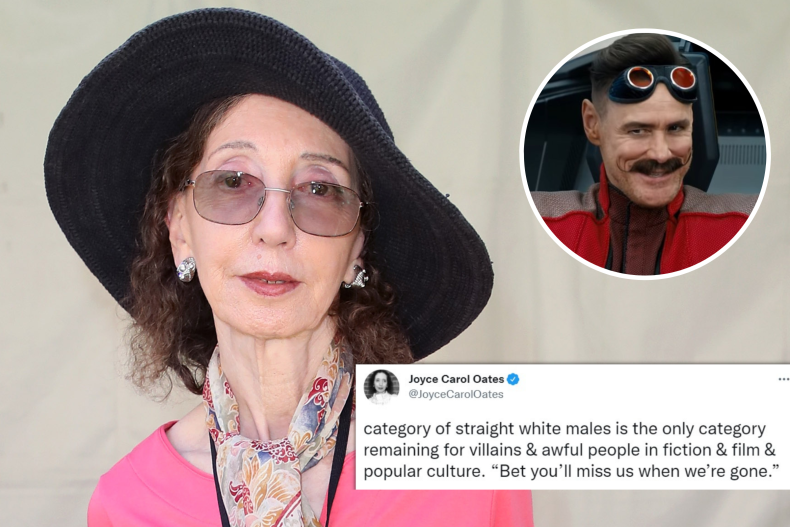 Many Twitter users replied to Oates with confusion, with some naming recent successful pop culture villains played by people of color. The list included Stephanie Hsu in Everything Everywhere All At Once, Daniel Kaluuya in Widows, Michael B. Jordan in Black Panther, and Samuel L. Jackson in Kingsman.
Others pointed out that the next big bad coming to the Marvel Cinematic Universe is Jonathan Majors, who is playing villain Kang the Conqueror in the next phase of movies.
Oates expanded on her point by quote-tweeting her original message about straight white villains: "(but for GOP politicians & 'leaders' it remains the sacrosanct category, as if through a looking-glass into another dimension)," she wrote.
"Someone please take away her Twitter. She keeps getting more insane," wrote one Twitter user retweeting Oates' comments. Dozens of others quote-tweeted her comments and voiced their disapproval.
"Put her away. She's done," "Literally no," and "I hope Joyce is OK" were some of the replies.
Podcast host Aaron Ross Powell called out Oates for spouting "culture war brainworm nonsense."
This isn't the first time Oates's Twitter account has been the source of controversy.
In 2015, she explained to Newsweek that she was joking when she criticized Steven Spielberg on Twitter for seemingly hunting and killing a triceratops after seeing a photo of him posing with one of the animatronic dinosaurs while filming Jurassic Park.
Her other Twitter activity was leveled with more serious accusations of Islamophobia.
She tweeted in July 2013 before later backtracking on the comments: "Where 99.3% of women report having been sexually harassed & rape is epidemic – Egypt – natural to inquire: what's the predominant religion?" In May 2018 she suggested that Mississippians don't read, though she defended that statement.
Oates has become the latest female author to receive criticism for her words on social media. Harry Potter author J.K. Rowling is consistently criticized by former fans for her supposed transphobic views. The Handmaid's Tale author Margaret Atwood was also called out in 2021 for sharing an article on the policing of gender-neutral terms.
Newsweek reached out to Oates for comment.