'Juan Crow' Immigration Laws Mirror the Injustices of U.S. Crime Laws, Advocates Say
This story was co-published with Capital & Main.
Born a mile south of the U.S.-Mexico border in a nunneryin Nogales, Sonora, Alex Murillo came to Phoenix in 1978 as a baby in his mother's arms. But just after Christmas 2011, the U.S. Navy veteran was returned to Tijuana shackled at the wrists and ankles after serving 37 months for a cannabis bust. He thought that after he had done his time at California's Lompoc Federal Correctional Institution, he would go home to his two sons and two daughters, ages 5 to 14. Instead, he was processed for deportation directly from the prison, where Immigration and Customs Enforcement (ICE) has an on-site office.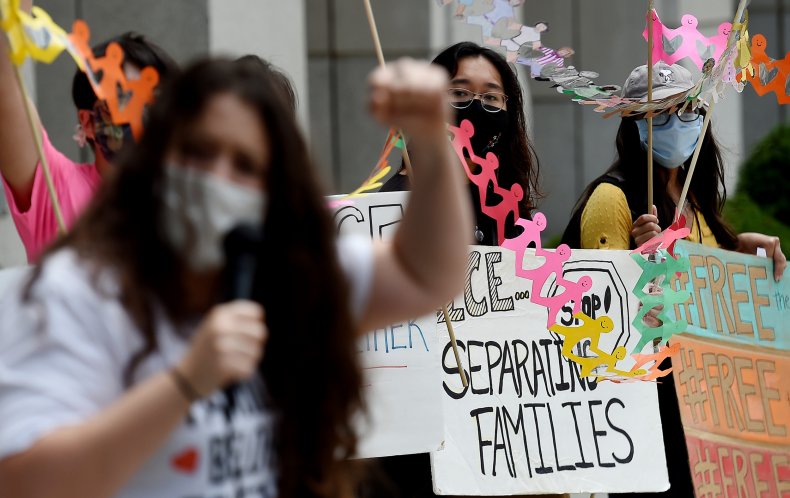 "On the whole ride from the prison to the border, I still had hope," Murillo says. It was around midnight when they pulled up to the border fence. As Murillo stepped out of the van, still wearing prison garb with the $120 cash refund from his prison commissary account sewed into a seam, reality dawned: With his next step he'd be in exile from the country he'd been willing to die for.
As Joe Biden is about to enter the White House, immigrant rights advocates claim that, in the same way that society is coming to grips with the inadequacies, irrationalities and abuses of the criminal legal system, a parallel process to defund from harms and invest in community programs is also appropriate in immigration, especially as they've come to be so entwined.
It is precisely there, at the intersection of law enforcement and immigration enforcement, where some of the gravest harms are done to Black and brown immigrant communities—and where the new administration can undo the previous president's heaviest damage by reframing the immigration debate.
"All of the worst excesses that exist in the criminal legal system have been imported into the immigration system," says Sirine Shebaya, executive director of the National Lawyers Guild's National Immigration Project. "Excluding people because of their contacts with the criminal legal system often has harsh consequences, on both sides."
An immigrant herself, Shebaya says a frame of criminalization and detention has been forced onto the immigration landscape, and they must be decoupled. "At its core, immigration policy is about freedom of movement for human beings who need to go from one place to another, and there are all kinds of geopolitical realities and reasons why."
Austin Kocher, a researcher who studies immigration policy and immigrant rights advocacy, says there are three prevalent frames in the discourse today: Immigrants "as a threat" to the country, which is where we are now; immigration as a mostly good "mixed bag" that calls for enforcement but also for paths to legalization and citizenship, and maybe a reduction in the numbers of people in detention and of deportations; and "an abolitionist approach" that ties in with the abolition or defunding of the police, and draws on a more radical and critical history of racial justice that views the institutions as basically irredeemable and unreformable.
"That one has taken more and more root," Kocher says of this last strategy. "There are people in Congress that believe that ICE should be abolished and the agency's responsibilities should be distributed elsewhere."
As a researcher, he's interested in identifying where the tension will be, especially in Biden's first hundred days as president.
"I think that it's possible," Kocher says, "to have a healthy tension between an abolitionist perspective that sees the current system as being fundamentally racist and unjust, and the discourse most likely to be taken up and acted upon based on statements from the Biden administration, which is to make things better, or less bad."
The worst-case scenario would be a stalemate if substantive action isn't taken quickly, Kocher adds.
* * *

Heidi Altman, policy director for the National Immigrant Justice Center, says that prior to the Reagan administration, locking up immigrants was an anomaly. The private prison lobby moved the change of policy direction, "a pernicious factor" she says is proof enough that a full reset is needed.
"For NIJC, like so many other groups who represent, advocate for and are allied with immigrant communities, we're calling for the end of the use of immigrant detention, full stop," Altman says.
In the last Congress, then-freshman U.S. Rep. Jesús "Chuy" García (D-IL), a Mexican immigrant and member of the New Americans Caucus, introduced the New Way Forward Act. It would immediately curtail for-profit detention, abolish mandatory detention sentences and restore judicial discretion, decriminalize migration (or "crimmigration," as the system is sometimes called in the Capitol) and restore due process.
"The New Way Forward Act rewrites our inherently racist and xenophobic immigration system to disrupt the prison-to-deportation pipeline, give all immigrants the dignity of due process and ensure America remains a nation that welcomes all. We're excited to reintroduce the New Way Forward in the 117th Congress to give hope for immigrants here and abroad — a vision for a more fair, just and compassionate immigration system," says Rep. García."Our country is ready to embrace thriving immigrant communities."
* * *
Also in the 117th Congress, the Electoral Justice Project of the Movement for Black Lives (M4BL) will roll out its BREATHE Act, which incorporates the immigration measures in the New Way Forward Act, and takes them further.
"The BREATHE Act names immigration as a Black issue," says Felicia Gomez, senior policy associate at Essie Justice Group and M4BL BREATHE Act drafting team co-lead. "It's very difficult, especially today in 2020, to actually parse out the differences between the criminal legal system and the immigration system; they're operating hand in hand and rely upon each other."
The act's drafting was guided by the Vision for Black Lives, the movement's policy platform, with the aim, Gomez says, of "getting the demands on the streets into the halls of Congress and into the mouths of the new administration."
She says that Black communities have the answers to what is happening in their lives and, with respect to immigration, the drafting team also had "hours and hours" of conversation with impacted communities.
"We reached out to many, many folks working on immigration from all different angles to get feedback on our language and make sure that we're demanding the right things," she says. "We are holding the new administration accountable to drastically shrink the size of the deportation machine, and ensure that all developing policies include all immigrants, including those who have had criminal legal system contact."
Immigrants like Alex Murillo.
Murillo sees a lot of beauty in Mexico. He says he's grown a lot there: He's now fluent in Spanish, coaches girls' flag football and basketball, and is active in the Unified U.S. Deported Veterans Resource Center, an advocacy group with an office in Tijuana located steps away from where he was dropped off nearly 10 years ago. He loves the beach; he fishes there with his sons when they're able to come and see him. He's got favorite eateries, especially Betuccini's Pizzeria and Yaqui's Tacos. He never expected to become an artist with a painting now on exhibition in San Francisco's Walt Disney Family Museum.
But it's not home.
"Both Biden and [Kamala] Harris have said they want to bring deported veterans back and I believe they'll be true to their word," Murillo says. "I'm still fighting to get back, to get home. I believe we'll make it ... I know we will ... even if it's when we die, they'll ship our remains, give us a military funeral and hand our family a folded flag. But is that right? Is that the American way? Is there any honor in that?"
Copyright 2021 Capital & Main