Judge Appointed to Florida Supreme Court Omitted Ties to Anti-LGBT Group When Applying
The appointment of a judge to the Florida Supreme Court has been sharply criticised after it emerged she failed to declare links to a conservative Christian organization labelled an anti-LGBT "hate group."
Jamie R. Grosshans, an anti-abortion advocate who was promoted to the state's highest court this week by Florida Governor Ron DeSantis, is understood to have ties to the powerful Alliance Defending Freedom, whose backers include senior officials in the Trump administration.
The group was formed in 1994 "to keep the doors open for the Gospel by advocating for religious liberty, the sanctity of human life, freedom of speech, and marriage and family."
It claims to have played a role in 60 victories at the U.S. Supreme Court and campaigns internationally—including efforts to help businesses deny services to LGBT people and in support of India's now overturned ban on gay marriage.
The Alliance Defending Freedom website states: "The legal system, which was built on a moral and Christian foundation, had been steadily moving against religious liberty, the sanctity of human life, freedom of speech, and marriage and family. And very few Christians were showing up in court to put up a fight."
Prominent members of the group have in recent years argued in favour of restricting rights for young trans people while its former president, Alan Sears, previously warned about the "extremism of the homosexual legal agenda."
In an article written by Grosshans and published by The Christian Lawyer in 2016, she was described as a member of the Blackstone Fellowship—a training program for law students run by the Alliance Defending Freedom that promotes the group's aims.
Grosshans' appointment was immediately condemned by the Southern Law Poverty Group, which added the Alliance Defending Freedom to its list of anti-LGBT hate groups in 2016.
The rights advocacy group tweeted: "Newly appointed Florida Judge Jamie Grosshans didn't reveal her membership in the hate group Alliance Defending Freedom when she filled out the Judicial Nominating Commission application.
"No member of a hate group is qualified to uphold the rule of law."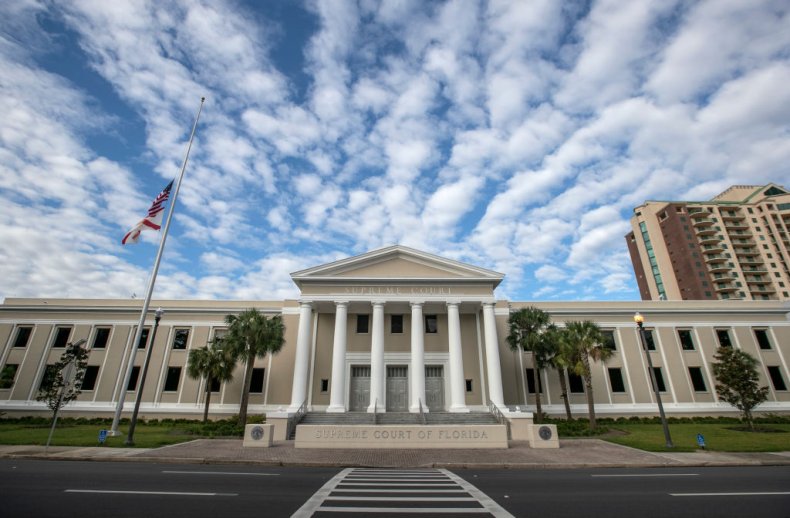 According to The Miami Herald, Grosshans failed to declare her association with the Alliance Defending Freedom in her application for the Florida Supreme Court, despite a requirement to "list all Bar associations and professional societies of which you are a member."
The group held talks with Vice President Mike Pence at the White House on Wednesday. "This Administration is committed to protecting religious freedom, free speech, and the sanctity of human life across this great Nation!" Pence tweeted after the meeting.
Grosshans was appointed by DeSantis after former Florida Supreme Court Justice Robert Luck's appointment to the United States Court of Appeals for the Eleventh Circuit by President Donald Trump.
DeSantis said: "As an appeals court judge, a successful lawyer in private practice and a working mother of three, I am confident that Judge Grosshans' breadth of experience in the legal profession and in life will make her a successful Supreme Court Justice, and I look forward to her assuming the bench on our state's highest court."
Newsweek contacted Grosshans and the Alliance Defending Freedom for comment.