Judge Denies Restraining Order Against Federal Officers in Portland
On Friday, a judge denied a request for a temporary restraining order against federal agents in Portland filed by Oregon's Attorney General Ellen Rosenblum.
Rosenblum filed the request for a restraining order on Monday amid allegations that the unidentified agents had assaulted at peaceful protesters and detained at least one protester by putting them in an unmarked vehicle and holding them in a federal courthouse.
If the federal judge had issued the order, it would have curtailed the activities of the Customs and Border Protection (CBP) agents who have clashed against Portland's racial justice protesters for over two weeks now.
The restraining order sought to prevent federal officers from "detaining, arresting, or holding individuals without probable cause or a warrant," and require agents to identify themselves and explain their reasons for arresting or detaining people before doing so.
The agents are in Portland because to a June 26 executive order from Republican President Donald Trump requiring government agents to protect federal property from citizen uprisings amid the racial justice protests sparked by the May 25 death of George Floyd, a Black Minneapolis resident who died after a white police officer kneeled on his neck for nearly nine minutes.
In particular, the agents have been active around the Mark O. Hatfield Courthouse in downtown Portland where the protesters have demonstrated for the last 56 consecutive nights.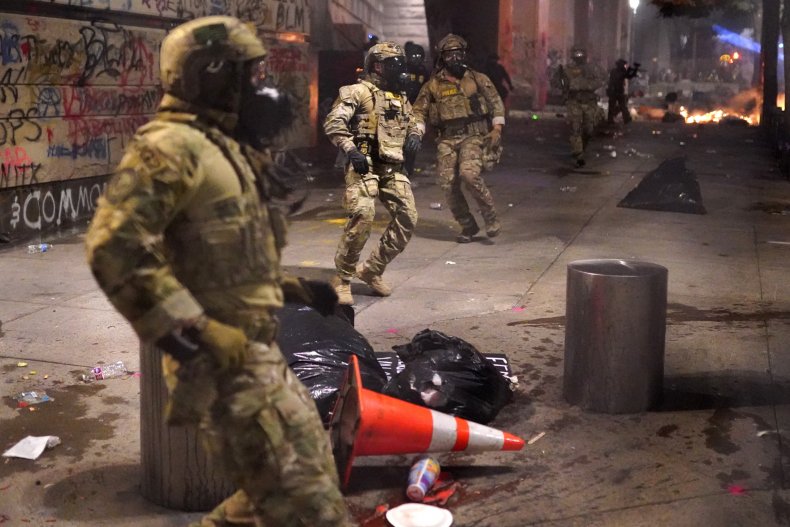 In addition to the restraining order, Rosenblum filed a lawsuit last week against the U.S. Department of Homeland Security, the U.S. Marshals Service, U.S. Customs and Border Protection and the Federal Protection Service.
The suit alleges the agencies of engaging "in unlawful law enforcement in violation of the civil rights of Oregon citizens by seizing and detaining them without probable cause," according to Oregon Department of Justice spokeswoman Kristina Edmunson.
Specifically, the lawsuit says the federal agencies' tactics violate Oregonians' First, Fourth and Fifth Amendment constitutional rights.
"I share the concerns of our state and local leaders – and our Oregon U.S. Senators and certain Congressional representatives – that the current escalation of fear and violence in downtown Portland is being driven by federal law enforcement tactics that are entirely unnecessary and out of character with the Oregon way. These tactics must stop," Rosenblum said in a statement about the lawsuit.
While conservative commentators have referred to the Portland protests as "riots," the demonstrations have occurred within a two-block downtown park and feature speeches, a food tent and informational groups discussing the impact of police violence.
After being teargassed by federal agents on Wednesday night, Portland's Democratic Mayor Ted Wheeler reiterated that he doesn't welcome the agents in his city.
"I can tell you with 100 percent honesty, I saw nothing that provoked this response," Wheeler said. "This is not a deescalation strategy. This is flat-out urban warfare and it's being wrought on the people of this country by the President of the United States and it's got to stop right now. This is a threat to our democracy."