Jeanine Pirro thanked viewers for "fighting for me" as she signed off her long-running Fox News show on Saturday night, before she moves full-time to the network's popular roundtable program, The Five.
Pirro, a conservative firebrand and former New York state judge, began her opening statement on the final episode of Justice With Judge Jeanine by saying that it began 11 years ago with a mission of "finding truth and justice."
"Each and every week, we watched events unfold in America together through the lens of this studio," she continued. "When we started this journey we were all a bit younger, but not as wise as we are now. We were certainly more optimistic.
"Together, we watched America, though, as she went through times that were unexpected. We watched it all together. You listen to my opens and got fired up."
Later, Pirro thanked viewers for their "generosity" during tough times she experienced over the years. "I thank you for fighting for me, and you know who you are," she added.
But she reassured viewers that she wasn't going off the air, as she would a permanent co-host on The Five. "So you'll be able to see me five days a week," she sad.
"And I will continue to fight for all of you, to make my views known, to make my arguments clear and to fight for the America that we all know and love. And I'll be sitting there looking out for you, as always, and hopefully you'll be right there looking back at me."
She is giving up her Saturday night program to join The Five, which has reportedly has seen a surge in viewership in recent months to become one of the most popular shows on cable television.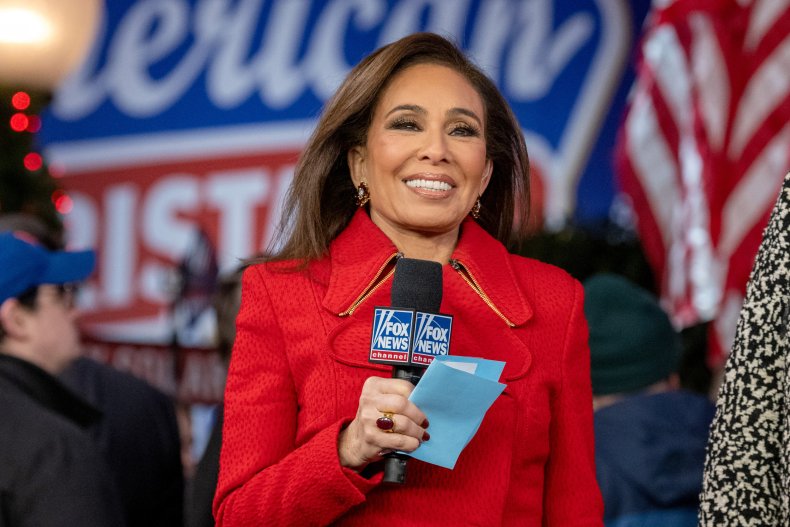 Pirro will appear alongside co-hosts Greg Gutfeld, Dana Perino and Jesse Watters on the show, while veteran Fox News personality Geraldo Rivera, former congressman Harold Ford Jr. and commentator Jessica Tarlov will rotate as the program's liberal voice.
Pirro's promotion to a full-time co-host on The Five indicates the network is not opposed to providing a larger platform for a host popular with its viewers, despite problematic incidents in the past.
She was taken off the air for two weeks in 2019 after questioning whether Minnesota Rep. Ilhan Omar's wearing of a hijab indicated that the Muslim lawmaker followed Islamic religious law that Pirro called "antithetical to the U.S. Constitution."
Pirro is also among the defendants in a $2.7 billion defamation lawsuit filed by voting technology company Smartmatic. The company is suing Fox News, Pirro and two other hosts and two of former president Donald Trump's lawyers, alleging they conspired to spread false claims that the company was involved in an effort to steal the 2020 election from Trump.
A Fox News spokesperson has been contacted for comment.