Judge Ketanji Brown Jackson's Confirmation Hearings: A Call to Action for Democrats | Opinion
Over the last week, we witnessed firsthand the resilience of Judge Ketanji Brown Jackson.
She has deepened the pride and joy women of color across America have felt since she was nominated.  But Judge Jackson should not have been mistreated during her confirmation hearings—and cannot walk alone. She needed especially strong heartfelt support from the committee and the public at large.
The nation watched as she sat and held her composure while coming under attack from some Republican members of the Senate Judiciary Committee. They made significant attempts to discredit, degrade and slander Judge Jackson, but she stood her ground and showed incredible grace under pressure for over more than 20 hours of questioning.
We anticipated that the hearings would be challenging and include high-profile attacks from Republicans. Many of us talked in meetings and in private—we knew their strategy—but worried about our strategy, and the impact that these public attacks would have on the Democrats' most vocal, active, loyal base. The right knows that as Black women's political power grows it interrupts their ability to enact their damaging agenda on America.
So what does that mean? It means that Democrats must apply a new level of support for Black women and women of color. For us to win these hard-won battles, we must build on the party's values by protecting and elevating Judge Jackson and other women of color leaders and emerging leaders throughout the country for the benefit of all.
Senator Cory Booker (D-N.J.), Senator Alex Padilla (D-Calif.) and Senator Mazie Hirono (D-Hawaii) set the precedent for this new standard at the hearings.
These senators demonstrated how to unapologetically protect Black women and women of color who are the core of the base—the very women who continuously deliver victories for the Democratic Party. They stepped up to defend Judge Jackson and corrected the narrative after distortions of her record, attacks, hostility and downright rudeness from Senate Republicans.
Senator Booker's remarks spoke beautifully to her humanity: "It's hard for me not to look at you and not see my mom, not to see my cousins—one of them who had to come here and sit behind you. She had to have your back. I see my ancestors and yours," Cory said. "But don't worry, my sister. Don't worry. God has got you. And how do I know that? Because you're here, and I know what it's taken for you to sit in that seat. You have earned this spot. You are worthy. You are a great American."
Senator Padilla was also an incredible model of this. He told his personal story of how he visited a high school classroom in south San Francisco to discuss her nomination. He asked her what she would say to these young people. When she responded, we saw her place her hand on her heart, her place of power. Her story of being a homesick freshman at Harvard University and wondering if she belonged brought us right back to how remarkable it was that she was in the hearings that day. A Black woman she did not know recognized that forlorn look on her face and told her long ago—"persevere." "Persevere," she told them.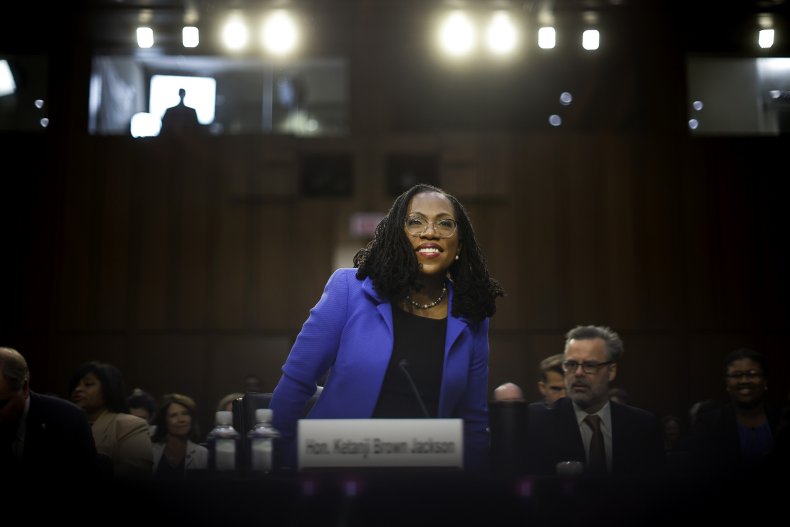 After a particularly tense and offensive tirade by Senator Josh Hawley (R-Mo.) and a shouting Ted Cruz (R-Texas), Senator Hirono began her questioning with a welcoming "Aloha." Aloha—meaning love and fellowship—which in these political climes are sorely needed and even harder to find.
I am not sure that anything prepared us for what we experienced last week, but there are lessons to take away for both sides of the aisle.
Republican attacks on the judge's sentencing record have been discredited by fact-checkers from numerous major news outlets. The great majority of the judge's sentences for child pornography offenders were at or above the level recommended by the U.S. Probation Office and were in line with other federal judges. And these attacks overlook her overall record of sentencing more than 100 defendants in her time as a district court judge.
I felt hurt and angry. So many of my Black and brown friends said they felt triggered, traumatized and felt the blows as if it were them in the room.
The interruptions, barely coded dog whistles and disrespect, mirrored the lived experience of Black women in America and serve as a reminder of why representation matters and why Judge Jackson's historic nomination is an inspiration. She cut through the noise and partisan rancor to discuss her record with such grace, transparency and thoughtfulness that it's no surprise the Senate previously approved her for a judgeship three times with bipartisan support.
That's what is most important here, and that is what will also impact what comes next—a turnout of Black women in upcoming elections to help the president make any additional headway on his legislative agenda by holding on to the House, the Senate and the White House in 2024.
Will Democrats defend and uplift the most vocal, active and loyal base of the Democratic Party—Black women?
I certainly hope so because time after time we have defended and uplifted the party.
Judge Jackson is a brilliant legal mind with the utmost character and integrity. She will make an exceptional Supreme Court justice. I urge the Senate Judiciary Committee and the full Senate to vote swiftly—and overwhelmingly—confirm Judge Ketanji Brown Jackson for the Supreme Court.
In the next weeks leading up to the full confirmation vote, in the face of almost certain attacks, we will persevere with and for you, Judge Jackson. Because America is truly better because of you.
Aimee Allison is founder and president of She the People, a national network of women of color in politics. She is a columnist for Newsweek.
The views expressed in this article are the writer's own.