Judge Refuses Request to Release 'QAnon Shaman' Jacob Chansley Before Sentencing
A judge has denied "QAnon Shaman" Jacob Chansley's bid to be released from jail before he is sentenced for participating in the January 6 riot at the U.S. Capitol.
Chansley, who is also known by his stage name Jake Angeli, pleaded guilty to a felony charge of obstructing an official proceeding last week. In a court order unsealed on Friday, U.S. District Judge Royce Lamberth decided against releasing Chansley from jail prior to his sentencing hearing, which is set for November 17. Two previous requests for Chansley's release had also been denied.
"Upon consideration of the parties' briefs, the arguments offered at the hearing, and the record herein, the Court will DENY Chansley's motion for release from custody pending sentencing," Lamberth wrote in the order.
The judge made the ruling after deciding that Chansley's attorney Albert Watkins had "failed to present clear and convincing evidence" that his client did not pose a danger to the community and would not attempt to flee before his sentencing hearing takes place.
Had the request been successful, Chansley would have been released to the St. Louis area, where a therapist was set to "meet with him for counseling up to three times a week" and a doctor would have monitored his health on a weekly basis. Lamberth concluded that the plan did not include any effort to "prevent Chansley from fleeing if he so desires."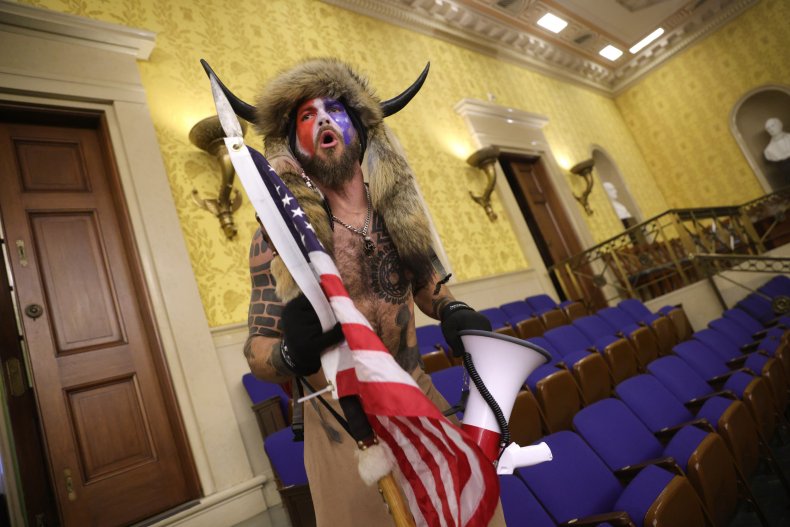 Watkins said that a court-ordered psychological evaluation had diagnosed Chansley with "significant and long standing mental health frailties" and that the request for his release had been made to allow a final visit with his beloved and ailing grandfather, who died on Thursday, the same day that Lamberth denied the request.
"With respect for all involved, it is a sad day in our nation when we are all compelled to admit that our Department of Justice, our Courts, our Bureau of Prisons and our defense attorneys are neither equipped nor armed to identify, treat or appropriately handle those in our nation with mental health disabilities and vulnerabilities," Watkins said in a statement obtained by Newsweek.
"With great sadness and regret, there was simply nothing more I could do to permit a gentle, smart and kind young man the opportunity to spend a few minutes at the side of the man who raised him to say 'good-bye' one last time," he added.
Chansley became closely associated with the January 6 insurrection due to viral images that showed him carrying a flagpole inside the Capitol while he was shirtless and wearing a furry horned hat and face paint. Hours before the Capitol was breached, he had attended a nearby rally in support of former President Donald Trump's false claims that the 2020 presidential election had been "stolen" from him.
According to his attorney, the self-described shaman has recently denounced the fact-free QAnon conspiracy theory that he had been heavily associated with. The QAnon conspiracy absurdly claims that Trump is secretly fighting a war against a "deep state" of Satanic, blood-drinking Democrats involved in child sex trafficking.
"Mr. Chansley, a long avowed and practicing Shaman, has repudiated the 'Q' previously assigned to him and requests future references to him be devoid of use of the letter 'Q'," Watkins said in a statement last week.
In the order denying the Chansley's release, Lamberth wrote that he "hopes the change of heart is sincere." In addition to pleading guilty and apparently repudiating QAnon, Chansley has also spoken out against Trump since his arrest, saying he was "deeply disappointed" in the former president. Watkins compared Chansley's previous views on Trump to a "first love" scenario.
"He had a fondness for Trump that was not unlike the first love a man may have for a girl, or a girl for a man, or man for a man," Watkins said during a news conference after the guilty plea. "The first love always, always maintains a tender and soft spot in the heart of the lover."
Sentencing guidelines indicate that Chansley is likely to receive a sentence of between 41 and 51 months in prison. Watkins has argued that his client should be given probation instead, citing his mental health issues and cooperation with authorities following his arrest.
Newsweek reached out to Watkins for comment.