Judge Slams Gov. Abbott 'Shamelessly Taking His Orders' From Trump on Texas Election Audits
A Texas judge blasted Governor Greg Abbott for "taking his orders" from Donald Trump over the announcement that there would be audits into the state's presidential election results—which followed a request for a review from the former president.
The Texas Secretary of State announced the audit into the results from Dallas, Harris, Tarrant and Collin counties on Thursday. It came just after Trump urged Abbott to conduct an audit into the state's election results.
"Despite my big win in Texas, I hear Texans want an election audit!" the former president wrote in a letter to Abbott on Thursday. "You know your fellow Texans have big questions about the November 2020 Election."
Following the announcement, some Texas county judges expressed frustration, saying they do not know what the audits entail and that they learned about them through a press release from the office of the secretary of state, The Texas Tribune reported.
"This is a weak Governor openly and shamelessly taking his orders from a disgraced former President. Governor Abbott is wasting taxpayer funds to trample on Texans' freedom to vote, all in order to appease his puppeteer," Dallas County Judge Clay Jenkins, a Democrat, told the Tribune.
Harris County Judge Lina Hidalgo, a Democrat, also criticized the audit as "politically motivated," telling the Tribune: "Every time we engage in a conversation about these false allegations, we're lending credence to the lie."
Tarrant County Judge Glen Whitley, a Republican, also told the same outlet "it's time to move on," criticizing "conspiracy theorists who want to come up with all these ways" to doubt the election results.
Biden easily won Dallas County with 65 percent of the vote and Harris County with 56 percent. He flipped Tarrant County, winning 49.3 percent to Trump's 49.1 percent. Trump won Collin County with over 51 percent of the vote.
Trump won statewide by about six points, despite Democratic hopes of flipping the Lone Star State.
In Texas, county judges preside over a wide range of duties. In addition to overseeing judicial matters, they also serve as heads of emergency management. In smaller counties, they may also serve as budget officers, according to the Texas Association of Counties.
Republicans have audited or pushed for audits in states Biden narrowly won—and states won by Trump—amid unfounded claims that the 2020 presidential election was stolen. No evidence has been presented to indicate widespread fraud.
Texas Attorney General Ken Paxton, a Republican, has previously stated support for an audit.
"There is no reason not to do an audit," Paxton tweeted this summer. "There is no reason not to know the truth of every election. And, certainly, because there are so many questions about this one—maybe even in Texas, we should do the audit."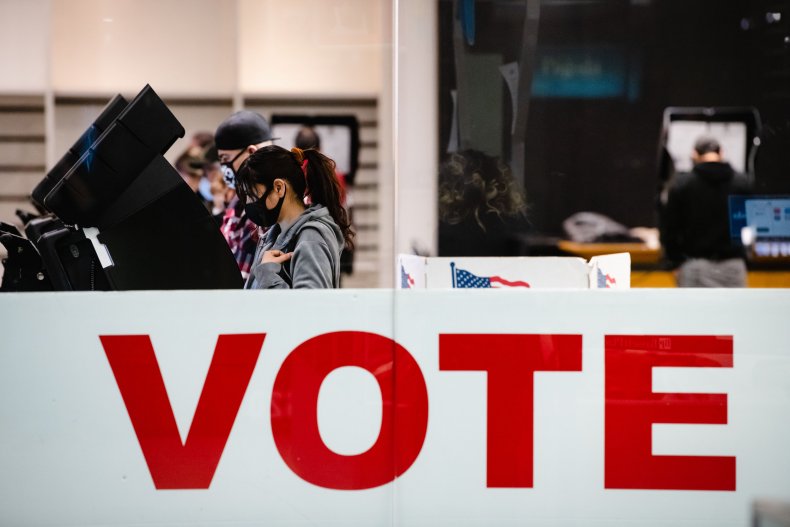 Meanwhile, results were released last week in Arizona's months-long and widely-scrutinized election audit in Maricopa County. The review found that Biden won the county by an even larger margin than the pre-audit numbers indicated.
The hand count found Trump won 45,469 fewer votes than Biden, whereas earlier county results showed he lost by 45,109—a relatively small discrepancy of 360.
Last week, Trump also asked Georgia Secretary of State Brad Raffensperger to decertify the state's results, claiming he found 43,000 absentee ballots that violated the chain of custody rules. However, Raffensperger said Friday that Trump "lost the election fair and square."
Newsweek reached out to the judge's offices in each of the four counties as well as Abbott's office for comment but had not heard back by publication. This story will be updated with any response.