Judiciary Committee Taking First Formal Step to Define Its Impeachment Inquiry, Here Are the Proposed Guidelines
The House Judiciary Committee will vote Thursday on a resolution that will outline parameters for the panel's ongoing investigation into whether articles of impeachment should be filed against President Donald Trump.
The technical move will mark the first formal procedure taken by the Democratic-led committee to define its "impeachment investigation," as Chairman Jerrold Nadler (D-N.Y.) has dubbed it, and will better explain how the unofficial probe will operate going forward. An impeachment inquiry has not been officially initiated with a vote by Judiciary members.
"The unprecedented corruption, coverup and crimes by the president are under investigation by the committee as we determine whether to recommend articles of impeachment or other Article 1 remedies," Nadler said in a statement Monday. "The adoption of these additional procedures is the next step in that process and will help ensure our impeachment hearings are informative to Congress and the public, while providing the president with the ability to respond to evidence presented against him."
House Speaker Nancy Pelosi has long opposed initiating an impeachment inquiry within the committee. Still, an aide to the California Democrat told Newsweek that she does support the resolution that defines rules for future procedures.
The new parameters that will be considered would do the following, if approved as written:
Nadler could designate full or subcommittee hearings as part of the impeachment inquiry, allowing smaller panels within the committee to take on some of the work and speed up the process.
Following questioning of witnesses conducted by lawmakers, committee staff attorneys for both the Democrats and Republicans would have one hour divided equally by each side to ask questions. This would allow career professionals a larger chunk of time than each lawmaker's allotted 5 minutes to ask detailed questions.
Information obtained by the committee through subpoenas, interviews, documents or other means shall be kept private, unless Nadler says it can be released publicly. Any material received from the redacted grand jury portions of the Mueller report would be kept private.
White House attorneys would have the opportunity to respond via writing to information or testimony revealed through the committee's work, in addition to responding privately to information kept from the public eye.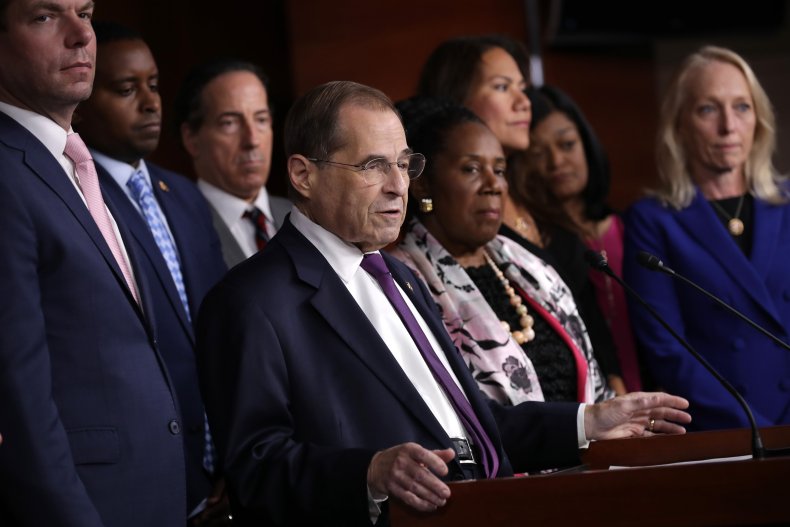 Since the spring, the committee has dug into an array of topics that Democrats believe could amount to abuses of power and obstruction of justice, such as the president's attempts laid out in the Mueller report to thwart the former special counsel's investigation. Going forward, they plan also to investigate whether Trump may have violated the constitution's Emoluments Clauses regarding his desire to host the 2020 G7 Summit at his Doral golf resort in Miami and reported attempts to offer Homeland Security officials pardons for breaking laws surrounding the construction of the southern border wall. Nadler subpoenaed DHS last week for more information.
Judiciary Democrats could also dive further into the allegations made by former Trump attorney Michael Cohen that he was directed to make hush-money payments to women leading up to the 2016 presidential election for extra-marital affairs allegedly committed by Trump years prior. Cohen is serving a three-year prison sentence for campaign finance violations regarding the matter, among other things.
Representative Doug Collins (R-GA), the panel's top GOP member, accused his Democratic counterparts of trying to "pull a fast one on Americans." He and other Republicans have pointed to the lack of an official vote by the committee stating it has launched an impeachment inquiry as evidence that the investigation is illegitimate and to highlight the continued lack of support by top House Democrats, like Pelosi, for moving forward with impeachment. This despite more than half of House Democrats now supporting an impeachment inquiry as Congress returns Monday evening from a six-week summer recess.
"They know they don't have the votes for the whole House to impeach, so they're trying to adopt committee rules to govern an 'impeachment investigation' the House hasn't even authorized," Collins wrote in a tweet.
Nadler also announced Monday that the committee will hold a hearing on September 17 with former Trump campaign manager Corey Lewandowski, who was asked by the president to tell former Attorney General Jeff Sessions to limit the scope of the Russia probe, according to the Mueller report. Former White House staff secretary Rob Porter and former White House Deputy Chief of Staff Rick Dearborn, both of whom were also involved in attempts by Trump to have Mueller's investigation hindered or shuttered altogether, were subpoenaed for the same hearing.
This story was updated to include that Pelosi supports the Judiciary Committee's resolution.