Julia Fox Claps Back at Backlash Over Apartment Tour—'C'mon People'
Julia Fox didn't expect her "underwhelming" apartment tour to prove so popular, but she's spoken out to dispel some theories her fans had.
On Thursday, January 26, Fox pulled back the veil on her private life and walked her TikTok followers around her two-bed, one-bathroom New York City apartment. Fox also explained how she'd moved her own bed into the living room so that her son Valentino could have a bigger space to play. The video went viral and amassed 10.3 million views.
The Uncut Gems actress made her latest video, responding to someone's theory that she's worth $30 million. Fox was quick to refute that figure.
"I really wasn't expecting my apartment tour to go so viral and, people are really freaking out over it," she said in a video, filmed from her birthday vacation in the Bahamas.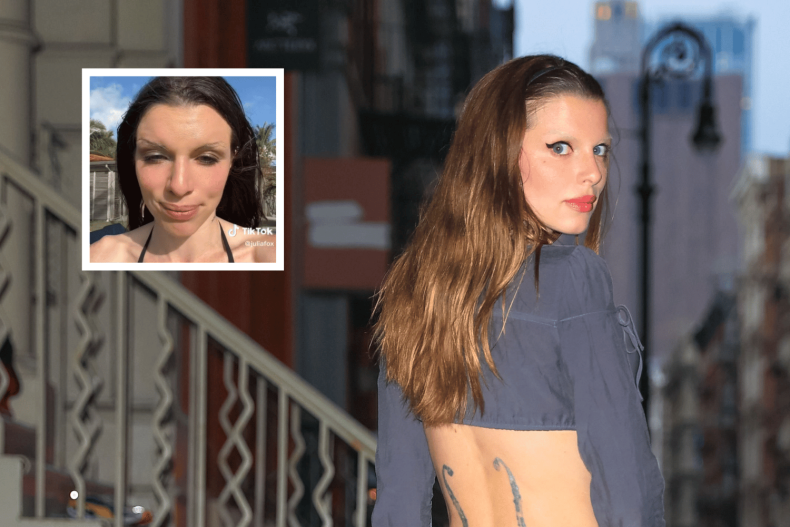 "I just want you guys to know that first of all, I'm not worth $30 million. Not even close, and second of all, I don't give a f*** because I don't need $30 million. What does one person need $30 million for anyway? I survived on a lot less and I'm doing just fine," Fox said.
"You guys are like, 'she wears thousands of dollars of couture.' Borrowed couture. Jesus Christ c'mon people," she continued.
Fox says the alleged net worths of famous people online are mostly incorrect. "Don't believe everything you read on the internet. All those Celebrity Net Worth things are complete BS," she said.
She was mainly addressing concerns raised in the comment section of her TikTok video where people expressed shock at the humble size of her home, compared to her perceived wealth.
Two New York City-based real estate agents shared their estimation of the home with Newsweek. Andrew Ragusa of REMI Realty, and Scott Harris of Brown Harris Scott both estimated her rent was $2,500 a month, and the property is worth up to $450,000.
Fox also said she's happy in the apartment because it's the same home she brought her son Valentino to, making it his home. She went on to say she's happy he's growing up in humble surroundings to keep him grounded, keeping him "in touch with the real world," like her.
Overall, Fox says the thousands of comments she received were mostly positive, and she thanked her fans for reaching out. The follow up video where Fox reacts to the reaction of her apartment tour has also been viewed millions of times, with thousands of fans sharing their support for the model.
Celebrating her upcoming birthday in the Bahamas right now, Fox turns 33 years old on Thursday, February 2.