As Kanye West and Kim Kardashian's separation continues to make headlines, the rapper has gone on a highly publicized date with actress Julia Fox that is causing a stir on social media.
Fox, 31, is best known for her debut performance in Adam Sandler's 2019 film Uncut Gems and has recently started dating Ye, despite his repeated pleas for a reconciliation with Kardashian.
Now the "Donda" performer and Fox were seen leaving a production of Slave Play in New York City on January 4. Fox has since written a detailed piece about their night out for Interview magazine, gushing over the gifts lavished on her by West.
Fox wrote that she met the rapper on New Year's Eve in Miami and he is "so fun to be around."
"He had me and my friends laughing, dancing, and smiling all night. We decided to keep the energy going and fly back to New York City to see Slave Play," she said.
"Ye's flight landed at six and the play was at seven and he was there ON TIME. I was impressed. After the play we chose to do dinner at Carbone which is one of my favorite restaurants. Obviously."
Fox explained that West directed a photoshoot for her in the restaurant before surprising her with "an entire hotel suite full of clothes," which she described as "every girl's dream come true."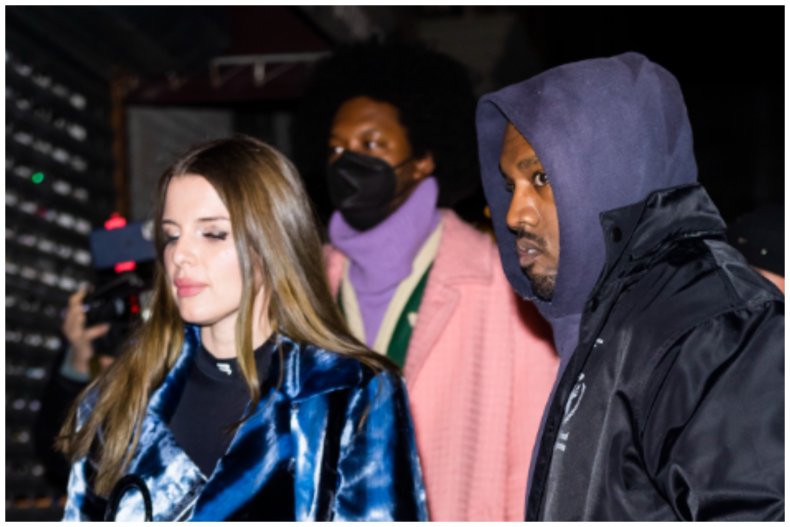 "It felt like a real Cinderella moment. I don't know how he did it, or how he got all of it there in time. But I was so surprised," she wrote.
"Like, who does things like this on a second date? Or any date! Everything with us has been so organic. I don't know where things are headed but if this is any indication of the future I'm loving the ride."
The article was accompanied by a series of photos from the date that show the pair embracing on the floor and West helping Fox try on the clothes he got her.
The bizarre spectacle has left fans scratching their heads and prompted a wave of jokes on Twitter.
"Julia Fox's publicists when kanye landed in her dms," reads one tweet, alongside an image of NASA scientists hugging each other in glee as they celebrate a successful launch.
Another wrote: "julia fox just fully recapping her second date with kanye for interview mag......seems like true love!!"
"'Everything with us has been so organic.' - Julia Fox, writing about her second date with Kanye West, which was photographed for Interview Magazine," joked another.
Another Twitter user wrote: "Julia Fox's recap of her date with Kanye West for Interview Magazine reads like Tumblr fan-fiction."
West's lavish gifts did not impress some commenters. One wrote: "the absolute chaos of Julia Fox writing about her first two dates with Kanye *6 DAYS* later for Interview magazine and it's, once again, Kanye treating his gf like a life-sized doll???"