Julian Assange and Donald Trump: All the Times President Has Praised WikiLeaks Founder as U.S. Files Extradition Request
President Donald Trump has repeatedly praised WikiLeaks founder Julian Assange, who faces extradition to the United States after he was arrested in London following the withdrawal of his asylum status at the Ecuadorian Embassy.
But on Thursday Trump seemed to have forgotten all of his previous praise for WikiLeaks. "I know nothing about WikiLeaks," Trump told reporters at the White House. "It's not my thing."
In the final weeks of the 2016 election campaign, Trump spoke publicly about his fondness for the organization, telling a crowd at an October 10, 2016, rally in Pennsylvania, "I love WikiLeaks," then reading aloud from stolen Democratic Party documents published online by Assange's group.
But before being sworn in, Trump shared a screenshot of an Assange interview with Fox News in January 2017, using it to support his often repeated claim that the mainstream media are not truthful.
"@FoxNews: Julian Assange on U.S. media coverage: 'It's very dishonest.' #Hannity 'More dishonest than anyone knows [sic]," the tweet said.
"Julian Assange said 'a 14 year old could have hacked Podesta' - why was DNC so careless? Also said Russians did not give him the info!" the president added in a separate tweet. John Podesta was the chairman of Hillary Clinton's 2016 presidential campaign.
Responding to criticism, Trump followed up his posts with a defense the following day. "The dishonest media likes saying that I am in Agreement with Julian Assange - wrong. I simply state what he states, it is for the people [sic]," he wrote in a tweet.
WikiLeaks, which was founded by Assange, was behind the publication of thousands of emails from Hillary Clinton, her campaign staffers and the Democratic National Committee (DNC) during the 2016 campaign.
Analysts have argued that the information leaked from those communications was particularly damaging to Clinton, giving Trump the upper hand in the election. Assange's organization has also been linked to Moscow, as some of the emails were allegedly hacked by Russians. As a result, WikiLeaks was also targeted in special counsel Robert Mueller's investigation into the Russians' 2016 election interference. Trump's close associate Roger Stone, who has been indicted, allegedly communicated directly with the organization in regard to some of the leaked emails.
Trump's positive remarks regarding WikiLeaks go back to the heated moments of the 2016 campaign.
"The Wikileaks e-mail release today was so bad to [Bernie] Sanders that it will make it impossible for him to support her [Clinton], unless he is a fraud!" then-candidate Trump wrote in July 2016. That comment came following the publication of DNC emails that showed party leaders had supported Clinton over Sanders early in the campaign, despite his growing national support.
Candidate Trump's tweets and praise of WikiLeaks peaked in October and early November of 2016, in the lead-up to the election. He repeatedly cited the organization to disparage Clinton.
During an October 10 campaign rally in Pennsylvania, Trump referenced a recent WikiLeaks publication and said, "WikiLeaks, I love WikiLeaks."
"I hope people are looking at the disgraceful behavior of Hillary Clinton as exposed by WikiLeaks," he wrote on October 11. "She is unfit to run." The next day, Trump accused the media of being "dishonest" and "rigged" because it had picked up "very little" of the "incredible information provided by WikiLeaks."
At a Florida rally on October 12, the president added: "This WikiLeaks stuff is unbelievable.... It tells you the inner heart, you gotta read it." The following day in Ohio he said, "It's been amazing what's coming out on WikiLeaks."
Then, on October 16, Trump shared a link to an article alleging that President Barack Obama was involved in Clinton's infamous use of a private server for classified emails. "We've all wondered how Hillary avoided prosecution for her email scheme. Wikileaks may have found the answer," he wrote. "Obama!"
Trump followed this up the next day with a link to another article, writing: "WikiLeaks proves even the Clinton campaign knew Crooked mishandled classified info, but no one gets charged? RIGGED!"
On October 21, Trump tweeted out two references to WikiLeaks, linking to articles by the right-wing Washington Times and The Daily Caller. "WikiLeaks Reveals Clinton Camp's Work With 'VERY Friendly and Malleable Reporters'" was the headline of the Washington Times article.
His tweet about The Daily Caller cheered WikiLeaks for exposing Clinton. "Huma calls it a 'MESS,' the rest of us call it CORRUPT! WikiLeaks catches Crooked in the act - again," he wrote. Huma Abedin was the vice chair of Clinton's campaign.
A few days later, on October 24, Trump referred to instances, revealed by WikiLeaks, where Clinton staffers had disparaged Catholics. He called on Clinton's running mate, Tim Kaine, who is Catholic, to address the controversy. "Why has nobody asked Kaine about the horrible views emanated on WikiLeaks about Catholics?" Trump asked on Twitter. "Media in the tank for Clinton but Trump will win!"
In fact, Kaine had already spoken publicly about the matter.
"WikiLeaks Drip-Drop Releases Prove One Thing: There's No Nov. 8 Deadline on Clinton's Dishonesty and Scandals," Trump tweeted on October 27, sharing a link to a Fox Nation video. Then, on November 1, he shared another Washington Times article with the caption: "WikiLeaks emails reveal Podesta urging Clinton camp to 'dump' emails. Time to #DrainTheSwamp!"
The day before in Michigan, Trump said: "This WikiLeaks is like a treasure trove." A few days later in Ohio, he said, "Boy, I love reading those WikiLeaks."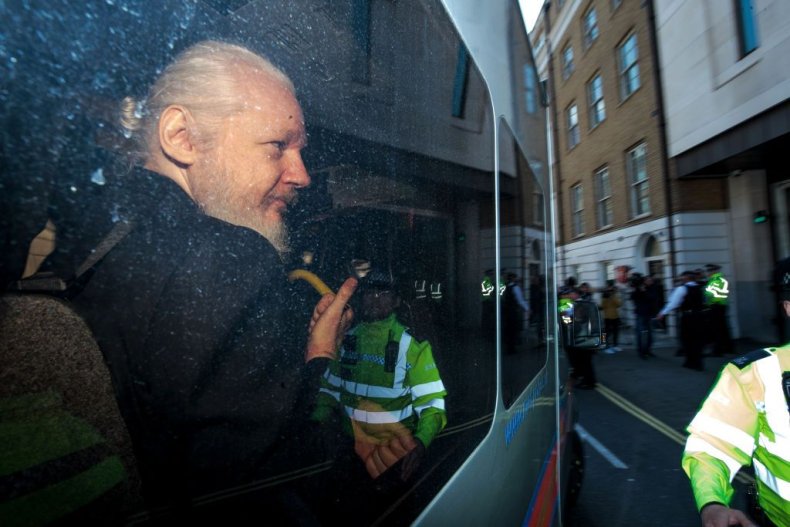 Secretary of State Mike Pompeo had called WikiLeaks a "non-state hostile intelligence service" when he was director of the CIA. Assange currently faces extradition to the U.S. for his "alleged role in one of the largest compromises of classified information in the history of the United States," according to a Thursday press release by the U.S. Attorney's Office in the Eastern District of Virginia.
The WikiLeaks founder spent more than six years holed up in Ecuador's embassy in London to avoid extradition, but Assange's asylum was rescinded on Thursday. Ecuadorian President Lenín Moreno said that he had "inherited" the situation from Rafael Correa, his left-leaning predecessor.
Editor's note: This article has been updated to include Donald Trump's Thursday comment about WikiLeaks.