Protests Held Outside Court as U.S. Appeals Julian Assange Extradition Ruling
Supporters of Julian Assange have protested outside the Royal Courts of Justice in London amid a legal bid to overturn a ruling which blocked the Wikileaks founder's extradition to the United States.
The U.S. government is appealing in the U.K.'s High Court to have a judge's decision from January overturned which barred Assange being extradited to face espionage charges.
These are linked to the publishing of thousands of classified documents through his site.
District Judge Vanessa Baraitser said that Assange would face "harsh" prison conditions if extradited to the U.S and there was a "substantial" risk he would kill himself.
On Wednesday, Assange's father, John Shipton, and partner Stella Moris joined the crowd of demonstrators who gathered to show their support, which also included Chinese artist Ai Weiwei.
Speaking outside the court, Moris said she was "very concerned for Julian's health," the Associated Press reported.
"I saw him on Saturday. He's very thin," Moris said.
"It is completely unthinkable that the U.K. courts could agree to this.
"I hope the courts will end this nightmare, that Julian is able to come home soon and that wise heads prevail."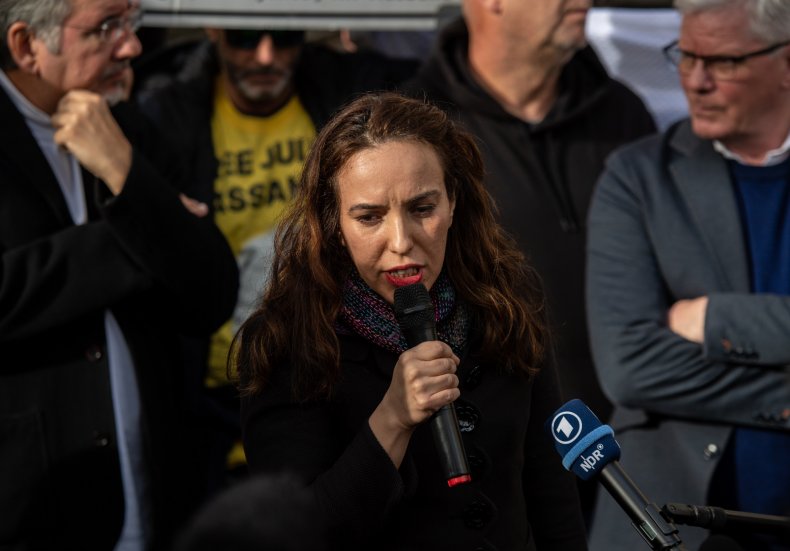 During proceedings, James Lewis, a lawyer acting for the U.S. government, argued that Baraitser had made a mistake in her previous ruling. Lewis said that a promise had been made for Assange to face any possible jail time in his home nation of Australia and not in severe conditions in a U.S. prison.
The lawyers for the U.S. are arguing the case that Assange is not so mentally unwell that he could not resist harming himself.
"Once there is an assurance of appropriate medical care, once it is clear he will be repatriated to Australia to serve any sentence, then we can safely say the district judge would not have decided the relevant question in the way that she did," Lewis said, via Sky News.
Assange was not present inside the court. However, he did appear via video link part way through proceedings, having initially being said to have been to unwell to do so, the BBC reported. He is currently being held in the U.K.'s Belmarsh maximum-security prison.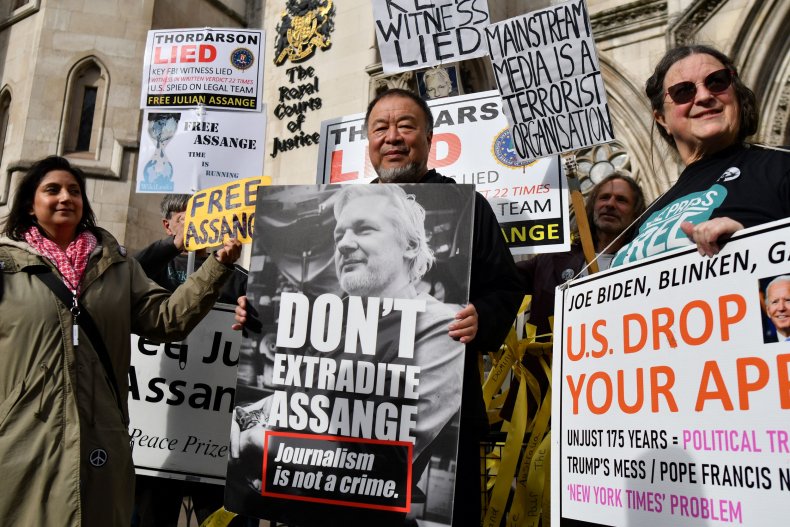 Amnesty International's Secretary General Agnes Callamard called on U.S. authorities to drop the charges against Assange and urged the U.K to release Assange from custody immediately.
"It is a damning indictment that nearly 20 years on, virtually no one responsible for alleged US war crimes committed in the course of the Afghanistan and Iraq wars has been held accountable, let alone prosecuted, and yet a publisher who exposed such crimes is potentially facing a lifetime in jail," Callamard said in a statement.
"The U.S. government's unrelenting pursuit of Julian Assange makes it clear that this prosecution is a punitive measure, but the case involves concerns which go far beyond the fate of one man and put media freedom and freedom of expression in peril."
The High Court hearing is set to end today but a decision regarding the outcome is expected at a later date, the BBC reported.
Assange was arrested in 2019 having been holed up inside the Ecuadorian embassy in London for several years having entered there in 2012. Assange was seeking political asylum while inside the embassy as part of a bid to avoid being extradited to Sweden to face allegations he assaulted two women in 2010. He denied those allegations and they were eventually dropped, the BBC reported.
Assange feared that once in Sweden, he would then be sent to the U.S., where he is wanted on 17 espionage charges and one of computer misuse and faces a maximum sentence of 175 years in prison.
Newsweek has contacted WikiLeaks for comment.