U.S. 'Prepares Charges' Against WikiLeaks Founder Julian Assange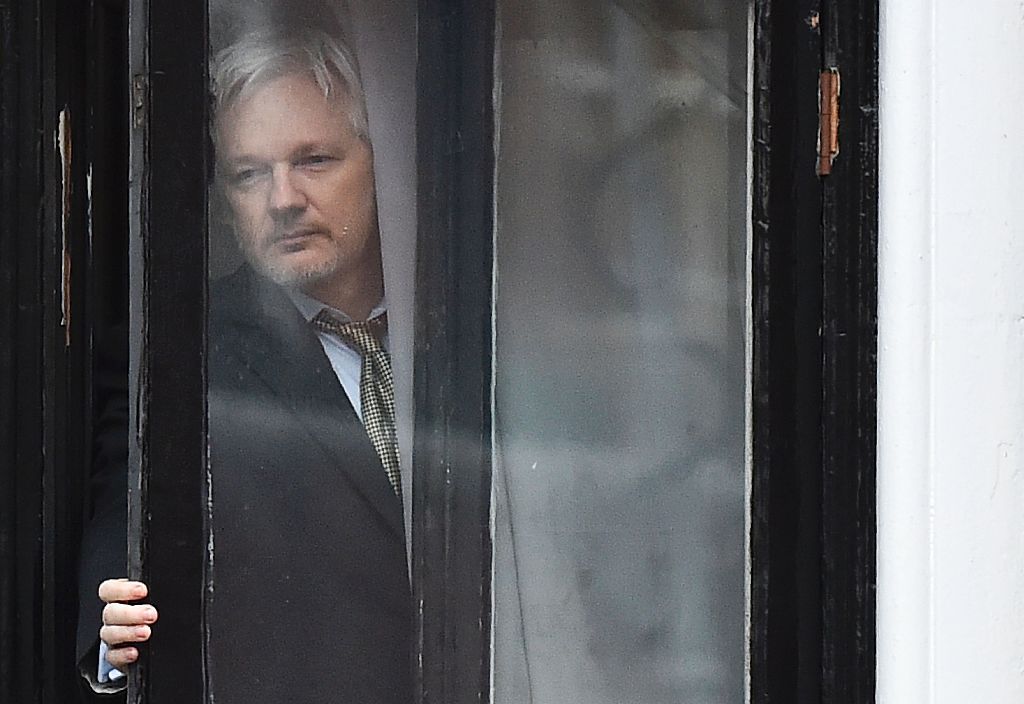 The arrest of Julian Assange is now a "priority," said Attorney General Jeff Sessions, as U.S. authorities reportedly prepare charges against the WikiLeaks founder.
On the election campaign trail last year, then-Republican candidate Donald Trump lauded the organization after it had leaked thousands of emails hacked from Democratic Party servers believed to have damaged the candidacy of his rival, Hillary Clinton. "I love WikiLeaks," Trump told supporters at a rally in October.
But Trump's attorney general struck a different tone on Thursday.
In response to a question of whether Assange's arrest was a priority, Sessions told reporters: "We are going to step up our effort and already are stepping up our efforts on all leaks."
He added: "So yes, it is a priority. We've already begun to step up our efforts and whenever a case can be made, we will seek to put some people in jail."
U.S. officials later told CNN they were preparing charges against Assange, who is currently holed up in the Ecuadorian embassy in London avoiding extradition to Sweden where he is wanted for questioning over rape allegations.
The Department of Justice first began investigating Assange and Wikileaks in 2010, after secret U.S. diplomatic cables were leaked to the site by Chelsea Manning. At the time, First Amendment rights were considered an obstacle to preparing any charges.
Newspapers including the New York Times and the Washington Post also published some of the cables leaked to WikiLeaks, and under longstanding First Amendment tradition publications are not prosecuted for publishing leaked material.
CIA director Mike Pomeo said last week that didn't apply to Assange, an Australian.
"Julian Assange has no First Amendment freedoms. He's sitting in an Embassy in London. He's not a U.S. citizen," Pompeo said.
U.S. intelligence agencies have alleged that WikiLeaks colluded with Russian officials to leak the stolen Democrat emails, as part of a campaign to promote Trump's candidacy.
In his speech at the Center for Strategic and International Studies in Washington, Pompeo went further than any Trump administration official in condemning WikiLeaks.
He said WikiLeaks "directed Chelsea Manning to intercept specific secret information, and it overwhelmingly focuses on the United States."
"It's time to call out WikiLeaks for what it really is: a non-state hostile intelligence service often abetted by state actors like Russia," Pompeo said.
Since taking office, Trump has vowed to clamp down on leaks, after a flow of damaging information was released to media organisations.
For now, Assange appears safe. Lenín Moreno, the winner of Ecuador's April presidential election, has agreed to honor Assange's asylum but warned him not to meddle in Ecuador's politics.
Assange had taunted Ecuadorian businessman and politician Guillermo Lasso after the conservative candidate's election defeat. Lasso had vowed to kick Assange out of the embassy if elected.
Assange's lawyer, Barry Pollack, told CNN that he had not been contacted by the Justice Department and had received no indication that charges were being brought.
"They've been unwilling to have any discussion at all, despite our repeated requests, that they let us know what Mr. Assange's status is in any pending investigations. There's no reason why WikiLeaks should be treated differently from any other publisher," he said.
In January, Assange said he would stand by his pledge and travel to the U.S. if Manning received a pardon by outgoing President Barack Obama. Assange reneged on the promise ten days later, and said he would only travel to the country if he received assurances from the Department of Justice about what, if any, charges he would face.