Julius Jones' Sister Urges Oklahoma Governor to Stop Execution: 'I Pray You're Listening'
Julius Jones' sister has urged Oklahoma Governor Kevin Stitt to save her brother's life after the state scheduled his execution.
The Oklahoma Pardon and Parole Board voted to recommend Jones' death sentence be commuted on September 13. Ultimately, the decision is up to Stitt and there isn't a timeline for the governor to respond to the board's recommendation.
The Oklahoma Court of Criminal Appeals on Monday scheduled Jones' execution for November 18, increasing the urgency for the Republican governor to act to spare Jones' life.
But Jones' sister Antoinette Jones is hopeful the governor will commute her brother's sentence to life with the possibility of parole. "All I can say to Governor Stitt is, I pray that you're listening to a few of the board members that you appointed," the 36-year-old told Newsweek.
"That you know that they've made the right decision and that you look at all evidence, and that you rule in favor of Julius. Julius will not let you down upon his release."
She pointed to the hundreds of commutations the governor signed in his early days in office, adding: "My message to the governor is, I see the man that you are and I see that you want change from the times you stepped in by pardoning those early on.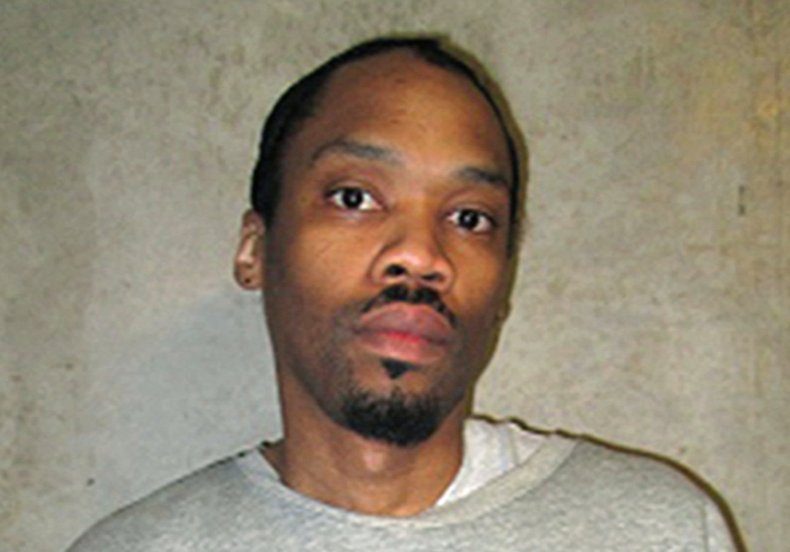 "I thank you for being a great governor in the state of Oklahoma and saying that you wanted to hear from the people."
Jones, 41, was convicted of first-degree murder in the 1999 killing of businessman Paul Howell, but he has always maintained his innocence and claims he was framed. His case has attracted widespread attention in recent years, thanks to a grassroots campaign, a documentary series that explored his innocence claim and celebrity advocates including Kim Kardashian West.
Cece Jones-Davis, who directs the Justice for Julius Jones campaign, said she is also hopeful Stitt will step in and stop Jones' execution.
"This is a man who has have proven over and over again in the state of Oklahoma, that he stands on what he believes," she told Newsweek. "He's had to make, in the past, some really courageous choices about a variety of issues.
"So I have that evidence that helps me have faith in his ability to see what this has been, see what it is, just like his parole board did, and take the recommendation of his board."
Oklahoma prosecutors said the evidence against Jones is overwhelming. But Jones and his supporters have argued that his trial attorneys failed to adequately defend him and that racial discrimination played a role in his trial and sentencing.
Antoinette Jones also said capital punishment should not be carried out when there are doubts about the guilt of some who have been put to death.
"At the end of the day, if you execute an innocent person, you can't bring that life back. You cannot bring that life back," she said, pointing to case of Troy Davis, a likely innocent Black man executed in Georgia exactly 10 years ago on Tuesday.
And Jones-Davis argued that commuting the sentence of a Black man who has spent around half his life on death row presents an opportunity for racial reconciliation in Oklahoma, noting the fact the state commemorated the 100-year anniversary of the Tulsa race massacre earlier this year.
"There is an opportunity for redemption here when it comes to issues of race relations in Oklahoma and across the country," she said. "I think this could be a bright, shining example of what is possible when the work of racial reconciliation is practically applied."
Pointing to cases of police brutality and racial injustice, she added: "We can't bring Trayvon Martin back, we can't bring Mike Brown back, we can't bring any of those folks back.
"But what we do still have is Julius Jones, and we want Julius Jones back. We want him back in our community. And the governor has the power to give him back."
Antoinette Jones also acknowledged the pain felt by Howell's family. "I've not stopped praying for them since I was 13," she said. "But Julius is an innocent Black man on death row, he did not commit the crime of murdering Mr. Paul Scott Howell.
"Every time I'm fighting for my brother, Julius Darius Jones, I'm also fighting for Paul Scott Howell to get the justice that his family needs. Justice for Julius is justice for Paul Scott Howell."
She urged supporters to visit the Justice for Julius Jones website for more information on the case and to take action by emailing Stitt or signing the petition.
The governor's office has been contacted for comment.