'Jump Force' Open Beta Announced: Dates, Characters and More
Bandai Namco's latest fighting game, Jump Force , is coming in February but an open beta will take place next week to test out the online gameplay before fans can dive into the anime action.
From January 18-20, players can download the Jump Force Open Beta client and hop into fights against other players around the world.
Bandai Namco announced most of the details over on its Twitter page, but if you've missed out here's all the information you need to prepare for the upcoming weekend of the Jump Force beta.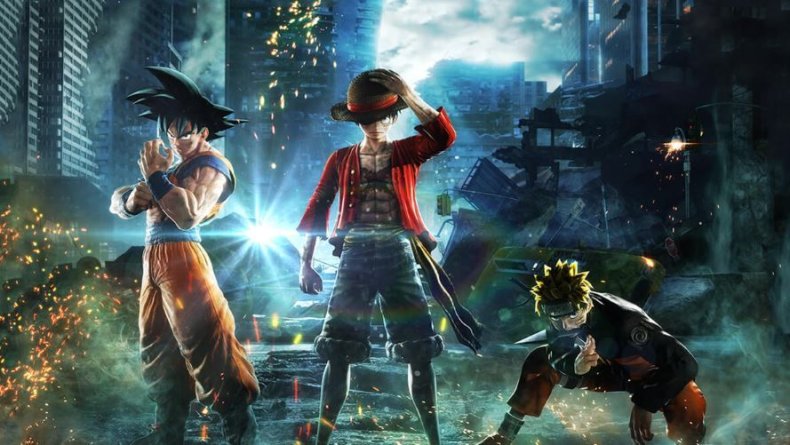 JUMP FORCE OPEN BETA SESSIONS
The Jump Force open beta will be split into four three-hour sessions. During this time, players will be able to hop online to face off against other players. This beta will likely not have any single-player content, but the lobby will be available.
Here are the four sessions for the Jump Force open beta.
Session 1
Friday, January 18 at 7:00 a.m. – 10:00 a.m. EST
Session 2
Saturday, January 19 at 12:00 a.m. – 3:00 a.m. EST
Session 3
Saturday, January 19 at 11:00 a.m. – 2:00 p.m. EST
Session 4
Sunday, January 20 at 3:00 p.m. – 6:00 p.m. EST
CHARACTERS AND STAGES
Bandai Namco announced that there will be five stages available during the Jump Force open beta; however, which locations will be in the open beta were not revealed.
As for the playable characters, players will be able to try out a whopping 17 fighters. Here's the list of fighters available during the Jump Force open beta.
Goku
Naruto
Frieza
Vegeta
Sasuke
Luffy
Zolo
Ichigo
Rukia
Blackbeard
Kenshiro
Yusuke
Toguro
Pegasus Seiya
Gon
Hisoka
Kenshin
This will be the largest group of playable characters in a Jump Force demo yet. Currently, there are more than 30 fighters included in Jump Force.
Besides the ones listed above, the Jump Force roster will include: Asta, Deku, Makoto from Rurouni Kenshin, Ryo, Yugi Muto, Cell, Piccolo,, Aizen, Sanji, Sabo, Killua and Kurapika from Hunter x Hunter, Dragon Shiryu from Saint Seiya. Trunks, Boa Hancock, and Renji Abarai.
Jump Force will release on February 15 for PS4, Xbox One and PC.
What do you think of the Jump Force open beta? What character are you looking forward to playing as? Let us know in the comments section below.