Petition to Make Juneteenth a National Holiday Reaches 250,000 Signatures
A petition to make Juneteenth a national holiday has gained more than 250,000 signatures. The petition was started eight months ago but recently gained attention amid the Black Lives Matter movement.
Juneteenth is also known as Freedom Day, Jubilee Day, and Cel-Liberation Day. It is celebrated every year on June 19 to commemorate the day in 1865 when Major General Gordon Granger arrived in Galveston, Texas, to read out Abraham Lincoln's emancipation proclamation. Federal troops took control of the state to ensure the freedom of the enslaved people.
It is officially recognized in 46 states and Washington, D.C., but is not observed in Hawaii, North Dakota, South Dakota, and Montana. On June 16, 2020, Virginia passed legislation declaring Juneteenth a paid state holiday, making it the second state to declare it a holiday after Texas.
Additionally, a resolution declaring Juneteenth Independence Day as a national holiday has been passed but not approved by the House of Representatives.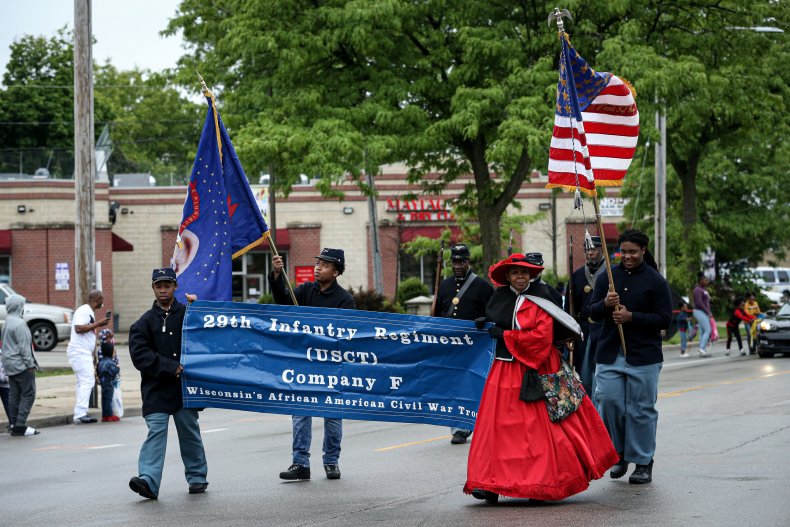 Opal Lee, 93, started the petition alongside her campaign to walk from Fort Worth, Texas, to Washington, D.C. This year, Lee will lead a caravan through Downtown Fort Worth, from the Convention Center to Will Rogers Auditorium.
In the petition, Lee says: "I believe Juneteenth can be a unifier because it recognizes that slaves didn't free themselves and that they had help, from Quakers along the Underground Railroad, abolitionists both black and white like Frederick Douglass and William Lloyd Garrison, soldiers and many others who gave their lives for the freedom of the enslaved.
"My goal with this petition and my walk is to show the Congress and the President that I am not alone in my desire to see national recognition of a day to celebrate 'Freedom for All.'"
Lee will lead the walk on June 19, 2020, and has invited supporters of the cause to join her in Fort Worth, with the deadline to register today, June 17, 2020.
The petition currently has more than 260,000 signatures of its goal of 300,000 and will be sent to the United States Congress and the President of the United States.
Sam Collins III signed the petition eight months ago and said: "I signed because a Juneteenth National Day of Observance will help us tell a more complete story of our American history story. This is just a piece of our story on these shores."
Michelle Morris signed the petition today and said: "It is imperative that Americans know their real history. This would help that effort. This would be a powerful message to the black community that they are seen."
Dione Sims, who manages Lee's petition said that former Dallas Cowboy Greg Ellis supports Lee's campaign and has invited the NFL family to sign the petition. On June 12, the NFL announced that it would observe Juneteenth as a league holiday.