Juneteenth Events Near Me—How To Celebrate Emancipation Day
Juneteenth, which a portmanteau for June Nineteenth, honors the emancipation of those enslaved in the U.S. and is particularly important for African American communities. Every year events take place all over the country to celebrate, usually on the nearest weekend.
This year, the day officially became a federal holiday, after the Senate unanimously passed a bill and President Joe Biden flew back to the U.S. to sign it off.
Senate Leader Charles Schumer said: "Making Juneteenth a federal holiday is a major step forward to recognize the wrongs of the past, but we must continue to work to ensure equal justice and fulfill the promise of the Emancipation Proclamation and our Constitution."
A spokesman from the Texas State Historical Association said: "The TSHA is excited that Juneteenth will now be celebrated nationwide as a federal holiday to commemorate the emancipation of African American enslaved people in the United States following the Civil War.
"The historic event of June 19,1865, has been recognized as an official state holiday in Texas since 1979, but it has been celebrated in communities across the state since the days of Reconstruction. The TSHA is proud that Texas history is being discussed nationwide and helping everyone to learn more about our country's past."
A brief history
Juneteenth marks the day nearing the end of the Civil War in 1865 when federal troops arrived in Galveston, Texas, to ensure the freedom of enslaved people.
Confederate General Robert E. Lee surrendered two months before and the Emancipation Proclamation had been signed by President Abraham Lincoln in 1863, but slavery continued in areas under Confederate control.
At the arrival of more than 2,000 troops on Juneteenth, U.S. General Gordon Granger read General Order 3 in Texas, saying: "The people of Texas are informed that, in accordance with a proclamation from the Executive of the United States, all slaves are free.
"This involves an absolute equality of personal rights and rights of property between former masters and slaves, and the connection heretofore existing between them becomes that between employer and hired labor.
"The freedmen are advised to remain quietly at their present homes and work for wages.
"They are informed that they will not be allowed to collect at military posts and that they will not be supported in idleness either there or elsewhere."
Celebrations broke out from the day of General Granger's arrival, and that December, slavery was formally abolished through the 13th Amendment.
This began a long process of taking freedom, according to The Smithsonian Museum of African American History and Culture.
According to their website, the "post-emancipation period known as Reconstruction marked an era of great hope, uncertainty, and struggle for the nation as a whole.
"Formerly enslaved people immediately sought to reunify families, establish schools, run for political office, push radical legislation and even sue slaveholders for compensation...
"Not even a generation out of slavery, African Americans were inspired and empowered to transform their lives and their country."
While this holiday has not been as well-known throughout the U.S. as others, it is now a federal holiday after the Senate passed a bill, which was signed by President Joe Biden to pass into law.
Republican Senator John Cornyn, of Texas, tweeted: "Happy that my bill to recognize Juneteenth as a national holiday just passed the Senate.
"It has been a state holiday in Texas for more than 40 years.
"Now more than ever, we need to learn from our history and continue to form a more perfect union."
Juneteenth calendar
Events take place across the whole of June, though the real celebrations begin on June 19 and the weekends around it.
Most events take place across the entire weekend, and range from parades and music festivals to contemplative exhibitions.
This year, some events have been scaled back due to COVID-19, while others have become virtual instead.
Major Juneteenth events
Washington, D.C: The Smithsonian Museum of African American History and Culture is holding a series of online events, including a community soundstage and educational programs for children. See the museum's website for more details.
New York City, New York: Juneteenth NY Festival will run a three-day summit, with one day online and the following two in-person with a parade and performances as part of the festivities. See the festival website for more details.
The State of Texas: Usually a major parade takes place in Houston, Texas, but due to the COVID-19 pandemic small events will take place all over the state. One such event is the BLCK Market Juneteenth Celebration hosted by the Buffalo Soldiers. See their website for more details.
Atlanta, Georgia: The Juneteenth Atlanta Parade and Music Festival takes place over three days with two large stages of music. See the festival website for more details.
Philadelphia, Pennsylvania: Philadelphia Juneteenth is usually celebrated with a parade and festival, though this year the parade will be replaced by a reflective art exhibition due to COVID-19. Go to the website for more details.
Denver, Colorado: The Juneteenth Music Festival will be both in-person and broadcast live, featuring two days of performances around the city as well as a 2,000-strong parade. Find out more details on the website.
Jersey City, New Jersey: The annual Juneteenth celebration is back again in 2021, with thousands of people joining to celebrate. More details about the event can be found on the website.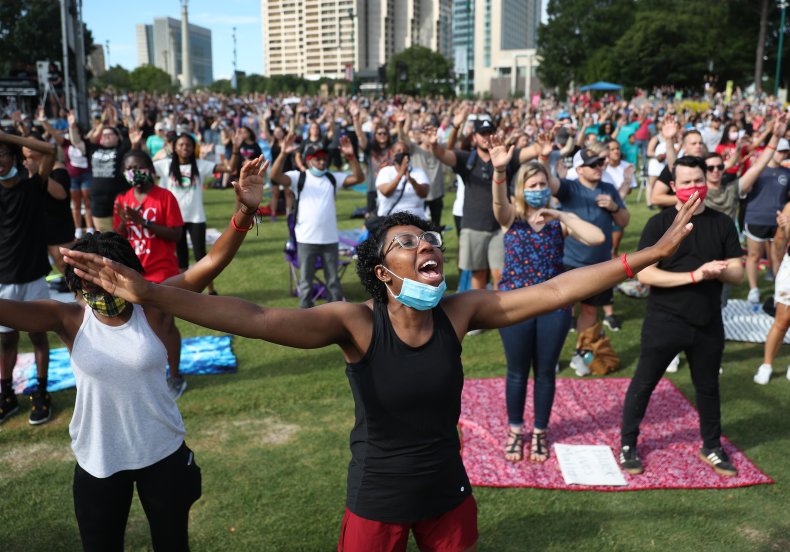 Update 6/21/21: This article was updated with comment from Texas Historical Association.