'Jurassic World Camp Cretaceous': The Hints the Show is Getting a Season 2
Jurassic World Camp Cretaceous is the first-ever animated spin-off in the Jurassic Park franchise, and it has been a hit on Netflix. It was the fifth most-watch TV series of the streamer last month, and at its peak, it reached number two in the daily Netflix top 10 TV series chart (it is currently at number three in the chart).
Despite this success, Netflix has not officially renewed the show for a second season. However, this should not be too much of a surprise for fans of the animated dinosaur show.
Netflix nearly always waits at least a month before renewing its shows so that they have 30 days worth of data about how popular a show is with its current and new subscribers. In 2020, there has been an average of two and three months between when a show drops on the streamer and when Netflix confirms another season of the show or cancels it, meaning fans should get an idea about the status of Camp Cretaceous Season 2 by the end of 2020.
The success of the first season makes it fairly likely the show will get a Season 2. When deciding whether to order more of a show, Netflix weighs up how much a show costs them to make versus how popular it is. Though animation of this caliber is expensive to produce, it seems likely that the show will warrant more episodes.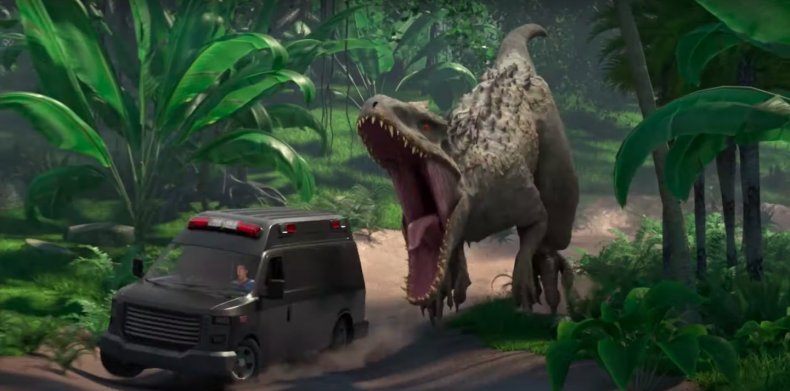 In fact, it could be that more episodes have already been made. Though there has been no official confirmation of this, with some of Netflix's other big animated shows, they have actually made 16 episodes at once then released them in two seasons of eight episodes. For example, when the streamer ordered Disenchantment, its new show from Simpsons creator Matt Groening, it made 16 episodes then released them in two batches of eight.
This makes even more sense to do with Jurassic World Camp Cretaceous—3D animation is time-consuming, so making two seasons at once means there is less of a release gap between the first two seasons, which is crucial if Netflix wants to maintain an audience for one of its shows.
Camp Cretaceous' executive producers Colin Trevorrow and Scott Kreamer have been hinting at what Season 2 might bring. The latter told Den of Geek: "Where we leave the kids at the end of the season is they're alone on this island and they only have each other. So I would imagine if we were to do more, it would definitely be set in a survival story or a 'get off the island' story, or I guess, 'I got to make it' story."
Fellow EP Colin Trevorrow, who directed Jurassic World and is set to make the upcoming movie Jurassic World: Dominion, also hinted at a crossover between the movies and show if enough people watch the Netflix show. He said: "We have built a real foundation here [with the animated series] that if the audience chooses to let us go forward, we really can weave this quilt together in a way that is really new and really exciting, and pretty unexpected. All we need is permission from the audience to do so."
Jurassic World Camp Cretaceous is streaming now on Netflix.