Jury Deliberates Over Kidnapping Plot Against Governor Gretchen Whitmer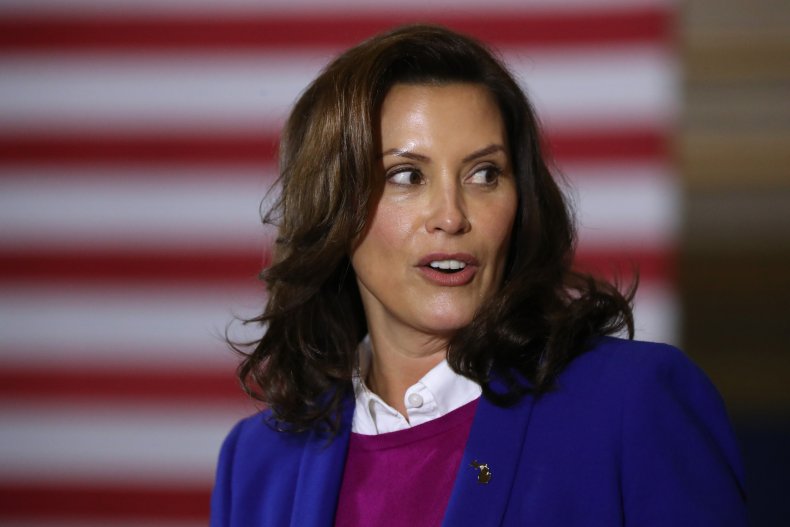 A jury in Michigan has finished the first day of deliberations in the trial of four men accused of plotting to kidnap Governor Gretchen Whitmer without reaching a verdict.
Barry Croft Jr., Adam Fox, Daniel Harris and Brandon Caserta are facing kidnapping conspiracy charges, accused of planning to attack and kidnap Whitmer, a Democrat, at her vacation home in September 2020. Two other men, Kaleb Franks and Ty Garbin, previously pleaded guilty to related charges.
On Monday, U.S. District Judge Robert Jonker told jurors to "find a good distraction" after completing the first day of deliberations, with the aim of returning on Tuesday "fresh" and "ready to engage," according to the Associated Press.
Jurors reportedly returned to court once to ask Jonker for the definition of "weapon." The judge defined the word as "something that can be used to injure, kill or destroy someone or something" after consulting with the prosecution and defense lawyers.
Aside from the kidnapping conspiracy charges, three of the four defendants—Fox, Croft, and Harris—are facing charges of conspiracy to use a weapon of mass destruction. Additionally, Croft and Harris are charged with possession of an unregistered destructive device, while Harris alone is charged with possessing a semi-automatic assault rifle that wasn't registered to him.
The destructive device in question was allegedly a firework that Croft had altered by adding additional gunpowder and pennies that could be used as shrapnel before wrapping it in electrical tape, according to the court documents.
During the trial, Franks testified that discussions had taken place about using additional weapons to aid in the planned kidnapping. He said that Croft discussed attacking Whitmer's security team using a "grenade launcher that he had" and by "mounting a machine gun" onto the top of a truck.
The alleged plot was motivated by Whitmer's "tyrannical" COVID-19 public health restrictions, according to Franks. In separate testimony, Garbin said that the would-be kidnappers had hoped the abduction would serve as the "ignition" for a new civil war and potentially prevent the election of President Joe Biden.
A total of 13 men were arrested over the alleged plot in October 2020, with six suspects charged in federal court and the other seven charged with state crimes. The four men awaiting their verdict could face up to life in prison if found guilty.
Garbin has already been given a sentence of six years in prison, while Franks is awaiting what is expected to be a lighter sentence than he would have received if he had been convicted following a trial.
Defense attorneys have argued that undercover FBI agents entrapped the suspects and played a prominent role in planning the alleged kidnapping plot. The FBI denies the allegations, maintaining that the men are anti-government extremists who had planned to kidnap and possibly assassinate Whitmer.
Newsweek reached out to Whitmer's office for comment.