Kidnappers Planned Grenade Launchers, Machine Guns to Subdue Michigan Gov.
A man involved in the plot to kidnap Michigan Governor Gretchen Whitmer has testified that the kidnappers planned to use grenade launchers and machine guns to fulfill their mission.
Kaleb Franks, who pleaded guilty to kidnapping charges in February, said during his testimony on Thursday that alleged plot leader Adam Fox believed the abduction would be justified because Whitmer, a Democrat, had imposed "tyrannical" public health restrictions amid the COVID-19 pandemic. Franks said that another alleged co-conspirator, Barry Croft Jr., suggested that military-grade weapons would be used to fight the governor's security team during the planned attack at her vacation home in September 2020.
"[Croft] discussed attacking her security detail," Franks told the jury, according to the Associated Press. "He said he would use the grenade launcher that he had, and he was discussing mounting a machine gun on top of the truck."
Ty Garbin, who has also pleaded guilty, testified earlier this week that the would-be kidnappers hoped the abduction would serve as the "ignition" for a new civil war and possibly prevent the election of President Joe Biden. Fox and Croft are on trial alongside co-defendants Daniel Harris and Brandon Caserta.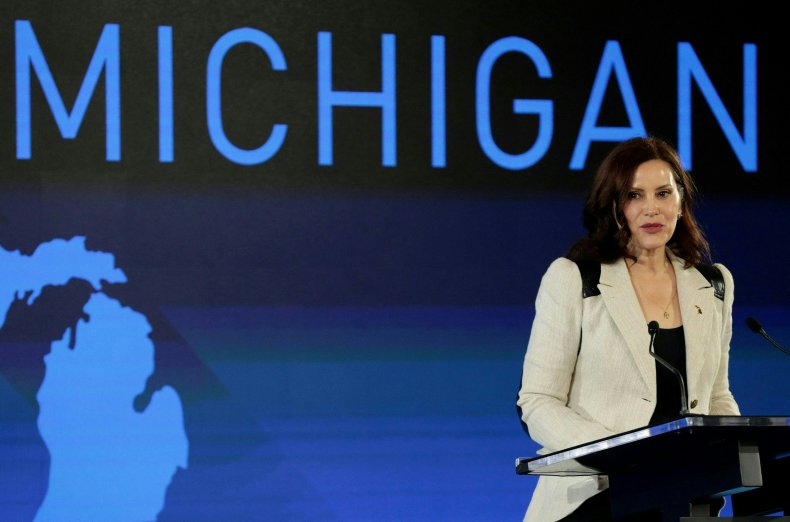 Franks described his role in kidnapping as "an operator" who would be using a gun on the "front line." He claimed that his involvement in the plot was part of a personal suicide mission due to depression caused by the recent deaths of family members and financial struggles.
"I was hoping that I would be killed in the process," said Franks. "I no longer wanted to live. A large portion of my family had died. I was struggling financially. Just wasn't happy."
Franks was one of 13 men who were arrested in October 2020 after the alleged plot to kidnap the governor was uncovered. Six suspects including Franks were charged in federal court, while the other seven were charged with state crimes. Many of those allegedly involved were associated with a far-right militia group.
In a tape played in court last week, accused ringleader Fox told an undercover FBI agent that the kidnappers hoped to tie up Whitmer and pose for a photo with her after breaking into the vacation home.
"We want her flex-cuffed on a table while we all pose and get our pictures taken like we just made the biggest drug bust in...history," Fox said in the recording. "You give us that, we'll be happy."
Fox and his three co-defendants could face life in prison if they are convicted. Defense attorneys claim that the men were entrapped.
Earlier this week, an undercover FBI informant known as "Big Dan" told jurors that the alleged kidnapping plotters were captured at a meeting point where they were told they would be given "free stuff," including food from Buffalo Wild Wings and the promise of beer.
Newsweek reached out to Whitmer's office for comment.