Gretchen Whitmer Kidnapper Claims He Joined Plot as Part of Suicide Mission
One of the men involved in the plot to kidnap Michigan Governor Gretchen Whitmer told jurors on Thursday that the only reason he joined the plan was that he was on a suicide mission.
"I was hoping that I would be killed in the process," Kaleb Franks, a 27-year-old man who pleaded guilty in February, testified in front of a federal court in Grand Rapids, Michigan. "I no longer wanted to live. A large portion of my family had died. I was struggling financially. Just wasn't happy."
Franks is the second convicted man to take the stand about the kidnapping plot that was foiled by the Federal Bureau of Investigation a month before the 2020 election.
Thirteen men were initially arrested for allegedly orchestrating the plot—six of the suspects, including Franks, were charged in federal court, while the other seven were charged with state crimes. A week later, another man involved was also charged in state court.
On Thursday, Franks said that after losing his mother, stepfather and stepbrother over the course of a year, he had hoped he would be killed in a shootout with police during the execution of the kidnapping but kept it from the others in the group.
"In my opinion, we would be bound to die," he said.
Franks is standing trial with Ty Garbin, Barry Croft Jr., Daniel Harris Brandon Caserta and alleged leader Adam Fox.
Franks said that Fox believed Whitmer's COVID-19 restrictions were "tyrannical" and that the U.S. Constitution gave them the right to snatch the governor. He said Fox told him this "every time I saw him."
Whitmer, a Democrat, faced immense backlash from Michigan Republicans in the early months of the pandemic. While her strict mitigation measures were praised when much of the country went into lockdown, her COVID response also triggered protests that were publicly supported by then-President Donald Trump.
While the governor has avoided talking about the case, she has blamed Trump's words as being a "rallying cry" for extremists and said that his denial of the pandemic in the early months of 2020 "stok[ed] distrust, foment[ed] anger and [gave] comfort to those who spread fear and hatred and division."
Franks, like Garbin who took the stand before him, testified that he willingly joined the plot on his own accord. He admitted to lying about his involvement when he was first arrested by the FBI.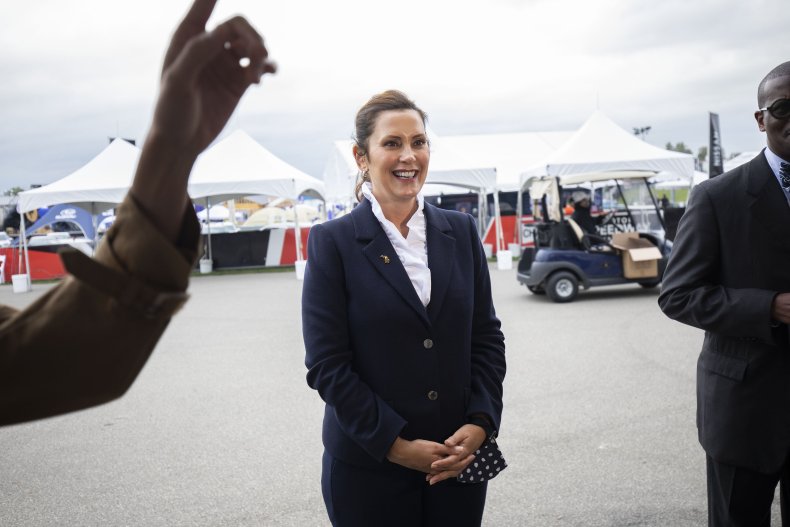 "I was going to be an operator," he said about his role in the kidnapping. "I would be one of the people on the front line, so to speak, using my gun."
As for Croft, Franks testified that his co-defendant "said he would use the grenade launcher that he had, and he was discussing mounting a machine gun on top of the truck."
Franks spent two hours on the stand on Thursday and will be cross-examined by the defense on Friday. He has not yet been sentenced.