Jussie Smollett's Court Claims Apparently Mocked by Accuser Abimbola Osundairo
Jussie Smollett's court claims about having had a sexual encounter with Abimbola Osundairo appear to have been mocked by the man in question on Instagram.
Former Empire star Smollett—who is currently standing trial amid accusations he orchestrated his own alleged racist and homophobic attack in 2019—testified on Monday that he and Osundairo met at a Chicago nightclub back in 2017.
On that same night, the actor testified the two men did drugs together before making their way to a local bathhouse where they allegedly "made out" with one another, adding that "there was some touching" involved.
While Smollett alleged that the two returned to the bathhouse on another occasion, Osundairo had insisted during his own testimony that he is not gay, and that the nature of his relationship with the actor was purely platonic.
Hours after Smollett's court testimony, Osundairo appeared to boldly mock the star's claims, as he uploaded a photo of himself posing in the gym, adding a geo-tag to Boystown—the section of the city where the actor claimed they spent time together.
Sporting shorts and a retro-print sleeveless top, Osundairo posed on gym equipment with a towel wrapped around his neck and a resistance rope attached to a cloth on his head. Smollett had claimed that he was attacked in 2019 by two men who poured bleach on him and tied a noose around his neck.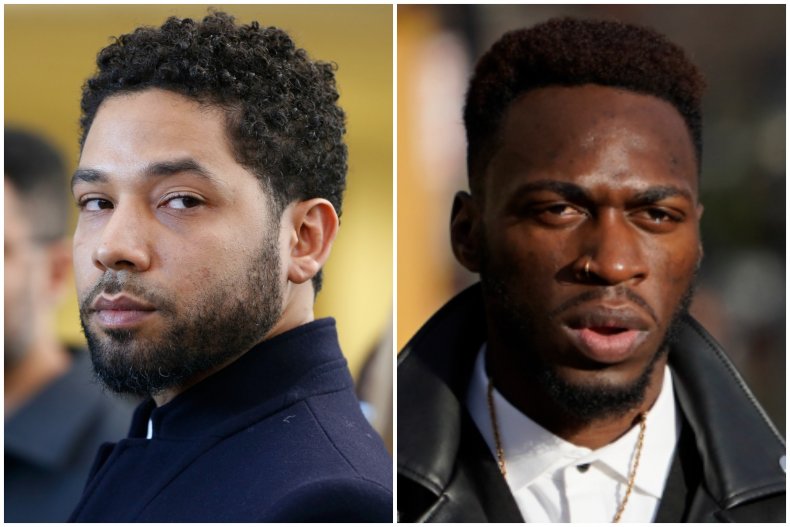 "Let me see them captions!!" Osundairo wrote as he captioned his image, before responding to a host of comments from followers who expressed their amusement.
"Jussie couldn't let you come [out] at ur own time. He spilled the beans!" one person commented, prompting Osundairo to respond that he's "never been in."
"Lol glad you can laugh about this s*** king," commented one follower, while another joked: "I can't stand you," adding, "it's EVERYTHING for Me.. the t shirt, the smirk, the f****** 'resistance rope.'"
Taking to his Instagram Story on Monday, Osundairo also shared a blog post that reported Smollett's claims about their alleged sexual encounter, as he tagged his brother Olabinjo Osundairo, who also alleges he was drafted in to fake the attack.
Newsweek has contacted a representative of Smollett for comment.
The Osundairo brothers have alleged that Smollett paid them $3,500 to stage the attack in a bid to generate media attention. Smollett has claimed that the money was paid for planned personal training services.
Smollett's defense team has alleged that the brothers said that they wouldn't testify that he had paid them to stage the attack if he gave them $1 million each.
Screen star Smollett is charged with six counts of felony disorderly conduct for making what prosecutors say was a false police report. He has received one count for each time he gave a report to three different police officers.
If convicted of the class 4 felony, the actor and musician faces up to three years in prison. However, legal analysts have stated that he is more likely to be ordered to perform community service if found guilty.