Jussie Smollett Released From Jail During Appeal
Actor Jussie Smollett, who was earlier convicted of faking a hate crime, has walked free from jail after an appellate court ordered him to be released while his appeal is considered.
The court's ruling on Wednesday is the latest for Smollett who in December was convicted on five charges stemming from a 2019 incident where the Empire actor allegedly lied to police that he was the target of a racist, anti-gay hate crime. Smollett has denied the charges and his case has proven to be politically divisive.
The one-page order from the Chicago-based Illinois Appellate Court directed Smollett to be released from Cook County Jail after he agreed to a $150,000 recognizance bond, according to the Chicago Tribune.
Nenye Uche, Smollett's lawyer, applauded the order in a video he posted to the actor's Instagram account saying it meant good news for his client's case.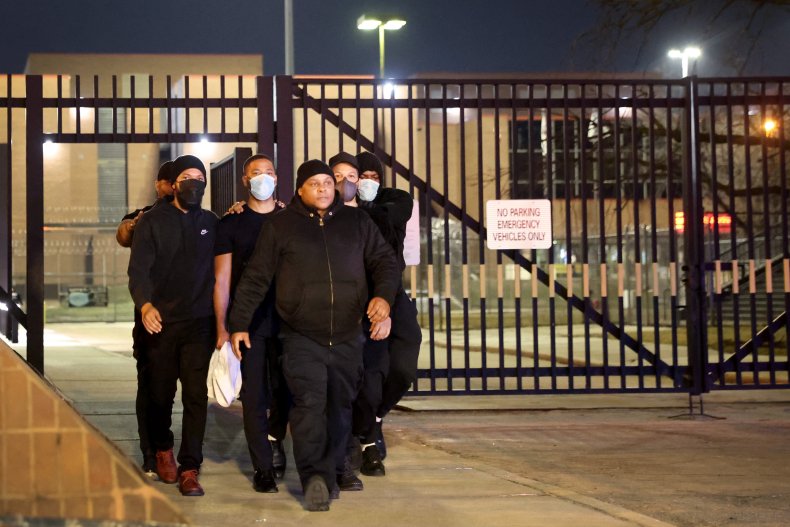 "I'm going to put it in layman's terms and not legal talk: The case sucks, the case is bogus against him, and they released him," said Uche. "And that says a lot about what the appellate court thinks of this case."
However, Uche added, "We still have a long battle ahead of us."
Uche told Newsweek in an email that "We are pleased that sensationalism and politics will be put aside and we can finally have an intellectual discussion about our laws with our esteemed appellate court." He also reiterated Smollett's innocence.
He pointed out that three years ago, prosecutors dropped all charges against Smollett (a special prosecutor later filed a second set of charges against the actor who stood trial in November and December last year). Charging Smollett a second time is "not just morally wrong, but certainly double jeopardy and thus unconstitutional," said Uche.
The court's three-judge panel issued a 2-1 order with Justices Thomas Hoffman and Joy Cunningham agreeing to release Smollett, writing that he had never been convicted of a violent offense previously and would complete his sentence before his appeal was settled, reports the Tribune.
Justice Maureen Connors offered no explanation in her dissent.
Smollett drew headlines in January 2019 after he reported being attacked by two acquaintances over his race and sexuality. Prosecutors alleged that Smollett paid two men $3,500 to attack him in downtown Chicago. One of them, who played an extra on Empire, testified that Smollett "had this crazy idea of having two MAGA supporters attack him" and that the actor said the incident would help his career.
Smollett said the two men had tied a noose around his neck and poured a substance he thought was bleach on him while pelting him with racist and homophobic slurs. He called the men lairs during the trial.
Chicago Mayor Lori Lightfoot issued a statement following Smollett's conviction saying it "should send a clear message to everyone in the City of Chicago that false claims and allegations will not be tolerated."
Since his conviction, Smollett's family have said they are concerned for his safety and some said they had received racially charged threats.
Newsweek has reached out to Cook County prosecutors for comment.
Update (3/17, 6:45 p.m.): This story has been updated to include comment from Smollett's attorney.